Because of the increased tolerance, the generally complex designs that are prevalent in half sleeve tattoos are achievable.
It acts as a blank canvas on which you may fully express your individuality and good taste. Body art is a form of expression in which you use your body as a canvas to express yourself.
You may wear it as a permanent decoration for yourself, whether you're the eccentric with a small butterfly on her forearm or the biker woman at heart with a blossoming vine down your bicep. Keep your half-sleeve tattoo on forearm tucked beneath your shirt sleeves until you're ready to paint the town at the end of the workday if it detracts from your professional appearance.
Also, Read: What To Expect From Laser Tattoo Removal
1. Abstract Figures- If your looking for a more artsy half sleeve tattoo for women, try this design that has hidden faces in it is many lines. The minimalist style will keep it from being too heavy an image while still packing the glamour.
2. Tribal Sleeves- Very popularly seen sported by "The Rock", tribal designs are now mainstream, but they don't have to be restricted to masculine designs. The solid designs can be perfect in lending the ancient warrior look.
[Picture Courtesy- Pinterest]
3. Wings- Ever been called an Angel, when you've saved the day? Well it is probably well deserved and why not adopt it permanently with this wing sleeve design that can make you a real angel that walks the Earth? Invest in some detailing to give it the best look.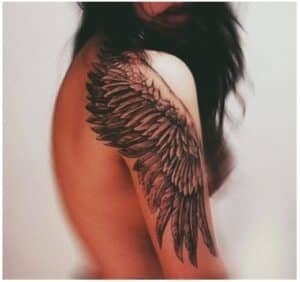 [Picture Courtesy- Pinterest]
4. Spiral- If you like mandala designs, why not step it up with this spiral that gives off psychodelic vibes. You don't have to worry about being accidently hypnotised, but it certainly has the ability to make you feel strongly about the design.
5. Minimalistic Lines – Those of us who would like to let the art speak for it self and prefer a more toned down effect, this is the perfect design to try. A series of lines that go up your sleeve, they can have a very stunning effect on the beholder.
6. Lion King – If you like a clean design and prefer some of the tribal patterns this may be the tattoo for you. A lion with traditional and native accents.
PS: This design would make for a great back tattoo for women too.
7. Amazonian Armor – Especially after wonder woman became a blockbuster, this design that miminc the armor that Wonder woman is often depicted to wear might be just what you are looking for.
8. Musical Trees – If music is what gives you life, look no further than this design that depicts the life that grows from musc.
9. Floral Forever – You can never go wrong with floral even for a half sleeve tattoo forearms with a floral design are a mainstay in the tattooverse. Try this or similar floral designs to create the effect of a vine creeping up a column.
10. Tribal Armor – Look no further than this tatto design for a worrior princess look. While minimalistic, it is without a doubt powerful and able to communicate a fierecness about the wearer.
We all have a quirky and curious side that yearns to explore the path less travelled. If you want to give it a shot with your tattoos, our collection of half- sleeve tattoo ideas for women is ideal.
Check to see if any of them are a good fit for your personality and do let us know about your overall look.