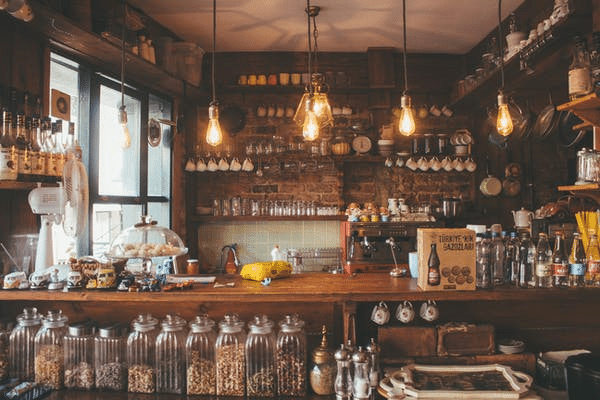 Have you recently made your dream of owning your own little coffee shop a reality? You've finally found the right premises, added the décor and have all the stock you need with a few eager employees rearing to go. So, what's next?
You may have heard the term brand awareness mentioned in many of your recent conversations in the business community. While the concept of brand awareness is as old as business itself, it might be new to you. As a start-up business owner, you may even be wondering how it applies to you and what it has to do with the embroidered workwear you just ordered. Let's lay it out for you.
What is Brand Awareness?
Brand awareness is loosely defined as the marketing measurement that acknowledges how well your intended target audience (customers) recognises your brand. If you're thinking you don't need brand identification because you're "not a big company" then you're thinking small!
Did you know that Starbucks began as one small coffee shop in a shopping market? Today the name is synonymous with coffee and even recognised by people who don't even buy the drink. That said, it's time to turn your business into a brand!
Why is Brand Awareness Important?
Positive awareness among your intended customer base (in your case, coffee drinkers) will ensure your store has a constant flow of customers. They'll know who you are, what you offer and more importantly, they'll want to be a part of it.
The top three benefits of great brand awareness include:
Customers recognise your business name
Creates customer loyalty ensuring a steady flow of business
Helps you stay ahead of competitors
Effective Ways to Boost Your Brand Awareness
Speak to any successful business owner and they'll tell you they need to two basic factors for success. Firstly a great product and secondly brand awareness. Existing and potential customers need to recognise your brand and always be eager to spend their money with you. If you're just starting out, how do you create brand awareness? Let's find out.
1.      Sell Your Brand Not Just a Product
Here you need to think about what makes your coffee different from the coffee shop two streets down. Why should anyone come to your café rather than make a hot cappuccino at home? The answer to this will determine your wow factor. Use that to sell your brand.
For instance, how often do you say, "let's get a soda"? If you're a Coca-Cola fan, you'd rather say, "let's get a coke." You need your customers to say, "Let's get a "name of your store" coffee" rather than "let's look for coffee." Selling your brand means you are always a customer's first option.
Some tips to sell your brand:
Encourage word of mouth
Ask for reviews on your social media pages
Offer exceptional service – expert baristas with friendly attitudes and fast service
Throw in the occasional freebie such as a "2 for 1" or a "free muffin with every coffee ordered before 12"
2.      Brand Everything With Your Logo
This might sound expensive but consider it an investment. When you see a person drinking coffee from a cup with a green logo, you know it's Starbucks. When you see a box with a giant yellow M, you know it's from McDonald's. The list goes on with names such as Nike, Coca-Cola and KFC.
Your logo should be easily recognisable and placed on all takeaway products. That way, you're not only getting some free advertising wherever your cup is going, but people will start recognising your business outside of your shop. You want new customers to show up because they heard someone at work singing your coffee's praises.
3.      Create a Social Media Account for Your Shop
Just because you're not selling anything online doesn't mean you should avoid social media. Create a social media page for your business. Encourage patrons to post reviews and include photos of customers enjoying products in your shop.
It's also a great platform to advertise daily or weekly specials. Additionally, share photos of staff wearing your embroidered polo shirts to show that you are a professional business. Have weekly competitions and post engaging content and encourage customers to share your page.
4.      Get Out There
Another top way to put your brand out there is to get involved with community activities. Try to take part in festivals, parades and charity events. Imagine the advertising you'd be able to do with a few employees dressed in your branded shirts, selling coffee at the local festival.
Another top idea would be to choose one business every month, such as the fire department, and hand out free coffee to the employees on duty. Not only will they learn who you are, but they'll become customers or at the very least, tell other people about your product.
Final Thought
Brand awareness is all about getting your name and your product out there. With so many small businesses opening up all over the place, effective brand awareness is more important than ever before. Invest in creating a brand that people want to support and you'll become so much more than just another coffee shop!