Seattle, a charismatic city with numerous nicknames, including Gateway to Alaska, Rain City, and Queen City, is a beautiful land of possibilities, adventure, beauty, arts, and nature never ceases to amaze the traveler in you.
Many of you are familiar with Seattle because it is the birthplace of some of the most well-known corporations that have changed the market, such as Microsoft, Amazon, and Starbucks. Still, it has a lot more to offer as a tourist destination.
Its diverse cultural legacy, including aboriginal, Asian, African, American, Latino, and Nordic cultures, has resulted in many historical museums and vibrant themed festivals honoring and presenting its mythical past.
Now, before you leave Seattle on a cruise, you must first explore this fascinating city and everything it has to offer in order to make your trip more adventurous and thrilling.
Now The Sun Has Set, But The Spirit, Still Alive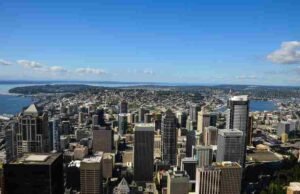 The city never sleeps, and Seattle nightlife lives up to this cliché by being lively and inviting you to party like there's no tomorrow.
So what are we waiting for? Let's start the evening on a high note.
* Space Needle– It is an iconic observation tower in the heart of Seattle with a spectacular 360-degree view of this city of wonders that gleams after sunset. It is open from 9.30 am till 9.30 pm, giving you ample time to visit it at your convenience.
* Jet City Improv- For all comedy lovers, Jet city exhibits one of the best 90-minute comedy shows with funny games, skits, and musical shows. The best time to visit is during weekends post 10.30 pm.
* Garage Billiards– Ready for a game night, be it a round of billiards or a bowling alley, this spot is always beaming with fun activities and a young crowd.
* Dinner Cruisers –  Imagine the romantic dining experience in the middle of the ocean with the finest wine and cuisine to scintillate your palette; this is what a dinner cruise offers.
* Pike place market – A visit to this oldest market at night is a must whether you want to shop for fresh local produce from a local outlet or go on a shopping spree of their beautiful artisan craft items, including exquisite handmade jewelry to other artifacts.
There is a 75 minute Ghost Market tour apart from two other night tours if you are daring enough to visit a mortuary and listen to the legendry fables of murders, scandals, and lust from the past.
* Seattle great wheel – A kid or an adult, everyone fancies a giant wheel ride while looking at the mesmerizing view of this enchanting city at night.
What To Do On A Sunny Day?
During the day, the city offers enthralling sightseeing options via walking tours or group excursions.
* An underground tour of the streets under the Gold-rush era and the gold-rush national historical park will take you back in time when the city was yet to be built.
* Satiate your tastebuds while exploring the delicious seafood available on the local street to the famous themed dining restaurants and cozy cafes.