Choosing a watch requires thought and care, or you run the risk of committing a fashion faux pas. While all rules (especially fashion ones) are made to be broken, you first need to understand the satrorial guidelines to matching a watch with your outfit, so your style looks intentional rather than sloppy.
5 Types of Watches
First, a lesson on the five different types of luxury watches that men typically own. It's a good idea to build your watch collection, so you own one of each type. That way, no matter the situation, you'll have the perfect watch on hand.
1. Dress Watch
Dress watches have plain faces with only the hours, minutes, seconds, and occasionally a date display. The band is simple—usually black leather.
2. Divers
This type of watch is waterproof and made specifically for divers, with medium-sized faces that hold bold, easy-to-read Arabic numerals or indices. Usually, these watches have metal bands, as a leather band would be damaged with water exposure.
3. Racing/Driving
Medium to large in size, racing/driving watches are made to do more than just tell time. The large dial includes features like a compass, odometer, and altimeter.
4. Pilot/Flyer
These watches are perfect for aviators with a simple oversize dial with a large crown, easy-to-read numbers, and date. Some even offer the ability to set two separate time zones using the bezel.
5. Field
Starting in World War I, soldiers needed to synchronize watches, so the field wristwatch became a popular tool. It also helped that it was highly durable, functional, and versatile, with a leather or canvas strap, a date, and the ability to stop the second hand for easy synchronization.
Your Watch Should Always Match the Event
A watch does more than tell the time; it symbolizes class and status and communicates a lot about your personality. Watch-wearing etiquette plays a significant role in choosing a timepiece to match your outfit; wearing the wrong watch in the wrong situation could be a serious social faux pas.
● White Tie Event
It is considered to be in bad taste to wear any kind of watch to a white tie event. Those events are so prestigious that you should never even suggest you wanted to be anywhere else, and wearing a watch says, "I need to know what time it is so I can make it to my next event," even if you never look at it.
● Black Tie Event
Until recently, it was considered gauche to wear a watch to a black-tie event for the same reason you can't wear one to a white-tie event. However, it is now appropriate to wear a subtle dress watch. The sleeve of your dress shirt should cover at least three-quarters of the watch face.
● Business Event
Not as formal as a black tie, a business event still requires a more formal watch like a dress or diver. But, match the watch's color to the outfit. If you are wearing a dark suit, wear a dark-colored watch.
● Business Casual Event
A high-end racing/driving, pilot, or field watch is a good option for this type of event. Quintessential business casual watches would be the Rolex Daytona or the IWC Pilots.
● Casual Event
Metal bands are less casual than leather bands, so any watch, regardless of category, with a metal band is appropriate.
● Sporting Event
Wear durable watches like a diver, pilot, or field watch. Never wear anything that could be easily scratched to a sporting event.
If Your Watch Has a Leather Strap, It Should Match Your Shoes and Belt
Black leather is more formal than brown leather, making it more suitable for formal or business outfits. Brown leather wrist bands are ideal for wearing with casual, academic, or sporty ensembles.
When wearing a watch with a leather strap, it should match the leather you are wearing on your shoes and your belt for a coordinated, cohesive look; never mix a brown strap with black shoes. If you can't match the shade exactly, opt for a color that is tonally similar. Pair a dark wristband with dark shoes or a belt and a lighter wristband with light shoes and a belt.
The Metal Case on Your Watch Should Match Other Metal Accents in Your Outfit
At the very least, the metal on the case of your watch (the part around the face) should match the metal of any rings or cuff links you may be wearing. Ideally, every metal accent in your outfit should match. The general rule is to pair earthy tones in your outfit with gold watches and cooler tones like grays, blues, and blacks with silver watches. If your watch band features mixed metals, you can pair it with any jewelry or metallic accents in your outfit, making it one of the most versatile watch styles.
The Two Exceptions to the Rules
Because of their excellent quality, watches are often passed from father to son as heirloom pieces and worn on special occasions. If that's the case, you may break any of the above guidelines as long as the watch isn't visibly damaged, worn, or distracting from the event or the rest of your outfit. Wearing the perfect watch for the event and your outfit doesn't matter if it isn't comfortable. Always wear what you are comfortable in, as long as it isn't too out of place. No one wants to see a gentleman dressed in a tuxedo with the sports watch he wore to the gym that morning; it ruins the vibe of the entire outfit.
Make Sure Your Watch Fits
It's important to always wear a watch that fits your wrist, so you'll want to know how to measure your watch size. It should be snug but not tight. If your wrist is slim, stick with a smaller watch. If you have a thicker wrist, wear a more oversized watch. Ideally, the watch case should be approximately ⅔ the width of your wrist.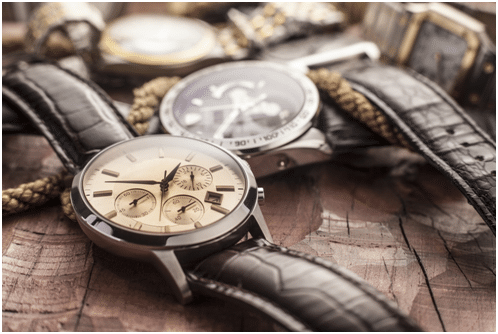 Find the Perfect Watch Today!
Luxury wristwatches signify elegance and class, elevating any outfit you wear. Whether you're interested in a Rolex or an Audemars Piguet, there is a perfect watch for every occasion and outfit, so you'll always look your best no matter where you're headed.