Crop tops are available in a wide variety of styles, from ultra-tight to midi to hip-length. Depending on the length of the top, you can style it very differently.
This is how you can combine your crop top: 4 cool stylings:
Crop tops are only for leisure and sport? Not correct! With the right styling, the short sexy black crop top quickly becomes eye-catchers suitable for everyday use and the office.
Combine with high-waist pants or skirt:
Instead of exposing your entire stomach like in the 90s, it makes sense to only show a small strip of skin – this is how you make the crop top suitable for the salon and style the summery business outfit.
You can achieve this by combining the skimpy top with a high-waisted skirt or high-waisted pants. These should ideally be midi or maxi length but can be Marlene trousers or boyfriend jeans. With this, you emphasize exactly the part of the body that is narrowest on every woman – a clever trick that conjures up a wonderful silhouette in no time at all.
If you don't want to show any skin at all, you can also choose a shirt with a little more fabric that you tuck into your chosen bottom. Together with sneakers, you create a nice casual look. The backless crop top is not synonymous with a bare belly.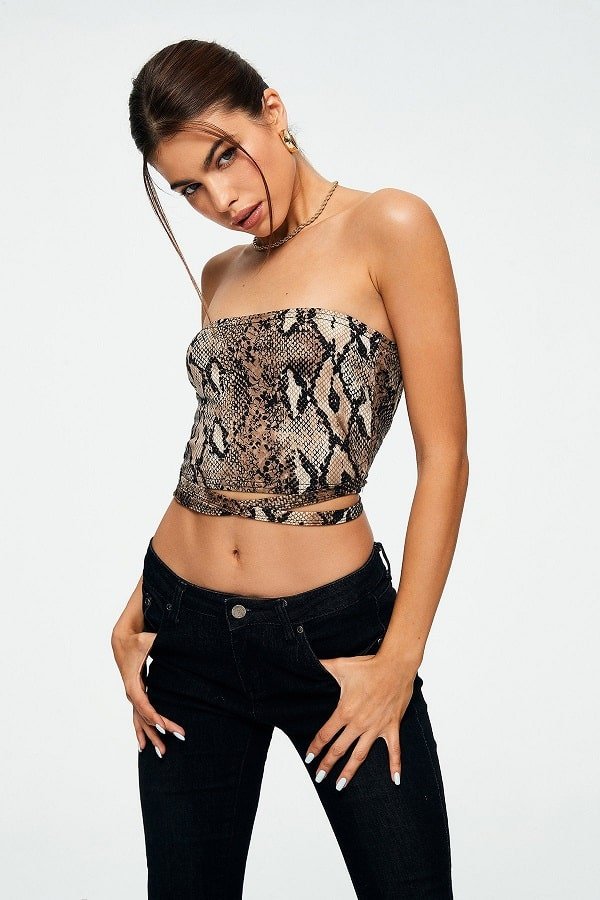 Combine with blazer or jacket:
Your styling will be even more elegant if you pull a blazer or jacket over your crop top. Especially if your crop top has spaghetti straps and you plan to wear it to the office, you should wear something over it.
The alternative: Choose a piece with long sleeves or at least one with short sleeves. The same applies here: A small belly does not stand in the way of this styling.
The crop top underneath:
If a crop top alone shows too much bare skin, you can use the top as an undercover eye-catcher by pulling a silk blouse over the top or another loose top that is slightly transparent. This makes you feel more attracted but still gives your outfit that certain something.
For the fashion-forward: crop top over t-shirt or dress:
The trend of making underwear and pajamas wearable in everyday life has also spread to crop tops. Fashionistas simply wear the crop top over a white t-shirt or a dress.
However, since the styling is daring and rather extravagant, only fashion-conscious women who feel comfortable with drawing everyone's attention should dare to do it.
How to use Cropped?
You can choose a crop top made of leather, wool, lace, or silk and put it together with a pair of denim shorts. On the feet, all options are open, since the short is a very casual piece that conveys joviality.
This is one of the favorite compositions of the users since they can be looks that match both formal and casual events. In a more formal event, it is recommended to wear tailored pants along with a crop top with a more noble fabric.
But be sure to focus on the accessories that should be by your style and personality. High-waisted pants are the best option for this look. Some popular options like skinny, leggings, pantaloons, and tailoring are perfect for wearing this look.
There are no difficulties in the cropped look with two piece pants set, basically, you just need to respect the balance between the pieces, alternating in the same composition the tighter models with the looser ones. On the feet, it is worth pairing it with pumps to elongate the silhouette, a pointed sneaker, platform sandals, or heels.
Crop top with gardeners:
This combination is super cute! The tip is for those who don't like to leave the body so exposed, putting only the outline of the silhouette in evidence. Bet on jumpsuits or jumpsuits cropped with long or shorter sleeves.
Cropped Gypsy:
This has a more daring cut, for the presented neckline and its shoulder-to-shoulder opening. It's perfect for hot days, for those who love summer vibes.
Cropped hope it falls:
Another super favorable alternative for the hottest season of the year, with super high modeling for being easy to combine. It's worth investing in!
Long sleeve cropped:
Cropped is a trend that fits in any season, so those who thought it wouldn't be a good choice for colder days were wrong. The long-sleeved crop top can be combined with various autumn/winter outfits, along with a third piece.
White and black cropped tops:
One of the most famous and modern models, the cropped top is for those who like to dare with their clothes. The super trend in monochromatic looks, the cropped top opens up a range of options.
Invest in white cropped and black cropped colors, these are perfect to marry in any model and suit most events.
At Solado, you will find numerous cropped models to assemble your versatile look!