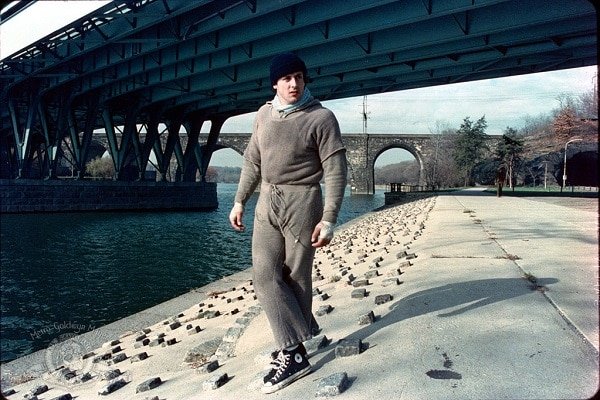 One of the most comfortable and versatile pieces of clothing is a hoodie. The first hooded garments date all the way to 12th century Europe, but the first modern hoodies were introduced in the early 1930s by Champion.
In less than a hundred years, this garment went from being a part of an athlete's uniform to a cultural icon and something we all love and wear daily. 
With spring 2022 just around the corner, we're all looking to freshen up our wardrobes, so let's talk about the coolest hoodies in 2022.  
Alternative cultures
While for the first 40 years of a modern hoodie existence, it was worn almost exclusively by athletes, around 1974 -1975, this garment was adopted by various subcultures such as graffiti artists, break-dancers, and rappers. It was not just warm, cheap, and comfortable. Hoodies provided anonymity needed to live the lifestyles at the time.
It was the 1976 movie "Rocky" that boosted the humble into the stratosphere as everyone was inspired by the hoodie-wearing character played by Sylvester Stalone. 
Everyone has a hoodie now, yet it took another 30-40 years to become acceptable to wear one to work. We can thank Facebook's Mark Zuckerberg, who wore a hoodie on Wall Street. 
Types of hoodies 
Today we have the luxury to choose from endless hoodie styles, from zip-up hoodies to slim-fit tailored options like the maroon hoodie from Fresh Clean Tees. Let's look at the most common and, of course, coolest hoodies for 2022! 
Pullover hoodie. This one is the ultimate classic that's usually thick and super comfortable. It's best for casual occasions, and if you're looking for a graphic design or a logo, a pullover hoodie is the best canvas. 
Slim-fit hoodie. A slim-fit hoodie is just what the name implies – a hoodie that's designed to fit neatly to your body. This type of hoodie is perfect for work and other semi-formal occasions when an oversized chunky hoodie just won't cut it. Slim-fit hoodies can be pullovers or zip-ups and also have the benefit of elongating the body and making you look taller and fitter. Usually, the manufacturers use cotton and polyester blend fabrics to achieve a tight effect. 
Zip-up hoodies. This is another classic hoodie that can come in pretty much any style or size, from slim-fit to oversized looks. Zip-ups are great for layering in spring as you can easily remove them when it gets warm (we all know how unstable spring weather is!).
Fur Hoodies. We love a fur hoodie for winter. It's usually your classic pullover or zip-up with a layer of fur for extra warmth. Besides keeping you warm, a fur hoodie also gives that luxurious feel and is super soft. It can be worn instead of a jacket on a milder winter's day.
Skate hoodies. If you used to skate or still do that, you probably have a skate hoodie that's designed for the freedom of movement and usually is sleeveless or with sleeves going to your elbows. A skate hoodie can also be an oversized version of the garment. 
The 2022 trends
The 2022 trends are all about the colors and making an impression. It's also about the street style and the sense of freedom. This all goes for hoodies too! 
That's why as long as you're not afraid to experiment and try something new with colors or graphics, any of the hoodies above are going to be the coolest hoodie for 2022 for you! 
We suggest trying out purple, green, mustard, bright red, maroon, and even bright yellow or neon for the ultimate effect when it comes to colors! 
Pair your hoodie with pretty much anything from chinos to jeans and joggers to cargo trousers or shorts.