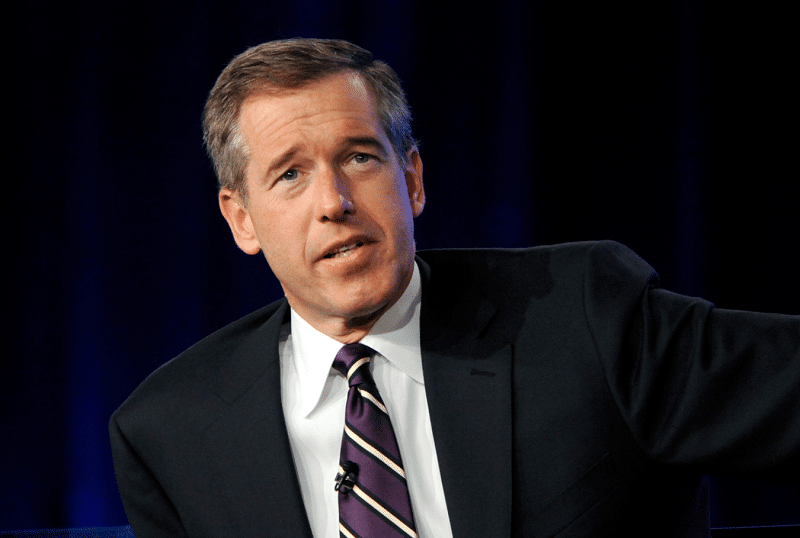 Brian Williams, a renowned TV journalist, has left NBCUniversal in 2021, seeking new opportunities. He's now in transition, exploring various career paths with CAA's assistance.
What Happened to Brian Williams?
Brian Williams, a well-known TV journalist, has left his long-time job at NBCUniversal in 2021. He said goodbye to his MSNBC show, "The 11th Hour," and hinted at seeking new opportunities. Brian faced some challenges during his career, like a suspension in 2015 when he was accused of misrepresenting facts about a story from his reporting in Iraq.
The Journey of Brian Williams
Brian Williams has had a long and varied career in broadcast journalism. He began his journey in 1981 at KOAM-TV in Kansas and later worked at television stations in Washington, D.C., Philadelphia, and New York City. In 1993, he joined NBC News, where he initially anchored the national Saturday Nightly News and took on the role of chief White House correspondent.
| | |
| --- | --- |
| Full Name | Brian Douglas Williams |
| Stage Name | Brian Williams |
| Date of Birth | May 5, 1959 |
| Age | 64 years old (2023) |
| Place of Birth | Ridgewood, New Jersey, U.S. |
| Spouse | Jane Stoddard (m. 1986) |
| Children | 2 |
| Net Worth | $50 million |
NBC Nightly News Anchor
Williams' career reached a significant milestone in December 2004 when he became the anchor of "NBC Nightly News," succeeding Tom Brokaw. During his tenure, he earned acclaim for his coverage of events like Hurricane Katrina and received multiple News & Documentary Emmy Awards for his role as anchor and managing editor of the Nightly News. However, his career faced a setback in 2015 when he was suspended and later demoted for misrepresenting his experience during the 2003 Iraq invasion.
Versatile Media Personality
In addition to his journalism career, Brian Williams made numerous guest appearances on popular television shows like "The Daily Show," "Saturday Night Live," "Late Night with Jimmy Fallon," and "Late Show with David Letterman." Notably, he appeared in "30 Rock" as a caricatured version of himself.
He was a commencement speaker at various universities and contributed to publications like The New York Times and Time magazine. Throughout his career, Williams had the opportunity to interact with a wide audience, from news reporting to entertainment, leaving a mark as a versatile media personality.
Where is Brian Williams Now?
Brian Williams is now in a phase of transition after leaving NBCUniversal in 2021. He left his MSNBC show, "The 11th Hour," and has recently partnered with talent agency CAA to explore his future career options. People have speculated that he might venture into various roles, including hosting interview shows or becoming a correspondent, not only in the field of journalism but also in the world of entertainment.
While he hasn't revealed his exact plans, it's clear that Brian Williams is actively considering his next steps. Currently, Brian Williams is not associated with a specific network or program. He has expressed his desire to continue working in the media and to engage with viewers, but his precise role and destination in the broadcasting industry remain uncertain.
What is Brian Williams Doing Today?
While Brian Williams hasn't revealed specific plans, there's a lot of speculation about where he might land, including possibilities in both journalism and entertainment. He has not disclosed his current role or affiliation with a specific network or program. However, it's clear that he is actively considering his future career path, and many are curious about where this respected TV journalist will choose to continue his work in the media industry.
Brian Williams Net Worth
Brian Williams, the American news anchor, has accumulated a substantial net worth, estimated at $50 million. During his impressive 28-year tenure at NBC, Brian took on various roles, including serving as the chief anchor for the NBC News cable news channel MSNBC. He was also the host of the network's program "The 11th Hour with Brian Williams." Brian Williams' career trajectory saw him rise in prominence, with his initial salary of $8 million per year as the main presenter of NBC's Nightly News in 2004, succeeding Tom Brokaw.
Brian Williams' Personal Life
Brian Williams' wife, Jane Stoddard Williams, is a journalist and executive producer known for her role in radio broadcasting. She manages both her professional career and her household responsibilities efficiently. Jane and Brian tied the knot in 1986 at the First Presbyterian Church of New Canaan, Connecticut, and have two children: a daughter named Allison Williams, who is an actress, and a son named Doug Williams, who works as a late-night anchor.
What Happened to Brian Williams? – FAQs
1. What happened to Brian Williams in 2021?
Brian Williams left his MSNBC show and started exploring new career opportunities after his departure from NBCUniversal in 2021.
2. Why was Brian Williams suspended in 2015?
Brian Williams was suspended in 2015 for misrepresenting facts about a story from his reporting in Iraq.
3. What is Brian Williams currently doing to plan his future career?
Brian Williams has partnered with talent agency CAA to explore various career options in journalism and entertainment.
4. Which well-known roles in journalism is Brian Williams known for?
Brian Williams is known for his roles as the anchor of "NBC Nightly News" and the host of "The 11th Hour."