Where can I get superior and durable quality furniture from China? How can I get bulk furniture to the U.S. from China? These questions have stuck in the minds of furniture importers from all over the world.
Furniture is one of the biggest and most important industries to use product globalization.
What was once a business for old establishments with a vast warehouse is now a global industry in China.
Although China has a reputation for creating low-quality goods, the myth gets reversed in furniture manufacturing. According to a report, China has over 50,000 furniture manufacturing enterprises. It's a home for thousands of manufacturing facilities staffed by qualified workers, ensuring low-cost output with quality and unique furniture.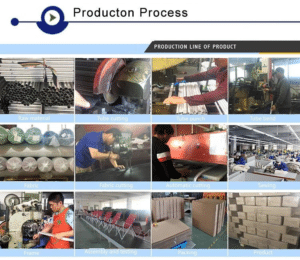 American retailers top the lists of furniture importers by Chinese manufacturers. They spend billions on buying readymade and customized furniture all over the year from China. But how they are planning to purchase quirky and smart furniture, like folding chairs, beach chairs, Muslim chairs, wooden chairs,s and more.
Reasons To Buy Bulk Furniture From China
If you want to start a furniture line for travel and leisure, keep an eye out for the top bulk sellers; China has plenty of them. Along with the design quality, China's manufacturing costs are low. Because Chinese furniture is supplied at wholesale prices, which are substantially lower than retail pricing, it is relatively inexpensive.
Most furniture-manufacturing enterprises in China are located near ports, such as Qingdao, Shandong, Hongkong,  Guangzhou Port, Shenzhen Port, and Port of Victoria, making it simple for customers to load their orders and reduce transportation expenses. Furthermore, low spending on raw materials, significant industrial competition, and easy marine transportation make furniture pricing in China extremely competitive.
Also, China's fashionable furniture design styles stay up to the times. Classical style furniture, home textiles, outdoor facilities, and accessories are among the items sold there. The Country serves as a platform for releasing fashion trends, channel maintenance, and setting the design trend for all indoor and outdoor furnishings.
Complex finishes expected by U.S. consumers, frequently requiring at least eight clear, stain, and glaze coatings, are included in the items, which cannot be cost-effectively recreated in U.S. manufacturers making the Country the biggest importer of Chinese furniture.
Purchase the best bulk furniture from China's most well-known manufacturer- Sunnshine
Sunnshine International Co Ltd, a Chinese bulk furniture manufacturer, can satisfy your needs and fulfill your requests at the most reasonable costs while maintaining high quality. The company is ranked first in countries including the United States, Europe, the Middle East, America, and Southwest Asia. Also, the company believes in quality first, and hence all the products are highly durable and long-lasting.
Furniture products can be sourced in different colors, and finishing makes your bedroom to office switch in unique and classic designs. Since 2010, they have been selling Beach Chairs, Camping Beds, Folding Chairs, Camping Beds, Bags, etc.
They send furniture worldwide using a well-secured and safe delivery system. Aside from that, they offer a good warranty duration. Sunnshine meets clients' needs and satisfies their desire for a perfect lifestyle at a reasonable price. Visit Sunshine International Co. Ltd.'s website to see their items and get in touch with a representative to learn more about their prices and shipping policies.
So, if you're looking for high-quality furniture at a reasonable price, look no further than Sun N Shine International.
What Type Of Furniture Can You Import From Sunnshine?
If you arm yourself with the correct information and the right supplier, buying bulk furniture from China can be an excellent experience for your business. Sunnshine excels in furniture quality with other traveling and leisure products in best deals. Other than this, their products are treated with an anti-corrosion solution to make them last longer. You can scroll down to a wide variety of:
Beach Chair
Folding Chair
Muslim Prayer Chair
Wooden Chair
Duffle Trolley Bag
Luggage Bag
Mountain Bag
Folding Bed
Smart Chair
Cartoon Chairs
Get your bespoke furniture items, from quality to finishing, designing, and personalization. Sunnshine takes care of all of your needs and guides you through its product selection until you find the furnishings you're looking for. Because every customer desires one-of-a-kind furniture, the company's talented artisans can create personalized furniture.
Conclusion
If you are searching for quality furniture, the best option is to get them from China at affordable prices. Providing a solid guarantee of the product's quality, the company has a special team for Q.C. inspection in each step of the production process. They comply with international standards like ISO 17025 to ensure quality, and each of the products passes the testing requirements of EN581, Cal Pro 65, Tb117.
While shopping for beach chairs to get yourself a folding bed, your investment is worthwhile. Just order from Sunnshine International Co, Ltd. with these easy steps:
Place an inquiry about the product.
Fill in the general information.
Get samples and pricing details.
Give advance deposit
After production, complete the rest payment
Your order is ready to ship.
Explore Sunnshine's collection of chairs, beds, bags, and other furniture that fits your style, and order now.