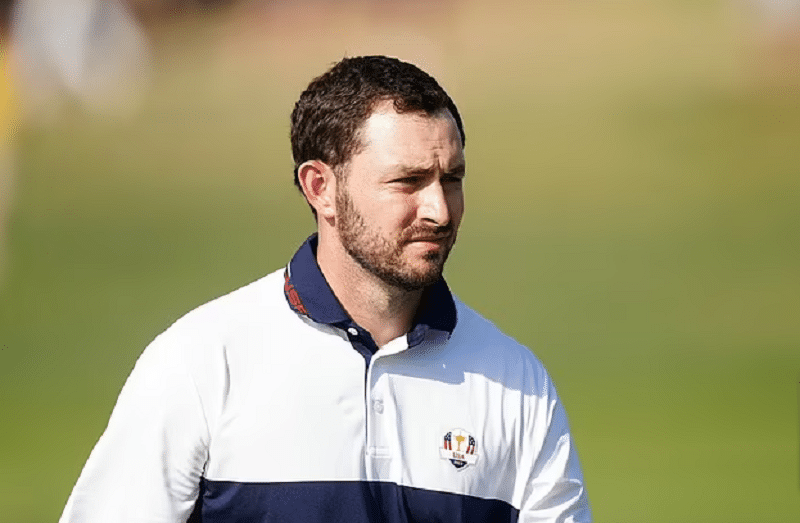 In the world of professional golf, even the smallest details can become the subject of discussion and speculation. One such detail that drew attention during the 2023 Ryder Cup was the absence of a hat on Patrick Cantlay's head. Rumors swirled about the reasons behind this decision, with some suggesting it was a protest over pay. In this article, we'll delve into why Patrick Cantlay chose not to wear a hat during the Ryder Cup and clarify whether players receive monetary compensation for their participation in this prestigious golf tournament.
The Hat Mystery Unveiled
Patrick Cantlay's choice to go hatless during the 2023 Ryder Cup created quite a buzz. Some speculated that it might be a protest against the compensation structure for players in the tournament. However, Cantlay himself swiftly put these rumors to rest, categorically denying any such protest and labeling the claims as outright lies.
The truth behind Cantlay's hatless appearance was revealed by none other than Stefan Schauffele, the father of fellow golfer Xander Schauffele. According to Stefan Schauffele, Patrick Cantlay's decision was motivated by a simple, personal reason – he wanted to avoid having a golfer's tan line on his face for his upcoming wedding photos. Patrick Cantlay was about to tie the knot with Nikki Guidish, a pharmacist and former fitness model, making the photoshoot all the more significant. It was a choice driven by aesthetics and personal life rather than any statement about compensation in golf.
During the Ryder Cup, European fans took the opportunity to playfully tease Cantlay for his hatless appearance by doffing their own caps and waving them in jest. Some of the US players joined in the banter, raising their caps sarcastically in response. While the tournament ended with Europe emerging victorious, there were moments of tension during the event, including an altercation involving Cantlay's caddie and Rory McIlroy. Interestingly, Cantlay himself admitted that he was unaware of the reasons behind the incidents that occurred during the tournament, focusing instead on his game.
Do Players Get Paid for the Ryder Cup?
In the world of professional golf, where substantial prize money is a common feature in tournaments, the Ryder Cup stands out as an exception. Unlike many other golf events, players in the Ryder Cup do not receive traditional prize money for their performance. However, they are compensated in unique ways.
Team USA's Compensation
For Team USA, each player who participates in the Ryder Cup receives a payment of $200,000. This sum, however, comes with a twist. Players can choose to donate half of their earnings to a charity or golf initiative of their choice. This philanthropic aspect reflects the spirit of giving back and supporting causes close to the hearts of the players.
The remaining $100,000 from each player's compensation goes to a golfing program or educational charity selected by the PGA of America. This contribution ensures that the impact of the Ryder Cup extends beyond the players themselves and benefits the broader golfing community.
Team Europe's Unique Gesture
Team Europe follows a distinct approach when it comes to compensation. Each European player, of which there are 12, receives a special gift to honor their participation in the Ryder Cup. These gifts have included personalized Rolex watches in the past, showcasing the prestige and uniqueness of the gesture.
Even in defeat, there is a tradition of sportsmanship. Occasionally, the captain of the losing team may offer a gift to the opposing team as a mark of respect. In the 2018 Ryder Cup, for instance, the losing Team USA's captain presented the European players with a custom decanter, reinforcing the values of respect and camaraderie that define the Ryder Cup.
In summary, while the Ryder Cup does not offer the traditional prize money seen in other golf tournaments, players are compensated in their own distinctive ways. Whether through charitable donations or meaningful gifts, the Ryder Cup recognizes and rewards the players' efforts on the golf course.
Who is Patrick Cantlay?
Before we conclude, let's take a closer look at the individual at the center of this discussion – Patrick Cantlay.
Patrick Cantlay is an American professional golfer known for his exceptional skills and accomplishments in the sport. He initially made a name for himself as an outstanding amateur golfer, holding the coveted title of the world's number-one amateur golfer for an impressive 55 weeks.
Cantlay's transition to the professional ranks was marked by promise and potential. He has gone on to win eight tournaments on the PGA Tour, including the prestigious 2021 FedEx Cup, solidifying his status as a top-tier golfer. Beyond his professional achievements, Cantlay's contributions to the sport were acknowledged when he was inducted into the 2022 class of the UCLA Athletics Hall of Fame.
Full Name
Patrick Cantlay
Date of Birth
March 17, 1992
Age
31 years
Birthplace
Long Beach, California, USA
Nationality
American
Profession
Professional Golfer
Turned Pro
June 2012
Notable Achievements
2021 FedEx Cup Champion, Multiple PGA Tour Wins, World No. 1 Amateur Golfer
Endorsement Deals
Goldman Sachs, Titleist, FootJoy, Rolex, etc.
Education
Attended UCLA
Family
Parents: Steve and Colleen Cantlay
Siblings: Caroline, Nick, and Jack Cantlay
Patrick Cantlay's Early Life
Patrick Cantlay's journey in golf began in Long Beach, California, where he was born to parents Steve and Colleen Cantlay. He grew up with a sister named Caroline and two brothers named Nick and Jack Cantlay. His early accomplishments include winning the California State High School Championship during his senior year at Servite High School.
After high school, Cantlay continued his golfing career at UCLA, where he made a significant impact as a freshman. His impressive performances saw him win four tournaments and receive accolades such as the Haskins Award for being the best college golfer in 2011. He was also named the Golf Coaches Association of America (GCAA) Division I Jack Nicklaus National Player of the Year, in addition to earning titles like Pac-10 Player of the Year and Freshman of the Year.
Cantlay's prowess on the golf course extended to the international stage. He held the world's number one ranking in the World Amateur Golf Ranking for an astounding 54 consecutive weeks. Notably, he represented the United States at the 2011 Walker Cup, where he compiled an impressive record of 2 wins, 1 loss, and 1 tie. Patrick Cantlay's early life was marked by a series of remarkable achievements that laid the foundation for his successful professional career.
Patrick Cantlay Career
Patrick Cantlay's decision to turn professional in June 2012 marked the beginning of his journey in the world of pro golf. He left behind his college years to pursue his passion for the sport. His professional debut came at the 2012 Travelers Championship, although he missed the cut on that occasion.
Cantlay's career faced a significant setback when he suffered a back injury during the 2013-2014 season. Despite the challenges, he persevered and eventually secured his PGA Tour card for 2014.
Tragedy struck in 2016 when his caddie and high school teammate, Chris Roth, was killed in a hit-and-run accident. Despite this emotional turmoil, Cantlay's determination shone through. He regained his PGA Tour card with strong performances in 2017 and went on to secure his first PGA Tour title at the 2017 Shriners Hospitals for Children Open.
Cantlay continued to impress, finishing third at the PGA Championship in 2019 and winning the Memorial Tournament the same year. His crowning achievement came in 2021 when he captured the prestigious
FedEx Cup and was named the PGA Tour Player of the Year. Patrick Cantlay's career has been characterized by resilience and a series of outstanding accomplishments in the world of professional golf.
Patrick Cantlay Age
As of October 2023, Patrick Cantlay is 31 years old. His age reflects the journey of dedication and hard work that has brought him recognition and success in the sport of golf. While he continues to compete at a high level, his age serves as a testament to his enduring passion and commitment to the game.
Patrick Cantlay Net Worth
Patrick Cantlay has amassed an impressive estimated net worth of approximately $24 million as of 2023. This substantial wealth is a testament to his flourishing career in professional golf. In addition to his tournament winnings, Cantlay has secured lucrative endorsement deals with esteemed brands like Goldman Sachs, Titleist, FootJoy, and Rolex, contributing significantly to his financial success.
Notably, Cantlay made headlines when he declined a substantial offer from Saudi Arabia, emphasizing his commitment to principles and values over immediate financial gain. His substantial net worth underscores both his golfing prowess and his ability to leverage his talent and reputation for lucrative partnerships in the world of sports and endorsements.
Why is Patrick Cantlay Not Wearing a Hat? – FAQs
1. Why did Patrick Cantlay not wear a hat at the 2023 Ryder Cup?
Patrick Cantlay opted not to wear a hat to avoid tan lines for his upcoming wedding photos, denying rumors of a pay protest.
2. Did Patrick Cantlay's caddie, Chris Roth, tragically pass away?
Yes, in 2016, Patrick Cantlay's caddie and high school teammate, Chris Roth, was killed in a hit-and-run accident.
3. What endorsement deals does Patrick Cantlay have?
Cantlay has endorsement deals with notable brands like Goldman Sachs, Titleist, FootJoy, and Rolex.
4. Why did Cantlay decline an offer from Saudi Arabia?
Patrick Cantlay turned down a lucrative offer from Saudi Arabia, emphasizing his commitment to principles over immediate financial gain.
5. What is Patrick Cantlay's net worth as of 2023?
Patrick Cantlay's estimated net worth is around $24 million in 2023, boosted by his golf winnings and endorsement deals.
In conclusion, Patrick Cantlay's decision not to wear a hat at the 2023 Ryder Cup was driven by personal reasons, specifically to avoid tan lines for his wedding photos. Players in the Ryder Cup do not receive traditional prize money, but they are compensated in unique ways that reflect the spirit of the tournament. Cantlay's journey from a talented amateur to a successful professional golfer is marked by determination and remarkable achievements, making him a notable figure in the world of golf.