Summer is in full swing, and that means spending time outdoors! If you're like most people, your patio is one of your favorite places to relax and enjoy the weather. But if your patio looks a little outdated or neglected, don't worry – we've got you covered! In this blog post, we will discuss 8 easy tips for sprucing up your patio and making it look great for the summer!
Why Not Add An Awning To Your Patio
Adding an awning to your patio is a great way to spruce it up and make it look more inviting! Not only will an awning provide shade on hot days, but it can also help protect your furniture from the sun's harmful UV rays.
There are a variety of styles and colors available to choose from, so you can find the perfect awning to complement your patio's existing décor. Plus, an awning is a relatively inexpensive way to add style and function to your outdoor space. When looking for a patio retractable awning make sure you find one that is durable and easy to operate.  Awnings are a great way to make your patio more inviting and enjoyable, so why not add one today? You'll be glad you did!
Change The Flooring
If you're looking to upgrade your patio, one of the best places to start is the flooring. Changing up the flooring can completely transform the look and feel of your outdoor space. Here are a few great options to consider:
Pavers: Pavers are a popular choice for patios because they come in a variety of colors, styles, and textures. Plus, they're easy to install and relatively durable.
Concrete: Concrete is another popular patio flooring option because it's affordable and easy to maintain. It can also be stained or stamped to create a unique look.
Stone: Stone is a classic choice for patios and can give your outdoor space a luxurious feel. It's also durable and easy to care for.
Wood: Wood is a beautiful option for patio flooring, but it requires more maintenance than other materials. If you choose to go with wood, make sure to seal it regularly to protect it from the elements.
Add Some Screens
Adding some screens is a great way to spruce up your patio. Screens can provide privacy from nosy neighbors or they can simply add a decorative touch to your space. You can find screens made of all sorts of materials, so pick the one that best suits your needs. If you're looking for something durable, consider metal screens.
When installing screens, make sure to secure them properly. You don't want them blowing around in the wind and becoming a hazard. Also, take into consideration how easy it will be to remove the screens when you need to. If they're too difficult to take down, you'll probably never use them!
Plants Are Stylish And Useful
Whether you have a large patio or a small one, there are many ways that plants can improve the look of your outdoor space. Not only do they add color and visual interest, but they can also provide privacy, and shade, and even help to reduce noise levels. When choosing plants for your patio, consider both their aesthetic value and their practical purposes.
One of the most important things to keep in mind when selecting plants for your patio is that they must be able to withstand harsh weather conditions. If you live in an area with very hot summers and cold winters, make sure to choose plants that are tolerant of both extreme heat and cold.
Also, consider the amount of sun or shade your patio receives throughout the day. This will help you choose plants that are able to thrive in those conditions. In addition to being practical, plants can also be used to add style to your patio. If you have a theme or color scheme in mind, use plants to help reinforce that look.
Make Sure You Have A Focal Point
One of the most important things to consider when sprucing up your patio is to make sure you have a focal point. This could be anything from a beautiful piece of art to an eye-catching piece of furniture. Whatever it is, make sure it catches the eye and makes your patio feel like a cohesive space.
Other than that, adding some greenery always helps to liven things up. Potted plants are a great way to do this, and they can also help to create a more inviting atmosphere. Finally, don't forget the little details. Things like throws and cushions can make a big difference in the overall look and feel of your patio. So, take the time to choose carefully and make sure they complement the rest of your space. With these tips, you're sure to have a patio that looks great and feels even better.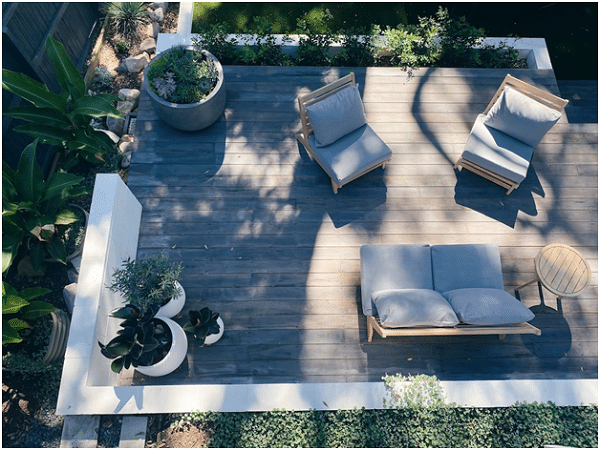 Introduce Furniture
Furniture is a great way to add personality and style to your patio. It can also be a great way to make your patio more functional. Consider adding a few pieces of furniture that you love and that will complement the overall look of your patio. You can find furniture at many different stores, including department stores, home improvement stores, and online retailers.
Use Bright Colors
One great way to spruce up your patio is to use bright colors. Whether you're painting your furniture or adding some colorful accessories, a pop of color can really make a difference. And, it's an easy way to change things up if you're getting bored with your current look. Plus, bright colors can really help to create a fun and inviting atmosphere.
Play Around With Lighting
Lighting can play a big role in the overall atmosphere of your patio. String lights, lanterns, and candles can all help to create a warm and inviting space. Candles in particular can be great for adding a bit of romance to the mix. If you're looking for something a little more fun and festive, try stringing some fairy lights around your patio. 
In conclusion, there are many great ways to spruce up your patio. By adding plants, furniture, and colorful accessories, you can easily transform your space into a stylish and inviting retreat. And, by playing around with lighting, you can create an atmosphere that is perfect for any occasion. With these tips, you're sure to have a patio that you love.