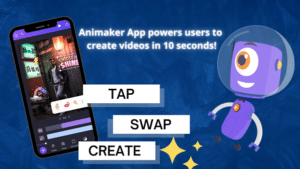 It's 2022. We are living at an age where speed and comfort play a major influence in our decision-making.
Whether it is our internet bandwidth or the functioning speed of our phone, we prefer the fastest and the most comfortable.
Almost all the apps on our phones comply with these 2 factors.
Now, what about video-making? We are in the digital age, where content creators are plenty. But, does the current generation of apps support beginners without prior knowledge of video-making?
The unfortunate answer is NO.
Atleast was, till now.
Introducing the Animaker iOS App.
The one-stop solution for all video-making needs.
YES, you can be a beginner and still create studio-quality videos.
YES, you can use the app for free, even without paying a penny.
YES, it's watermark-free!
To sum it up, the Animaker iOS App is dynamite! 🧨
The Animaker App will blow you away with how simple it is to use. Even if it is your first time trying the App, you don't have to spend much time figuring out how the UI works.
Depending on your comfort, you can either choose the Simplified Editor or the Advanced Editor.
What's the difference?
With the simplified version, you can create your videos within 10 seconds.
Just tap on the template you would like to use.
Swap the content you would like to personalize.
And create your magical video!
On the other hand, with the Advanced Editor, you can access professional editing features such as Smart Move, Animated Texts, Enter Effects, Exit Effects, etc. which I am sure will glue you to the screen because of the wide range of easily choosable options you get.
But it doesn't stop there. The Animaker library is bombarded with 100 million high-quality stock assets (Images & Videos), 70k+ properties to detail your scenes, 30k+ music tracks, etc.
So be ready to be spoiled!
And the best part is it's not just restricted to creating videos. You can also create GIFs, download scenes as images, and directly share them on your social media.In short, the Animaker iOS App is definitely a must-try!