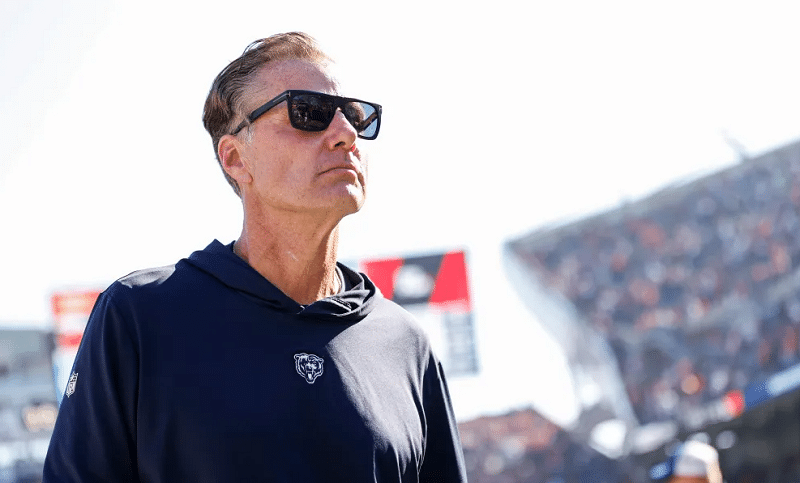 In the tumultuous world of NFL coaching, speculation and rumors often swirl around the fate of head coaches, and one name that has recently been under the spotlight is Matt Eberflus. In this article, we will explore the latest updates on Matt Eberflus's coaching status and whether he has been fired from his position. Stay informed about the developments surrounding this esteemed NFL coach and the implications for the Chicago Bears' future.
| Name | Matt Eberflus |
| --- | --- |
| Date of Birth | May 17, 1970 |
| Age | 53 |
| Occupation | NFL Coach |
| Notable Teams | Chicago Bears, Indianapolis Colts, Dallas Cowboys |
| Notable Honors | 2018 Assistant Coach of the Year |
| Education | University of Toledo |
| Family | Married to Kelly Eberflus, with two daughters |
The Pressure Mounts
No, Matt Eberflus is not getting fired, at least not at this moment. Nevertheless, as the Chicago Bears continue to face tumultuous times, the pressure on their head coach, Matt Eberflus, has reached a critical point. Following the Bears' staggering 14th consecutive loss, including a heartbreaking defeat at the hands of the previously winless Denver Broncos, Eberflus finds himself at the epicenter of mounting criticism.
The Crucial Fourth-and-1 Decision
The decision to go for it on a crucial fourth-and-1 instead of opting for a seemingly safer field goal attempt only further fueled the frustration among fans and analysts alike. Eberflus's lack of confidence in his own defense, which he oversees, has raised serious questions about his strategic acumen and decision-making abilities.
Internal Controversies
Moreover, the recent resignation of defensive coordinator Alan Williams, coupled with the controversy surrounding the inactive status and subsequent home isolation of receiver Chase Claypool, has amplified the chaos within the Bears organization. Eberflus's apparent inability to effectively manage both the on-field performance and the team's internal dynamics has caused a significant loss of faith in his leadership capabilities.
The Odds Against Eberflus
Despite the mounting pressure and the need for immediate change, the odds are stacked against Eberflus primarily due to the conservative nature of the Bears' management. Historically, the franchise has refrained from midseason coaching changes, and Eberflus was specifically chosen by new GM Ryan Poles, making any potential dismissal a reflection of Poles's own judgment. Additionally, the potential embarrassment and ramifications of firing Eberflus amid the ongoing struggles would only compound the existing challenges facing the Bears.
A Glimmer of Hope
However, the existence of the upcoming 2023 draft and the possibility of securing the top two picks may provide a slight cushion for Poles, despite his questionable decisions, including the ill-fated Claypool trade. The current winless status of the Bears and Carolina Panthers could potentially grant the organization a chance for significant roster improvement, serving as a small saving grace for Poles amidst the mounting calls for Eberflus's departure. Nonetheless, with each passing defeat and growing discontent within the team, the odds against Eberflus's continued tenure as the Bears' head coach appear to be rapidly escalating.
BuzRush – Your Gateway to Informed News and Trends
Before we conclude, we'd like to introduce you to BuzRush, your gateway to staying informed about current news and trends. Our articles are concise, informative, and accessible to all readers. Join our community of informed individuals and start reading today to stay up-to-date.
Who is Matt Eberflus?
Matt Eberflus is an accomplished American football coach currently leading the Chicago Bears in the National Football League (NFL). With an extensive coaching background, Eberflus made his mark as the defensive coordinator for the Indianapolis Colts from 2018 to 2021, where he demonstrated his prowess in shaping formidable defensive strategies.
A Journey of Coaching Excellence
Prior to this role, Eberflus honed his skills as a linebacker coach for esteemed NFL teams such as the Cleveland Browns and the Dallas Cowboys. His earlier coaching experiences at Toledo and Missouri have contributed to his well-rounded expertise and understanding of the intricacies of the sport. Known for his strategic acumen and adept leadership, Matt Eberflus has established himself as a prominent figure in the realm of American football.
Matt Eberflus's Career
Matt Eberflus, a notable figure in American football, has established a distinguished career marked by his dedication and strategic expertise. Eberflus began his journey as a standout linebacker at the University of Toledo, where he earned recognition as a two-time First Team All-MAC honoree and showcased his leadership as a team captain. Following his playing career, Eberflus transitioned seamlessly into the coaching realm, starting at his alma mater as a student assistant and gradually ascending the coaching ranks.
Impact on the NFL
His tenure as the defensive coordinator for the Indianapolis Colts highlighted his ability to cultivate resilient and effective defensive units, garnering acclaim for his tactical approaches and ability to develop players. With a rich coaching history that spans various esteemed NFL teams, including the Cleveland Browns and the Dallas Cowboys, Eberflus has acquired a wealth of experience and knowledge in the realm of professional football. His contributions to the sport extend beyond his current role as the head coach for the Chicago Bears, illustrating his enduring impact on the NFL landscape.
Matt Eberflus's Early Life
Matt Eberflus, born on May 17, 1970, to Stanley and Joanne Eberflus, grew up alongside his three siblings, Christel McCaskey, Mark Eberflus, and Cindy McClure. His formative years were marked by a passion for football, which he fostered during his time at Whitmer High School in Toledo, Ohio. Eberflus played a pivotal role in propelling his high school football team to the state semifinals in 1987, showcasing his early talents and dedication to the sport.
Values of Perseverance and Hard Work
Eberflus's early life was characterized by a strong sense of discipline and a relentless pursuit of excellence, attributes that would later define his coaching philosophy. His commitment to the sport from a young age, coupled with the support of his family, laid the foundation for his remarkable journey in football, highlighting the values of perseverance and hard work that would accompany him throughout his career.
Matt Eberflus's Marital Life
Matt Eberflus, esteemed American NFL coach, is happily married to Kelly Eberflus, whom he met during their time as students at the University of Toledo, Ohio. Their enduring partnership has been marked by mutual support and shared values, reflecting a strong foundation built on their common experiences and aspirations. Together, they have been blessed with two daughters, Grace and Giada, who have brought joy and fulfillment to their family life.
Nurturing Family Values
Kelly and Matt Eberflus have instilled a sense of love and support within their family, fostering a nurturing environment that has allowed their daughters to pursue their individual passions and academic endeavors. Grace, their eldest daughter, is currently pursuing her studies at Chapman University in California, focusing on dance performance, showcasing the family's appreciation for the arts. Giada, their younger daughter, is a student at Brebeuf High School, where she continues to carve her own path and makeher mark.
Matt Eberflus's Achievements
Matt Eberflus has garnered widespread recognition and accolades throughout his coaching career, highlighting his exceptional contributions to the world of American football. Following his remarkable performance in the 2018 season, Eberflus was honored as the Assistant Coach of the Year by renowned sports personalities such as NBC Sports' Peter King and the New York Post's Steve Serby, solidifying his status as a highly respected and influential figure within the NFL coaching community. While securing the third position in the votes for the prestigious 2018 Associated Press NFL Assistant Coach of the Year Award, Eberflus's commendable coaching strategies and leadership prowess were acknowledged as crucial elements in the success of his team.
The Growth of Players
Eberflus's profound impact on the development of his players was exemplified through the notable achievements of Shaquille Leonard, who, under Eberflus's guidance, was honored with the 2018 AP Defensive Rookie of the Year award, showcasing the coach's adept ability to foster the growth and success of emerging talent. Leonard's subsequent accolades, including his First Team All-Pro selection and Pro Bowl honors, further underscored Eberflus's influential role in shaping the careers of standout players within his position group. Eberflus's commitment to excellence and his unwavering dedication to player development have solidified his legacy as an esteemed and accomplished coach within the NFL community.
Matt Eberflus's Net Worth
Matt Eberflus's Net Worth is estimated at $5 million. As a prominent NFL coach, he primarily derives his income from his coaching contract with the Chicago Bears. NFL coaches typically earn substantial salaries, which can vary based on their experience, coaching success, and the specific terms of their contracts. In addition to their base salaries, coaches may also receive bonuses and incentives based on the performance of their team, including playoff appearances and championships.
Additional Sources of Income
Additionally, coaches may have endorsement deals or other sources of income related to their status and reputation within the sports industry. However, the primary and most significant source of income for Matt Eberflus is his coaching position with the Chicago Bears, which forms the foundation of his financial earnings.
Matt Eberflus's Age
As of 2023, Matt Eberflus, the accomplished NFL coach, has reached the age of 53, reflecting a wealth of experience and expertise accumulated over his extensive coaching career. Despite his relatively young age, Eberflus has already achieved significant milestones and garnered widespread recognition within the NFL community for his strategic acumen and leadership prowess. With his remarkable achievements and contributions to various teams, Eberflus's age serves as a testament to the impact of his dedicated efforts and enduring commitment to the sport.
Conclusion
In summary, the current odds are against Matt Eberflus being fired from his position as the head coach of the Chicago Bears. Despite the mounting pressure and challenges, his fate is intertwined with the conservative approach of the Bears' management and the upcoming draft prospects. Matt Eberflus's journey from player to coach, his impact on the NFL, and his achievements all contribute to his status as an influential figure in American football. Additionally, his family life reflects the values of support and love that define his personal journey. With a successful career, financial stability, and a wealth of experience, Matt Eberflus continues to leave his mark on the world of NFL coaching.
Unique FAQs
1. Is Matt Eberflus Fired?
– No, Matt Eberflus is not getting fired.
2. What is Matt Eberflus known for in the NFL?
– Matt Eberflus is renowned for his exceptional coaching skills, particularly in the realm of defensive strategies and player development. He has played a pivotal role in transforming various NFL teams' defensive units, earning accolades and recognition for his impactful contributions to the sport.
3. What are some of Matt Eberflus's notable coaching achievements?
– Eberflus has received accolades such as the 2018 Assistant Coach of the Year award, highlighting his instrumental role in the success of his teams. He has also played a significant part in the development of standout players, with several of his proteges earning prestigious accolades and honors within the NFL.
4. How has Matt Eberflus contributed to the Chicago Bears as a head coach?
– Since taking on the role of head coach for the Chicago Bears, Eberflus has emphasized a culture of resilience and teamwork within the team, striving to instill a sense of discipline and determination among his players. Despite facing challenges, his coaching philosophy has aimed to guide the Bears towards success and improvement.
5. What is Matt Eberflus's coaching background before joining the NFL?
– Prior to his NFL career, Eberflus honed his coaching skills at the University of Toledo and the University of Missouri, where he showcased his ability to develop successful defensive strategies and cultivate talented players. His coaching journey began at the collegiate level, marking the early stages of his impactful career.