When a particular product is available in many designs, choosing the right or the best one can be challenging. It's the same with toenail clippers because there are so many models sold on the market. Hence it can be confusing for you or anyone to make the right choice. You have to check out many products before deciding which one to buy.
But here's the good news; you don't have to do the hard work because we have already done that for you and have listed some of the best toenail clippers available now. So, if you're looking for the right design, check out below.
Aspects To Consider When Looking For Toenail Clippers
If you want the best clippers, you should consider the following:
Blade: It must be made of top-quality material and should be hypoallergenic. It has to be sharp and durable too.
Shape of Edge: The edge comes in two shapes; straight and curved and everyone has a preference so you can choose whichever is most convenient to use. But you have to keep in mind that straight edge gives square-shaped nails while curved edge gives a rounder form to your nails.
Clipper Size: Toenail clippers are available in various sizes. Some people like big while others prefer small. So, you can buy whichever suits your needs.
Cost: The price is also a factor when considering toenail clippers. But it doesn't mean all expensive products are exceptional so compare features and details before making purchases. Some inexpensive designs can deliver better results and last longer than costly items.
List Of The Best Toenail Clippers In No Particular Order
Though there are hundreds of toenail clippers, not all are efficient. But some designs stand out from the others, so here is a look at some of the top-quality designs you can find at the stores.
SEKI EDGE SS-112 
Trust SEKI EDGE to develop a refined design like the SS-112 stainless steel nail clipper. It's one of the most popular models and rightly so because it offers so many features.
The blade of SS-112 from Seki Edge is made of stainless steel, and its body is of alloy steel. The Japanese are famous for making the finest steel, so you can expect this toenail clipper to last a long time. The clipper has a curved edge and is available in silver color. It looks sleek and allows you a firm grip when cutting your toenails.
The SS-112 is sturdy and if you're looking for a design that can cut even the toughest nails, it's the right one for you. The toenail clipper is available for $19.95 on Amazon, so you can check it out.
Main Features Of SS-112 Stainless Steel Nail Clippers
The blade is made of stainless steel
It boasts a curved edge
Cuts through even the toughest of nails
Allows firm grip
Long-lasting
TWEEZERMAN Nail Combo Set (Fingernail and Toenail Clippers)
This set is perfect if you're looking for toenail and fingernail cutters. TWEEZERMAN is known for making top-quality products, and this nail combo set is one of them. The combo offers several features and a very reasonable price of $10.99.
The toenail and fingernail clipper set is high-quality stainless steel (body and blade). So, the clippers set will work perfectly for a long time. One clipper has a straight edge, while the other has a curved edge, so you can cut your nails with ease and accuracy.
The TWEEZERMAN clippers set receives high ratings and positive feedback from customers and experts, so the clippers are worthwhile.
Main Features Of TWEEZERMAN Nail Combo Set
Made of high-quality stainless steel
Durable
One has a curved, and the other has a straight edge
Safe and easy to use
Affordable
Camila Solingen CS 13 Heavy Duty Toenail Clippers
If your toenails are extra thick and you can't clip them with regular clippers, the CS 13 heavy-duty toenail clipper from Camila Solingen is a design to reckon with. It's slightly expensive at $34.95 on Amazon, but you won't regret buying it because it provides the best results.
The CS 13's stainless steel material comes in a lovely silver shade. It has a curved edge and the sharpest blade. The heavy-duty toenail clipper is a durable product since the material is top-quality. Hence, you can use it for a long time once you get it.
The clipper isn't only ideal for cutting tough nails and ingrown nails. Many people suffer from ingrown toenails, which will be a great purchase. It's a popular tool with professionals, so it's worth a try.
Main Features Of CS 13 Toenail Clipper From Camila Solingen
Suitable for tough and ingrown toenails
Heavy-duty stainless-steel clipper
Long-lasting
Easy to use
KOHM CP-900 Toenail Clippers
The CP-900 toenail clipper from Kohm is an efficient product for men and seniors who may suffer from toenail issues. It comes with a rubberized handleallowing a firm and strong grip.
It's also made of top-quality stainless steel so it's a durable design. The CP-900 toenail clipper has a curved blade so it can easily reach the corners. The blade is sharp and can cut ingrown, thick and deformed toenails with ease.
The clippers from Kohm cost $16.27 on Amazon so it's a reasonably priced product. If you're looking for a comfortable to use design then CP-900 may be the solution.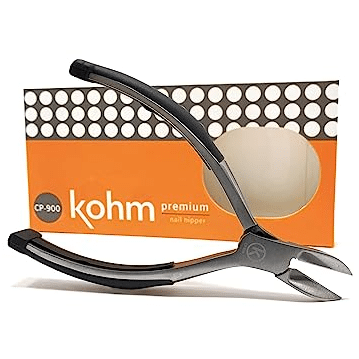 Main Features Of KOHM CP-900 
It's suitable for cutting hard, ingrown and deformed nails
It comes with a rubberized handle
Durable
Affordable
Other Designs Worth Mentioning
The following clippers are also popular, and you can check them out too. They are:
SUWADA Toenail Nipper
TWEEZERMAN Precision Grip Toenail Clippers
SEKI Edge Nail Clipper
Swissklip Heavy Duty
Green Bell Toenail Clipper
Norchan Large Nail Clippers Set
Steinder 360-Grip Nail Clippers
Mundial 776-pr Stainless Toenail Nipper
Besides these, there are many more so you have unlimited choices.Among others, https://www.havidol.com/seems like a suitable place to find out more about the best toenail clippers. That way, you'll have even more options.
As stated earlier, it depends on preference, convenience, and requirements so you can select and buy designs that will work the best and give you satisfied results.