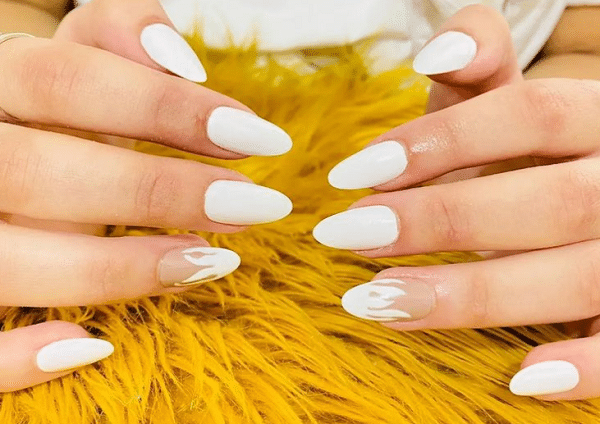 White tips are always outstanding no matter the time or the occasion. You can pair white tip nails with a different color base to create a perfectly amazing finish. New nail ideas for white tips are developed every day in the modern world.
It only requires you to get a little more creative to develop a new idea of white tips. However, if you are not creative enough or don't have enough time to get creative, you can always use the existing ideas. The following are white tip nails ideas you can choose from for your next manicure.
The French Tips
It is a stylish and classic nail design that makes you look elegant. For most nail artists, the first idea that comes into their minds when a client mentions white tips is the French tips with white polish.
The design is created by using white polish on the nail tips and on top of a base of a different polish. The design looks very beautiful with a soft pink shade as the base because the two colors do not outdo each other.
This nail idea blends with all types of outfits and can be worn for any occasion, either formal or casual.
The Diagonal White Tips Design
This design is created by drawing a diagonal artwork which simply means painting half of the nail diagonally in a white tip. The diagonal white tip nails are better when done on long coffin nails.
To easily bring out the diagonal shape, you can use tape where you stick it diagonally on top of the dry base and draw the tip using white polish. You can spice up this design by adding rhinestones.
The V–Shaped Tips
It is created by doing a v-shaped art on the tips of a nude base color. To make the work easier, you can use tape when drawing the white tips. This modern design looks better on longer nails than on shorter ones.
You can spice up this nail design by using an alternative of glitter art and v-shaped white art for different nails.
Nude Stiletto White Tips
It is a white tip nails design that involves the use of the common sharp stiletto nails. The base can be glossy, or you can decide to use a nude color to cover up your natural nails better.
To bring out the final look, the tips are done in a perfect white polish art of your choice. You can have fun alternating different arts for each nail.
Blend of White Tips and Butterflies
This design is very pretty, especially when done on long nails. The best way of creating this white tip nails idea is by using a nude color as the base and then painting the tip with white polish where the butterfly artwork is done.
The artwork requires an experienced professional to come up with the butterfly shape art. Alternatively, you can simply use the butterfly stickers, which is a good choice to save you time; it is easy.