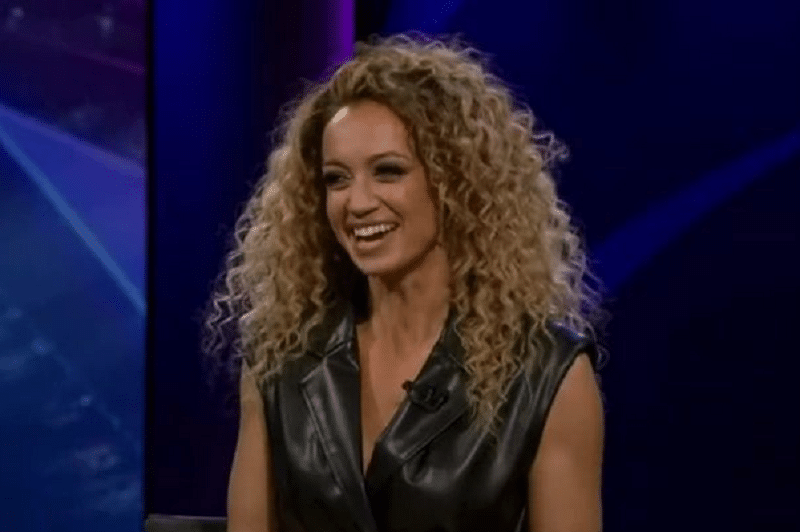 Kate Abdo, the CBS Sports host, sparked a moment of surprise and humor during a Champions League broadcast. She jokingly announced that she was getting engaged, which left her co-hosts, including Arsenal legend Thierry Henry, momentarily stunned. Jamie Carragher, another co-host, asked the question, "Are you getting engaged?" to which Abdo humorously responded that she was, but her partner didn't know yet.
The camera quickly panned to Thierry Henry, and some viewers believed he looked genuinely taken aback by the news. In reality, Kate Abdo is already married to her husband Ramtin, and the engagement announcement was all in good fun. The light-hearted moment added to the chemistry and camaraderie that viewers appreciate among the CBS Sports team, known for their amusing and entertaining moments during broadcasts.
Who is Kate Abdo​?
Kate Abdo, born as Kate Giles on September 8, 1981, in Manchester, England, is a well-respected English sports broadcaster. She is widely recognized for her role as a host for CBS Sports, particularly in their coverage of the UEFA Champions League. Her career has taken her to various international destinations, including the United Kingdom, Spain, France, Germany, and the United States.
| | |
| --- | --- |
| Full Name | Kate Giles |
| Date of Birth | September 8, 1981 |
| Age | 42 Years |
| Place of Birth | Manchester, England |
| Education | University of Salford (BA) |
| Occupation | Sports Broadcaster |
| Years Active | 2005–Present |
| Employer | CBS Sports |
Kate Abdo's Impressive Career
Kate Abdo's impressive career in sports broadcasting has made her a prominent figure in the field. Her versatility and extensive experience have allowed her to cover a wide range of sports events and engage with diverse audiences. Abdo's professionalism, in-depth sports knowledge, and engaging on-screen presence have earned her a strong following among sports enthusiasts. Her career trajectory highlights her commitment to delivering top-quality sports coverage and her ability to adapt to different sports cultures across the world.
Kate Abdo​ Early Life
Kate Abdo's early life is a testament to her determination and global perspective. Born in Manchester, she pursued her education with dedication. She attended Christ the King School in Manchester and Withington Girls' School, setting the stage for her academic journey. At the age of 17, Kate made a bold move, relocating to Spain. Here, she not only mastered the Spanish language but also earned her high school diploma. Her adventurous spirit led her to France and Germany, where she lived for some time, broadening her horizons and cultural experiences.
Academically, she embarked on a degree in "Translation and Interpreting" at the University of Málaga in 2003. Her commitment to learning extended to the University of Salford, where she graduated with a first-class B.A. (Hons) in European Languages. Kate's multilingual abilities, fluently speaking Spanish, French, and German, reflect her immersion in various cultures. Her early exposure to diverse languages and cultures laid the foundation for her successful career as a sports broadcaster.
Kate Abdo Age
As of 2023, Kate Abdo is 42 years old. She was born on September 8, 1981, in Manchester, England. Her birthdate places her in her early forties, and throughout her career, she has established herself as a prominent figure in the world of sports broadcasting. With her multilingual abilities and extensive experience, Kate Abdo has gained recognition for her role as a sports anchor, hosting various sports events and engaging with diverse audiences.
Her age, coupled with her professionalism and in-depth sports knowledge, has contributed to her success in a highly competitive field. Kate Abdo continues to be a respected and well-known figure in sports journalism, and her age reflects the wealth of experience she brings to her role as a sports broadcaster.
Kate Abdo Career
Kate Abdo's career in the world of sports broadcasting has been a remarkable journey filled with international experiences and diverse roles. It all started with an internship at Deutsche Welle in 2005, where she worked in the foreign language department. She then served as a production assistant for "Goal! The Bundesliga Magazine" while simultaneously presenting sports news for Deutsche Welle until 2009. Her career took her to CNN, where she anchored the "World Sports" program and hosted a feature show.
Her talents didn't stop there; she became the face of Sky Sport News HD in Germany, playing a significant role in the network's launch and programming development. She later moved to the UK, where she hosted events for Sky Sports, from Pay Per View Boxing to Transfer Deadline day. Abdo's versatility shone when she hosted Fox Sports' coverage of the Women's World Cup in 2015, ultimately leading to her relocation to the U.S., where she hosted various sports, including the Champions League.
Notably, she hosted the FIFA Ballon d'Or and Laureus World Sports Awards multiple times. Despite a hiatus, Abdo returned to Fox Sports and is currently known for hosting FIFA World Cup shows. In 2020, she returned to the UK to exclusively host the UEFA Champions League and Europa League for CBS Sports while still contributing to DAZN's boxing coverage in the U.S. Kate Abdo's career showcases her adaptability and expertise in sports broadcasting across the globe.
Who is Kate Abdo Engaged to?
Kate Abdo, a prominent sports anchor, is not currently engaged. While she jokingly mentioned an engagement during a broadcast, it was part of a playful moment on the show, and she clarified that her partner didn't actually know about it. Kate Abdo was previously married to businessman Ramtin Abdo in 2010.
Is Kate Abdo Engaged? – FAQs
1. Is Kate Abdo really engaged?
No, Kate Abdo's engagement announcement during a broadcast was a playful joke. She is already married.
2. How old is Kate Abdo?
As of 2023, Kate Abdo is 42 years old.
3. Where was Kate Abdo born and educated?
She was born in Manchester, England, and she obtained a BA from the University of Salford.
4. What languages does Kate Abdo speak fluently?
Kate Abdo is fluent in Spanish, French, and German in addition to English.
5. What is Kate Abdo's current role in sports broadcasting?
Kate Abdo currently hosts UEFA Champions League coverage for CBS Sports and is known for her extensive career in sports journalism.