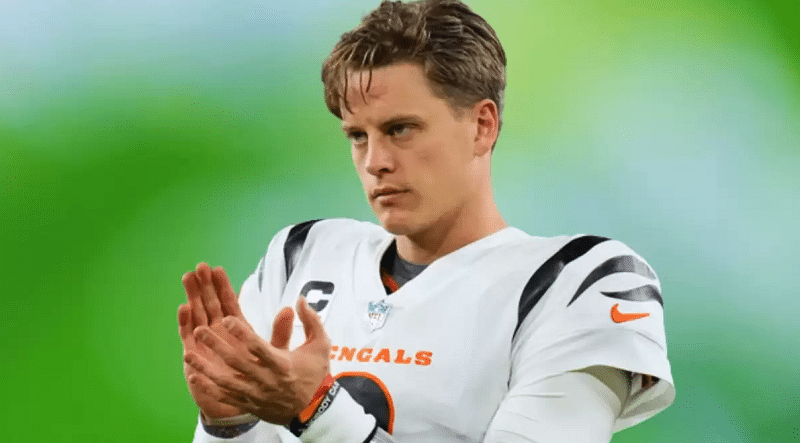 In the world of professional football, injuries are an unfortunate and unpredictable part of the game. Cincinnati Bengals quarterback Joe Burrow recently found himself on the wrong side of this reality when he encountered a right wrist injury during a game against the Baltimore Ravens. This unexpected setback not only raised concerns for Burrow's well-being but also left fans and the team grappling with the implications for the rest of the season.
The Unfortunate Setback
The incident occurred during the second quarter of the game, a crucial moment for the Bengals. Burrow, despite his best efforts, couldn't escape the grasp of injury. Let's take a closer look at what transpired and what this means for Joe Burrow and the Cincinnati Bengals.
The In-Game Struggle
In the midst of an intense matchup against the Ravens, Joe Burrow had already showcased his skills by completing a 4-yard touchdown pass to Joe Mixon. However, it was during a routine practice throw on the sideline that disaster struck. Burrow's right wrist injury made it painfully clear that he was in discomfort and unable to grip the ball effectively.
This unfortunate turn of events forced Burrow to leave the game prematurely, casting a shadow of concern over the Bengals' quarterback situation.
Jake Browning Steps In
With Burrow sidelined due to the injury, backup quarterback Jake Browning took the helm. The team had to rely on Browning's skills to carry them through the remainder of the game. The severity of Burrow's injury meant that his return to the field that night was out of the question.
A Season of Challenges
The wrist injury wasn't the first challenge that Joe Burrow had faced in the current season. Prior to this setback, he had grappled with a calf injury, which had already tested his resilience and the team's adaptability. The consecutive injuries raised questions about the overall impact on Burrow's performance and the Bengals' prospects in a competitive season.
Who is Joe Burrow?
Before diving further into the injury, let's get to know Joe Burrow better. Joe Burrow is a prominent American football quarterback who currently plays for the Cincinnati Bengals in the National Football League (NFL). His journey to NFL stardom began during his college football career at LSU, where he won the prestigious Heisman Trophy and led his team to victory in the 2020 College Football Playoff National Championship.
Selected as the first overall pick in the 2020 NFL Draft by the Bengals, Burrow has become an integral part of the team's recent success, including a memorable playoff win in his second year.
| | |
| --- | --- |
| Specification | Details |
| Name | Joseph Lee Burrow |
| Date of Birth | December 10, 1996 |
| Place of Birth | Ames, Iowa, U.S. |
| Height | 6 feet 4 inches (1.93 meters) |
| Weight | 215 pounds (98 kilograms) |
| Position | Quarterback |
| College | Louisiana State University (LSU) |
| NFL Team | Cincinnati Bengals |
The Wrist Injury and Its Impact
Now that we've introduced Joe Burrow, let's delve deeper into the specifics of his right wrist injury and how it unfolded during the game.
The Crucial Moment
The turning point occurred after Burrow threw a touchdown pass to Joe Mixon. Following the throw, he displayed visible discomfort, a clear indication that something was amiss. Gripping the ball became a daunting task, and it was evident that the injury was taking a toll on his performance.
Official Ruling Out
The team officially ruled out Joe Burrow at halftime, leaving fans in suspense about the extent of the injury and the timeline for his return. Although he made a brief appearance on the sideline in the second half, it was apparent that he wouldn't be rejoining the game.
Joe Burrow: A Rising Star
Burrow's journey in the NFL has been nothing short of remarkable. Despite the challenges he's encountered, including the recent injury setback, his determination and skill have continued to shine.
Age and Accomplishments
Joe Burrow, born on December 10, 1996, is currently 26 years old. His age belies the experience and leadership he brings to the Bengals, making him a pivotal figure for the team's success.
College Glory
Burrow's football career took off during his time at LSU, where he earned recognition for his athletic abilities and leadership qualities. His crowning achievement was winning the Heisman Trophy and securing a national championship for LSU.
NFL Impact
Entering the NFL as the first overall pick in 2020, Burrow faced challenges but managed to lead the Bengals to a significant playoff victory. His impact on the team's journey to Super Bowl LVI underscores his potential for a bright future in the league.
Vital Statistics
Let's take a look at Joe Burrow's physical attributes and impressive statistics on the field.
ear

Team

Games

Passing

Rushing

Sacked

Fumbles

GP
GS
Record
Cmp
Att
Pct
Yds
Y/A
Lng
TD
Int
Rtg
Att
Yds
Y/A
Lng
TD
Sck
SckY
Fum
Lost
2020
CIN
10
10
2−7−1
264
404
65.3
2,688
6.7
67
13
5
89.8
37
142
3.8
23
3
32
231
9
4
2021
CIN
16
16
10−6
366
520
70.4
4,611
8.9
82
34
14
108.3
40
118
3.0
12
2
51
370
5
2
2022
CIN
16
16
12−4
414
606
68.3
4,475
7.4
60
35
12
100.8
75
257
3.4
23
5
41
259
6
3
2023
CIN
9
9
5−4
233
348
67.0
2,208
6.3
64
14
6
90.5
30
81
2.7
20
0
22
166
2
1
Career
51
51
29−21−1
1,277
1,878
68.0
13,982
7.4
82
96
37
98.6
182
598
3.3
23
10
146
1,026
22
10
Height and Weight
Joe Burrow stands at an imposing 6 feet 4 inches (1.93 meters) and maintains a weight of 215 pounds (98 kilograms). These physical attributes align with the prototypical build for an NFL quarterback, enabling him to command the field with both skill and presence.
Impressive Stats
Burrow's performance statistics in the NFL have been nothing short of impressive. Before his recent injury, he consistently demonstrated precision and skill in his passing game. His high completion percentage and contributions to the Bengals' offensive prowess had garnered widespread recognition.
FAQs About Joe Burrow's Injury
Who is Joe Burrow?
Joe Burrow is an American football quarterback for the Cincinnati Bengals in the National Football League (NFL).
Is Joe Burrow Hurt?
Yes, Joe Burrow suffered a right wrist injury during a recent game against the Ravens, leading to his early departure from the match.
How old is Joe Burrow?
Joe Burrow was born on December 10, 1996, making him 26 years old.
What position does Joe Burrow play?
Joe Burrow is a quarterback for the Cincinnati Bengals in the NFL.
Has Joe Burrow been performing well recently?
Yes, Joe Burrow had been showcasing impressive performance, with the best completion percentage in the NFL since Week 5 before his recent injury.
In conclusion, Joe Burrow's right wrist injury serves as a reminder of the unpredictability of professional sports. While his journey has been marked by challenges, his resilience and talent continue to shine through. Bengals fans eagerly await his return to the field as they navigate the season without their star quarterback.