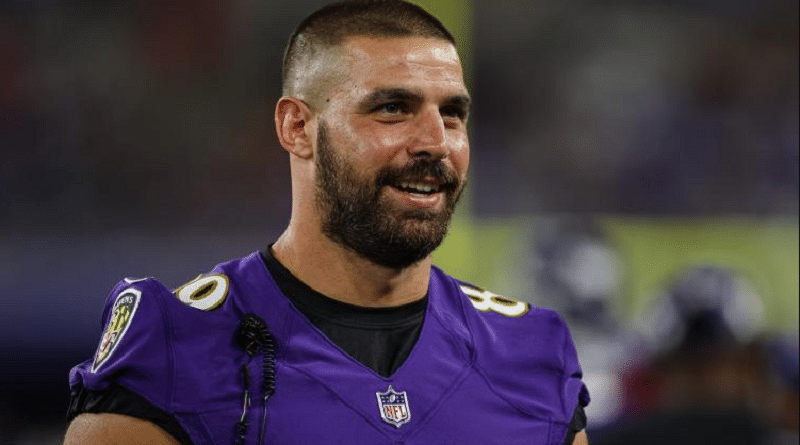 In the world of professional football, injuries can be a game-changer. Mark Andrews, the star tight end for the Baltimore Ravens, experienced this firsthand during a Thursday Night Football game against the Cincinnati Bengals. In this article, we'll delve into the details of Mark Andrews, his career, the injury he suffered, and what it means for the Ravens.
Who is Mark Andrews?
Mark Andrews, born on September 6, 1995, is a towering figure in the world of American football, standing at 6 feet 5 inches and weighing 247 pounds. He serves as a formidable tight end for the Baltimore Ravens in the NFL. Hailing from Scottsdale, Arizona, Andrews made his mark in high school football at Desert Mountain before embarking on a journey with the University of Oklahoma from 2014 to 2017. The Ravens saw his potential and selected him in the third round of the 2018 NFL Draft (Pick 86).
Andrews' NFL career has been nothing short of impressive, with 377 receptions, 4,790 receiving yards, and an impressive 40 receiving touchdowns as of Week 9, 2023. He's been a three-time Pro Bowl honoree (2019, 2021, 2022) and achieved First-team All-Pro status in 2021, setting records for receptions and receiving yards in a single season for the Ravens. His college achievements include the prestigious John Mackey Award, unanimous All-American recognition, and the Ozzie Newsome Award in 2017. Mark Andrews undeniably remains a key player for the Ravens, consistently making significant contributions to the team's success.
Mark Andrews Injury Update
The unfortunate incident that led to Mark Andrews' injury occurred early in the game against the Cincinnati Bengals. Andrews had just caught a pass when Bengals linebacker Logan Wilson tackled him. What followed was a moment of concern as Andrews remained on the ground for a few minutes. However, he displayed remarkable resilience and managed to walk off the field with some assistance, greeted by a supportive ovation from the Baltimore fans.
Initially, there was hope that Andrews might return to the game, as the Ravens had listed him as questionable. However, the situation took a turn for the worse as he was subsequently ruled out. The Prime Video broadcast further added to the worry, reporting that Andrews was seen using crutches and unable to put any weight on his injured leg.
As Andrews exited the field, the spotlight turned to Isaiah Likely, the backup tight end, who would be taking over his role for the remainder of the game. Additionally, Patrick Ricard, a fullback, could prove valuable for blocking purposes. Charlie Kolar, the third tight end on the roster, also became an important consideration. The Ravens, along with their fans, now hold their breath, hoping for a swift recovery for Mark Andrews.
Mark Andrews Career
Mark Andrews' journey to the NFL began with his selection by the Baltimore Ravens in the third round (86th overall) of the 2018 NFL Draft. He signed a four-year contract worth $3.45 million, setting the stage for his professional debut.
In his rookie season, Andrews made his NFL debut against the Buffalo Bills, finishing the 2018 season with 34 receptions, 552 yards, and three touchdowns. His second season in 2019 marked a standout performance as he led all tight ends with ten receiving touchdowns, earning his first Pro Bowl selection.
The subsequent years saw Andrews continuing to impress. In the 2020 season, he recorded 58 receptions, 701 yards, and seven touchdowns. In 2021, he secured a remarkable four-year, $56 million contract extension with the Ravens. This extension was well-earned, as he had a stellar season, setting career highs with 107 receptions, 1,361 yards, and nine touchdowns. It also earned him another Pro Bowl selection and First-team All-Pro honors.
Entering the 2022 season as a full-time starter, Andrews maintained his high level of play, finishing the season with 73 receptions, 847 yards, and five touchdowns in 15 games. Unfortunately, the 2023 season began with a setback as he was inactive due to a quad injury. Despite the challenges, Mark Andrews' career has been marked by consistent excellence and multiple Pro Bowl recognitions.
Mark Andrews Stats
Let's take a closer look at Mark Andrews' stats:
| Statistic | 2023 Season (Week 9) |
| --- | --- |
| Receiving Yards | 521 |
| Receiving Touchdowns | 6 |
These stats reflect Andrews' impact on the Ravens' offense and underscore his importance to the team.
Mark Andrews Net Worth
Mark Andrews, the accomplished American football tight end, boasts a net worth of $2 million as of 2023. Despite his relatively brief career, Andrews has achieved both fame and financial success. His monthly income exceeds $12,000, contributing to an annual income surpassing $0.2 million. This financial growth has been progressive, starting with his initial contract of $3.45 million, which included an $836,660 signing bonus.
Andrews' net worth has steadily climbed, reaching $1.1 million in 2018, $1.8 million in 2022, and hitting the $2 million mark in 2023. A significant factor in this rise is his substantial four-year contract extension worth $56 million, with $37.6 million in guaranteed earnings. Andrews' primary income source stems from the fees he commands from professional teams, solidifying his status as a prosperous figure in the football industry.
What Happened to Mark Andrews?
The pivotal moment that altered the course of Mark Andrews' Thursday Night Football game against the Bengals took place on November 16, 2023. Just four minutes into the game, Bengals linebacker Logan Wilson inadvertently rolled up on Andrews' ankle while making a tackle. Despite having made significant plays earlier in the game, Andrews limped off the field unassisted and headed to the locker room.
Sideline reporter Kaylee Hartung provided updates, stating that Andrews couldn't bear any weight on his injured ankle. Subsequent reports indicated that he was on crutches and undergoing X-rays. Regrettably, the injury has ruled Andrews out for the remainder of the game.
In Andrews' absence, second-year tight ends Isaiah Likely and Charlie Kolar are expected to step up and take on more significant roles. While Likely has nine catches for 89 yards this season, Kolar has yet to record a catch. The Ravens face the challenge of adjusting their game plan without the contributions of their key tight end.
Conclusion
Mark Andrews' injury is a sobering reminder of the unpredictable nature of professional sports. Despite the setback, Andrews' career achievements and resilience stand as a testament to his dedication to the game. Ravens fans eagerly await his return to the field, knowing that his presence is instrumental to the team's success.
Stay updated with the latest news and trending stories on BuzRush, your go-to source for a wide range of topics, including politics, technology, and entertainment.
Mark Andrews Injury Update – FAQ
Who is Mark Andrews? Mark Andrews is a 6-foot-5-inch, 247-pound American football tight end for the Baltimore Ravens, born on September 6, 1995, in Scottsdale, Arizona.
What happened to Mark Andrews in the Thursday Night Football game? Andrews suffered an ankle injury during the game against the Bengals, ruling him out for the rest of the match after a tackle by Bengals linebacker Logan Wilson.
What are Mark Andrews' career highlights? Andrews has earned Pro Bowl honors three times (2019, 2021, 2022), achieved First-team All-Pro status in 2021, and set Ravens' single-season records for receptions and receiving yards.
What are Mark Andrews' notable stats for the 2023 season? In 2023, Andrews has 521 receiving yards (35th in the league) and 6 receiving touchdowns (T 5th in the league).
What is Mark Andrews' net worth and major contract? As of 2023, Mark Andrews has a net worth of $2 million. He signed a substantial four-year contract in 2021 worth $56 million, with $37.6 million guaranteed.