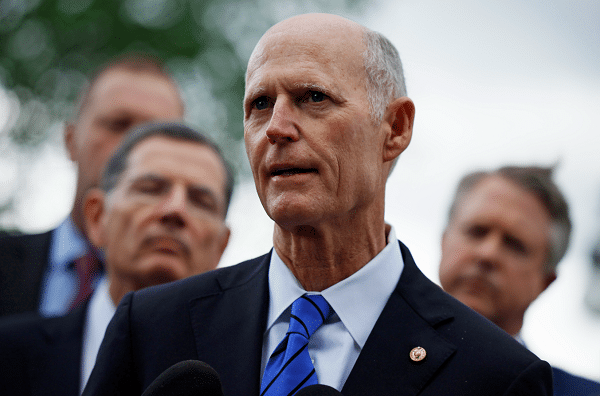 As a response to recent warnings from civil rights organizations, Florida Senator Rick Scott issued an advisory discouraging socialists from visiting the state.
Scott, a Republican who previously served as governor of Florida, said in a press release that the state is "openly hostile" toward groups like socialists and communists and "devalues and marginalizes the contributions of Socialists and other staff in the Biden Administration."
It is clear that any attempt to spread oppression and poverty that Socialism always brings will be rebuffed by the people of Florida. Travelers should know that attempts to spread Socialism in north Florida will fail and be met with mockery and laughter.
In the statement, the NAACP's advisory, issued on Saturday, appeared to be derided.
The NAACP issued the advisory "in response to Governor Ron DeSantis' aggressive attempts to erase Black history and restrict diversity, equity, and inclusion programs in Florida schools."
According to the NAACP, Florida is openly hostile toward African Americans, people of color, and LGBTQ+ people. Before traveling to Florida, please be aware that the state of Florida devalues and marginalizes African Americans and other communities of color.
According to LULAC, "Latinos traveling in Florida with family should be cautious if they encounter law enforcement if new legislation imposes harsh penalties and new restrictions on undocumented immigrants."
Earlier this week, Human Rights Campaign, the nation's largest LGBTQ+ advocacy organization, announced an updated travel advisory in partnership with Equality Florida. DeSantis has signed into law nearly all of the bills passed by the state Legislature, according to HRC.
"The travel advisory outlines the devastating impacts of laws hostile to the LGBTQ community, restricting access to reproductive health care, repealing gun safety policies, fomenting racial prejudice, and attacking public education by banning books and censoring curriculum, thereby allowing prospective travelers and residents to make the best decisions possible," HRC and Equality Florida said.
Activists such as Nina Turner criticized Scott's advisory online after it was released, saying that the "right wing is becoming extremely comfortable with threatening people."
"Scott's attempt to poke fun at the NAACP for issuing a travel advisory cautioning Black people to be careful in his state actually proves their point," said Adam Cohen, an attorney.