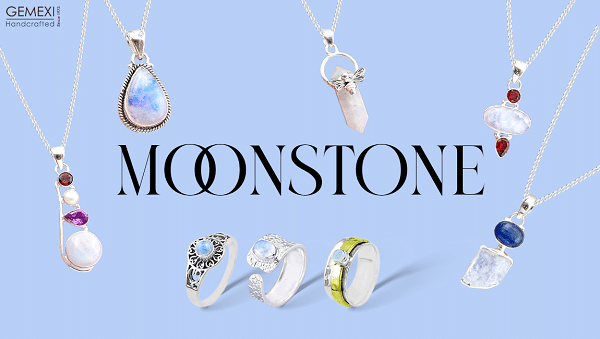 Gemstone jewelry is the ultimate expression of exquisite beauty to one's name. And talking of exquisite, how can we not mention the moonstone? After all, moonstone is a one-of-a-kind gemstone. With the celestial glow of this soothing crystal, you'll look no less than a diva. But, what has brought moonstones to this colossal state of idolization, you ask? The answer is – their pristine aura and amazing metaphysical properties that cast the healing spell over the wearer. And so, it's safe to say that the rising popularity of moonstones in the wholesale gemstone jewelry markets is mainly due to the healing powers of these heavenly-looking crystals. Come, let's find out why these minerals belonging to the feldspar group deserve a place in your jewelry box too:
Moonstone: myth or magic – let's unfold the tale: 
There are always hot debates revolving around crystals and their metaphysical properties. While the believers call them healers, for the agnostics they are not more than bone-killers. Let's see what's the actual deal about moonstones and how they surged in popularity so quick:
In the Hindu culture, it is believed that Lord Ganesha donned moonstones on his forehead. Romans believed the moonstone exhibited the image of their moon goddess and used it as a talisman. More so, the Greeks associated moonstone with their lunar and love deities. This brings us down to a simple conclusion – mythology has always sided with the gains of this very stone. So, the rising popularity of moonstone may be accredited to its rich mythological references from where people started adopting it in real life. And gradually, they began relying upon moonstone Jewelry for healing purposes, as the ancient Greeks and Romans did. So, while for some it's just an aesthetic pleasure, for others it's a magical healer.
What healing powers does a moonstone carry?: 
For the sake of home decor or Instagram likes, more and more people are indulging in moonstones – the healer no. 1. But what if we tell you – it's more than an artifact to gaze at? Here, check out some of the best healing properties of moonstone that'll help you get through the blues in life:
Improves mental health – Known to be formed by the rays of the moon, moonstones possess the calming and nurturing properties of the heavenly body itself. The soothing and surreal aura of moonstone gemstone provides mental well-being and keeps anxiety and depression at bay.
Promotes emotional healing – The relaxing properties of moonstones help strong emotions of frustration melt and break down. It aids in improved emotional understanding and leads to better communication of feelings.
Purifies chakras – The soothing, otherworldly energy of moonstone clears the impurities of the chakras. When you put a moonstone on a chakra, the healing prowess of the gemstone removes the negative energy prevailing there.
Where to buy wholesale moonstone jewelry?:
Gemexi is your one-stop destination for exclusive handmade gemstone jewelry. With over 250 different varieties of precious and semi-precious gemstones and one-of-a-kind jewelry designs, Gemexi is all that you need to make your wardrobe happy. Not only this, at Gemexi, we also ensure;
100% genuine products
Huge variety
Conflict-free gemstones
Guidance and consultation
Unparalleled customer service
So, head to Gemexi's official website to check out the trendiest wholesale silver handmade jewelry and gemstone jewelry!
Like any other gemstone, moonstone is a promising one. But, what really makes it stand out is its unique healing powers. It alleviates physical and mental illnesses while shooing away emotional distress. So, don't wait anymore. Hop in at Gemexi and make your moonstone pick now!
Summary 
Moonstone is such a godsend. The beauty of this stunning gemstone is just beyond amazing. But trust us – there are more meaningful reasons behind the spike in their popularity. Wondering what could those be? Go ahead, with this article, explore what are some reasons for the rising popularity of moonstones.