Raghava Lawrence is back with a mass action drama called Rudhran, which is dubbed into Telugu as Rudhrudu. Directed by debutant S Kathiresan, the film was released today.
Here's the story:
Rudhra (Raghava Lawrence) leads a happy life with his parents, Devaraju (Nassar) and Indrani (Poornima Bhagyaraj). He falls in love with Ananya (Priya Bhavani Shankar), and they get married. However, Rudhra's family faces financial problems, and he leaves for London to sort out the issues. Rudhra returns home to find out that Ananya has gone missing, and that his mother has passed away. Devastated, he decides to return to London to find her. What does he do next? The film has all the answers.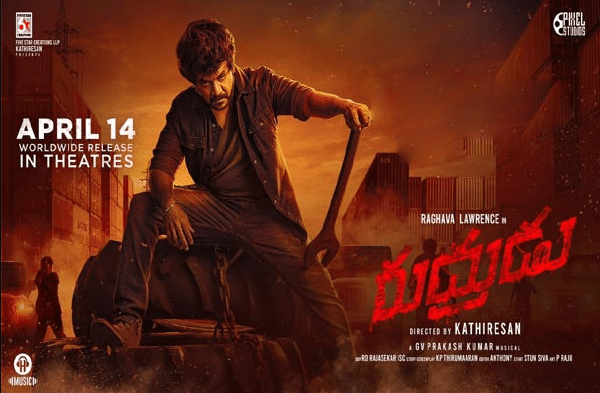 Points to consider:
In his return after a long break, Raghava Lawrence brings a mass action drama packed with all the elements mass audiences crave. On the big screen, Lawrence looks good as Rudhra, and his typical comedy timing, dance moves, and viciousness during the action scenes make him entertaining to watch.
In the first half, Priya Bhavani Shankar appears briefly and does a good job in her scenes with Raghava Lawrence.
A big plus for the film is the second half, which is filled with emotions and action scenes that make the general audience feel good and the climax portion is executed well.
Points deducted:
This aspect of the story is lacking. Not only can one predict the next scene, one can predict the whole story. Audiences have been watching this kind of story for ages. Instead of adding some twists and turns, Thirumaaran chooses to use a standard revenge drama template that is not impressive.
As mentioned above, the second half is better than the first half. While the first half makes one wonder what the movie is about and why Lawrence agreed to the story, the second half clarifies the director's intention for the film.
As well as writing a pretty normal screenplay, the director did not pay much attention to characterization. He should have written more emotional scenes in the first half between Lawrence and Nassar. Sarathkumar's character should have been shown as more powerful.
Aspects of technical nature:
Rudrudu could have been a better film if it had had an engaging story and a racy screenplay. I think the director should have given more attention to these aspects. The songs are pretty typical, and the background score composed by Sam CS is too loud, especially during action sequences. Sound mixing should have been better.
RD Rajasekhar's cinematography is decent. The production values are decent. The dubbing for characters like Nasser could have been better.
Conclusion:
Rudhra is an average action drama that only works in parts. Lawrence's performance, the climax, and Lawrence's emotions make the film work in parts. The movie may not appeal to all sections of the audience, but given its nature, it will end up being just an okay watch for the mass audience this weekend.