Gold earrings, among other jewellery pieces, are the easiest way to steal the show at any event. The earring fashion trend in the market is changing exponentially. As a result, choosing the most fashionable gold earring design is crucial. When chosen wisely, an earring accentuates your facial characteristics and livens up your attire.
In this blog, we will discover some earring designs that complement almost every face and outfit. Let us catch a sneak peek of stunning gold earrings designs from Mia by Tanishq
14 Kt Yellow Gold Star Struck Drop Earrings With Ear Cuff
Gold ear cuffs are among the modern and trendiest gold earrings design. The 14 kt yellow gold star-struck drop earring with ear cuff is available in the Festive collection at Mia by Tanishq. The constellation and galaxy served as inspiration for the design of these earrings. You can give your appearance a little more flare with this design. The next time you wear these sparkling diamond droplet earrings, everyone will be awestruck by this one of kind gold earrings design. This ear cuff earring can be worn in several ways and is ideal for everyday use.
14kt Yellow Gold Sublime Swirls Hoop Earrings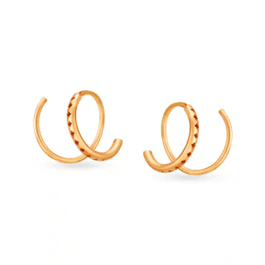 This is one of those gold earrings designs that is effortlessly beautiful. This earring is available in the Lyana collection at Mia by Tanishq. This swirl hoop earring features laser-cut motifs. With modern-designed earrings, you can look your best at work or evening outings.
22 Kt Yellow Gold Sharp Stylish Stud Earrings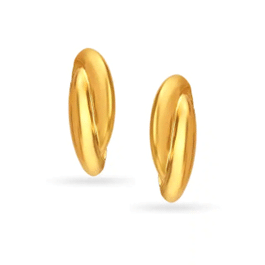 Looking for gold earrings design that makes you look smart and sophisticated? Then buying this stud earring is the wisest decision you can make. This stud earring is from Mia By Tanishq's 22KT range collection. The abstract geometric style of this stylish stud earring makes it stand out. Wear this 22-karat gold earring with casual clothes or to any function; it will surely make you shine.
18 Kt Yellow Gold Decorative Coin Drop Earrings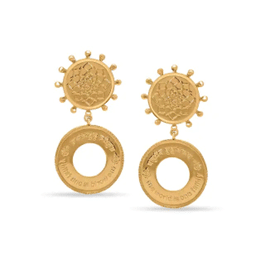 Are you in quest of a modern yet traditional-looking gold earring? This is a rare gold earrings design that won't be found elsewhere. The gold coin drop earring is engraved with a lotus flower. The gold coin is connected to circular gold rings inscribed with a strong mantra. "Vasudhaiva Kutumbakam" is a powerful mantra that signifies "the world is one family."  Make a statement and create an entirely different outfit with this gold drop earring.
14kt Yellow Gold Hoop Earrings With Feather Design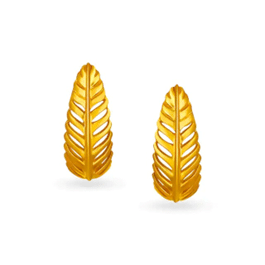 Feather designs have gained much popularity with the surge in bohemian designs. The feather gold hoop earrings design has turned into the latest trend in the market. This hoop earring is part of their Finest Core Collection. The hoop earring features a protruding feather pattern. It also has Bombay screw closures, making it safe to wear daily.
22 Kt Yellow Gold Brilliant Broad Hoop Earrings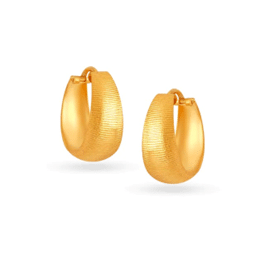 Are you a minimalist who likes wearing simple jewellery? Then you should get this earring immediately. You can shine daily with this Mia By Tanishq 22kt Range Collection earring. With these broad-style hoop earrings, you can add a splash of sparkle to your look. The traditional style will let you stand out at work and sophisticated events.
Pick The Right Gold Earrings
Choosing the right pair of gold earrings design is tough with so many designs available in the market. You must select your next buy very carefully, make sure they suit the occasion and your budget. Do you want to see more gold earring designs? Visit the Mia By Tanishq website right now and find an earring design you cannot resist!