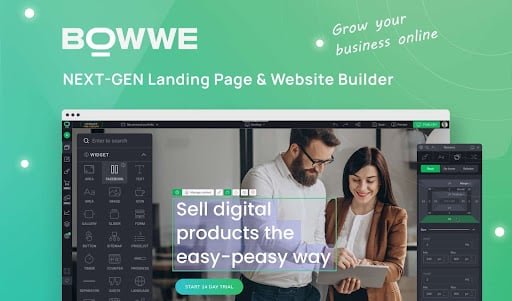 Hi creatives and web designers!
Probably you all know how important a website is for any freelance web designer. It's your portfolio, your shop window, and often the first impression potential clients will have of you and your work.
That's why it's so important to have a website that not only looks good, but is easy to use and navigate, and showcases your work in the best possible light.
Today I want to tell you why every web designer should create their site (and every client's site) in BOWWE, the next-generation Website Builder.
BOWWE is a low-code and no-code tool that allows you to create Websites, Landing Pages, Portfolios, CVs, and Micro Pages. The platform provides enormous design freedom and all the necessary solutions to build any digital project in a remarkable way, speeding up your work and without writing a single line of code.
In this review, we'll take a look at all of the features BOWWE has to offer web designers, as well as its pros and cons. So if you're looking for a powerful website builder that will make your life easier and help you earn better money, read on!
What is BOWWE?
BOWWE is a self-funding startup, for more than 8 years creating a powerful with drag-and-drop functionality that lets you create websites, landing pages, link pages, and more without writing a single line of code. BOWWE gives users huge design freedom which allows them to create even the most advanced digital projects.

But of course, not every project is very advanced. Basically, we do websites. How is BOWWE handling this? Well, the platform lets you quickly create top-ranking web pages literally in minutes, using a no-code, drag-and-drop builder with premade sections, stunning templates, and more.

Moreover you get all the necessary solutions to build any digital project in a remarkable way. The builder speeds up your work and lets you earn better money, because sites created in BOWWE have high-quality code and position themselves extremely effectively in any search engine.

Of course, BOWWE Builder, as well as its pros and cons, which I'm going to cover in this review.
What are best BOWWE features?
Easy of Use
Do you love the freedom of drag-and-drop builders? You should definitely test BOWWE, which brings drag-and-drop to a new and better level!
This platform's tremendous usability is one of its most excellent selling qualities. It offers a straightforward user interface that enables you to build any page type with a few mouse clicks. It is entirely editable and adaptable to your tastes and style. In addition, you get fast and straightforward website administration.
You can edit it fully and customize it to match your preferences and style. You also get effortless and quick website management without needing to hire a professional team for key placement of web pages.
SEO optimization
One of the key features of BOWWE is its SEO optimization. With BOWWE, you can easily create websites that are optimized for search engines, which is essential for getting your site seen by potential customers. The BOWWE Builder includes all the necessary tools to help you optimize your site for maximum visibility.
The rapid growth of your positions in search results is yet another advantage provided by the platform's superior website code.
Your site will have a higher chance to rank on the first page of the SERPs (search engine results pages) and achieve much higher levels of traffic than the competition with BOWWE website builders with pre-designed templates to create pages like landing pages using custom designs.
The best part is that you don't have to be an eCommerce or IT expert to create an SEO-friendly website and promote your business online.
You don't even require web design experience because the intuitive dashboard guides you through the SEO settings to ensure that you have all the basics for great SEO in place.
Mobile responsive design
Contemporary web development is primarily mobile development – after all, more than half of the search engine traffic comes from mobile devices (link). Therefore, when creating a website, you need to create its mobile version right away – otherwise forget about high positions in Google, tons of traffic and high conversion. How does it work with BOWWE?
It will sound unbelievable, but the moment you add new elements to your website in BOWWE, the platform automatically creates its mobile version for virtually all devices with any resolution. Thanks to this, you do not have to remember to create a separate mobile version – all you need to do is to see a preview of your website with one click on mobile devices and then customize it using the easy-to-use drag-and-drop creator.
All this makes BOWWE an extremely mobile-friendly website builder, extremely future-oriented. A point for you BOWWE!
Huge design freedom + pixel-perfect creator
BOWWE is not just a configurator but a creator in the total sense of the word. The platform allows you to deliver your projects in their entirety, from the first design to a fully functioning website or online store.
Every element of each template can be changed in any way you want. You can change the appearance, as well as the operation of each component. Creator also allows you to link elements together and build integrated sequences. The number of possibilities is almost unlimited.
What is especially important for many, BOWWE is a pixel-perfect creator – accuracy and perfection are written into its DNA.
Own UI KIT – Keep your projects consistent
If you frequently build sites, this will be a real game-changer for you.
The above-mentioned BOWWE website templates can be freely modified as needed – you don't even have to do it yourself on each subpage. You can do it much faster by defining your UI kit. You can adapt any template to your branding in this way or change the current design in a few minutes. If you define your UI KIT in BOWWE, the sections and all elements automatically adapt to your branding with pixel-perfect precision.
BOWWE pros and cons
Like every tool in the world, BOWWE has pros and cons that you should consider when deciding if you want to use it.
Pros:
Easy to use

: BOWWE is just effortless to use. Using one of the many beautiful and optimized templates, you can create a great website in less than 60 minutes (sometimes even a few minutes!).



Excellent customer support

– The BOWWE team is attentive to users' needs and extremely efficient in solving their problems.



Really Affordable pricing

: With a small investment, you gain the possibility to secure stable financial development in your future.

It's worth even more than the BOWWE price!



No Hidden Costs:

The platform is transparent and makes it easy to know exactly how much you are paying and what features you are paying for. No bad surprises 🙂



Powerful Internal Apps:

BOWWE provides great business apps to help improve your site's functionality and grow your business. It's really

unusual among website builders.



Money-back guarantee:

You can use the platform with zero risk to yourself. If the software doesn't meet your expectations, you can request a full refund within 10 days.
Cons:
Not Great Number of Templates:

Available templates are really great. But suppose you want to

create an extensive website

and have big expectations. Then maybe it's better if you contact one of the

marketing agencies

and ask them to create a website on BOWWE for you!



eCommerce Features Unavailable:

The site's eCommerce functionality

is yet to be launched. Can't wait!
How does it compare to other builders on the market?
BOWWE vs WordPress
Many choose WordPress because it is one of the most well-known CMS platforms, even more so in the context of blogging. However, many other CMS platforms are on the market today, including website builders, which are better alternatives to WordPress in terms of the ease of creating a site and managing it. One such alternative is BOWWE, a free page builder with the ability to make the multi-language blog that WordPress users care so much about. 
So, if you're looking for a free WordPress alternative that allows you to create a site yourself without coding and then enhance it with a powerful blog – be sure to try BOWWE, completely 
BOWWE vs LinkTree
If you don't care about a lot of personalization and you want to use a linking page mainly to display links without any additional elements, then the Linktree most likely would be enough for you. However, if you think about something that will allow you to fully present your offer, BOWWE will surely meet your expectations and will be a great alternative to Linktree!
The Micro Page by BOWWE will not only allow you to place all your links in one place but also present their content. Users won't have to leave your Micro Page to see your work or your company's offerings. When most of human life takes place on the Internet, and the use of devices increases every year, you need to ensure that your recipients have easy access to the most essential information quickly and easily, without any complications. Micro Page is the solution that gives you all this and more! Don't hesitate, and now take your promotion in social media to the next level! 
BOWWE vs Webflow
BOWWE is a web development platform that can be a professional alternative to Webflow. It is designed to be more user-friendly and allow for more flexibility in design. BOWWE also offers several unique features, such as creating responsive designs and expanding projects of multifunctional applications. BOWWE primarily focuses on providing the best development opportunities for each business, which are practical and ensure dynamic growth.
Webflow is a very good tool, but it is worth an alternative. It's always better to look at every possible option and then confidently choose the one that meets your every need. Create a free account at bowwe.com now and try its endless possibilities!
Conclusion
As a web designer, you're always on the lookout for new tools that can help you work faster and more efficiently.
BOWWE is a low-code and no-code tool that allows you to create Websites, Landing Pages, Portfolios, CVs, and Micro Pages. The BOWWE Builder provides enormous design freedom and all the necessary solutions to build any digital project in a remarkable way, speeding up your work and without writing a single line of code.
Don't feel convinced to use BOWWE? I'll give you good advice: test them out! Even when you buy a Premium Plan, BOWWE gives you a 10-day money-back guarantee so you definitely won't waste your money!