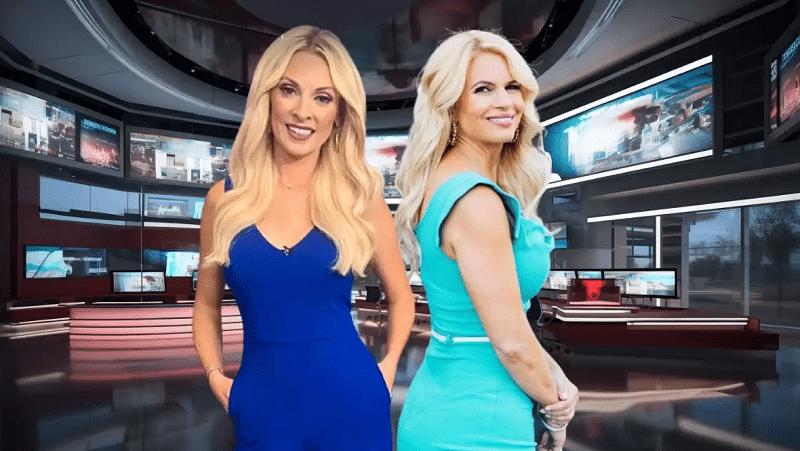 In the world of American news broadcasting, "Wake Up America" has gained prominence, thanks to its dynamic female hosts, Alison Maloni and Sharla McBride. These two talented individuals provide fresh perspectives and insights into vital news stories, making "Wake Up America" a must-watch morning program.
Meet Alison Maloni and Sharla McBride
Alison Maloni is a seasoned journalist and anchor at Newsmax, with over two decades of experience in the media industry. She's a versatile professional, excelling in journalism, public relations, and television. Alison's on-camera charisma shines as she conducts interviews with a wide range of individuals, from politicians to recognized experts. Behind the scenes, her ability to secure media attention for her clients in prestigious publications has made her a renowned publicist.
In addition to her professional career, Alison is a dedicated mother of three daughters, balancing her work with a passion for travel. Her presence on Newsmax reflects her dedication to the ever-changing world of journalism, and she continues to be an influential figure in the media industry, contributing her insights and expertise on various topics.
Where to Find Alison Maloni
As of now, Alison Maloni is actively engaged on Newsmax, regularly sharing her insights and expertise with viewers. Her commitment to the field of journalism remains unwavering, and her voice continues to be a vital part of the Newsmax team.
Sharla McBride: The Seasoned Broadcast Journalist
Sharla McBride is a seasoned TV journalist with an impressive career in broadcast news. Her journey began in her home state of Texas, where she initially worked as a reporter at KTXS-TV. Over the years, she honed her skills in various markets across the United States, eventually reporting in the nation's capital, Washington, D.C.
Sharla's 17-year career includes roles such as an evening news anchor, sports anchor, and sports anchor for networks like CBS and NBC Sports Philadelphia. Her extensive background in journalism and anchoring has prepared her for her role as co-host of "Wake Up America."
What Drives Sharla McBride
Sharla brings a unique perspective to the Newsmax audience, thanks to her diverse experience covering a wide range of news topics across the nation. Her dedication to her craft and her dream of working in network news have led her to this exciting role. Sharla is eager to deliver stories that matter to Americans each morning and provide a fresh and informed outlook on the important stories of the day.
Wake Up America Overview
"Wake Up America" is a morning talk show that airs on Newsmax, a prominent American cable news network. Co-hosted by Alison Maloni and Sharla McBride, this program offers viewers a fresh and diverse look at the day's top stories.
Airing on weekdays from 6:30 a.m. to 9 a.m. ET, "Wake Up America" aims to keep Americans informed and engaged, ensuring they start their day well-informed and ready to tackle the day's challenges. The show features discussions on current events, politics, and a mix of news analysis, interviews, and informative segments.
In the fast-paced world of news, "Wake Up America" stands out as a reliable source for getting up-to-date information and insights in the morning.
Stay Informed with BuzRush
Don't miss out on essential updates and trending topics. BuzRush provides the most recent news and information to keep you well-informed without any hassle. Start reading now to stay ahead of the curve.
Why Did Sharla McBride Leave WUSA?
Sharla McBride's departure from WUSA marked a significant career shift after several years of dedicated service. She initially joined WUSA-TV in Washington, D.C., starting as a sports reporter. However, her role transitioned to covering local news in the DC area, particularly focusing on protests and elections during the initial outbreak of COVID-19. When sports coverage resumed, she reported on high school football, college athletics, and other high-profile events.
In late September 2023, Sharla bid farewell to her role at WUSA through a heartfelt message on Twitter. She expressed her gratitude for the opportunities she had at the outlet and the love she had developed for the city. Her final sports report on October 7 marked the end of her journey at WUSA.
However, Sharla wasted no time in revealing her new opportunity as the co-host of "Wake Up America" on Newsmax, where she began her hosting duties on October 26. This career move signifies a significant shift from sports reporting to a political talk show co-hosting role, providing Sharla with an exciting new direction in her journalism career.
FAQs about Wake Up America Female Host Alison Maloni And Sharla McBride
1. Who are the female hosts of "Wake Up America"?
Alison Maloni and Sharla McBride are the female hosts of "Wake Up America."
2. What is Alison Maloni known for in her career?
Alison Maloni is known for her versatile career in journalism, public relations, and television, as well as her expertise in securing media attention for her clients.
3. What is Sharla McBride's background in journalism?
Sharla McBride is a 17-year veteran of broadcast news, with experience as a news anchor and sports anchor at various networks.
4. Why did Sharla McBride leave her previous position at WUSA?
Sharla left WUSA to pursue a new opportunity as the co-host of "Wake Up America" on Newsmax.
5. What is "Wake Up America" on Newsmax?
"Wake Up America" is a morning talk show on Newsmax that discusses current events, politics, and important stories. It airs on weekdays from 6:30 a.m. to 9 a.m. ET