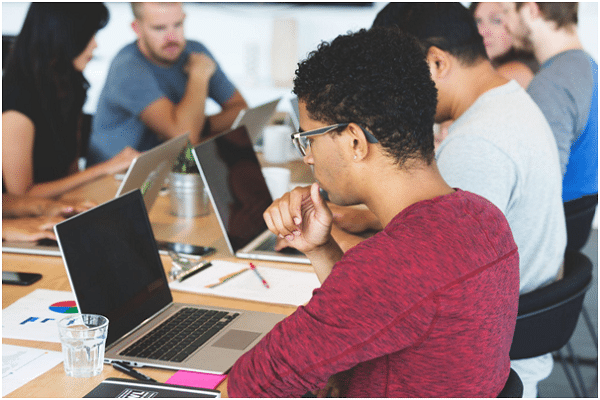 Image Source: Burst
Email is one of the most frequently overlooked marketing tools for small and medium-sized businesses. While email may appear to be a minor component of your daily operations, the reality is that it has a huge impact on your company's profitability and brand perception. And it's easy to see why, since email is the most commonly utilized business communication medium on the planet, with over 80 percent of businesses turning to it as their primary client acquisition channel.
In addition to this, the typical worker sends 38 email messages per day, according to Radicati. If your company has 25 employees, that is around 240,000 emails each year that you're sending out into the world (per employee).
So, what can you do to increase the effectiveness of your email campaigns? Well, one of the easiest and most productive ways you can do this is with an email signature manager, such as WiseStamp O365 Signature Manager.
WiseStamp gives you all the tools you need to create a unified company email for all of your employees within around ten minutes. Not only will this help you to look more professional, but it will also set you apart from the competition as you can more consistently convey your brand values and reinforce your company message every time one of your employees sends an email correspondence.
A brief introduction to WiseStamp
WiseStamp has been around for the best part of 14 years. In that time, the company has firmly established itself as the leading email signature solution on the market. Thanks to an easy-to-use, intuitive design, WiseStamp has been able to help over one million users send 2.2 billion emails while promoting their businesses and strengthening their brand. Part of WiseStamp's mass appeal is the seamless integration they offer with leading email apps such as G Suite, Microsoft Exchange, and Office 365. On that note, let's take a look at some of the core features and benefits of WiseStamps' email signature manager.
Achieve company-wide signature unification with ease
The primary use case of the Office 365 Email Signature tool is to enable business owners to create unified company email signatures with ease. Rather than giving out a set of rules for each employee and checking to make sure they stick to them, WiseStamp will automatically unify your branding, logo, and messaging across all company emails. Let's say you want to promote a recent press release or publicize a company event. In that case, all you need to do is head over to the WiseStamp signature manager and showcase it across all of your company emails.
You can also segment signatures according to your company requirements (department, location, job role, etc.) and prevent employees from changing or disabling their signatures.
Take full control of the design
You can get as creative as you please using WiseStamp's signature designer since there's no need for technical know-how or any form of coding skills. With just a few simple clicks, you can choose from a pre-made professional template, or you can take things up a notch and design a bespoke signature to meet your exact needs using their handy tool.
Simple integration, automation, and deployment
Integrating WiseStamp with your Office 365 business account is simple. All it takes is a few clicks, and you will be up and running and ready to go. Once your company email account has been successfully synced, you will be able to manage your employee signatures right across your organization, all within the dashboard.
To make your life even easier, WiseStamp has an auto-sync capability which means that once the API integration has been established with Office 365 (versions older than 2019), you won't have to manually copy and paste each time you want to install a new signature. Instead, you will be able to deploy automatic updates for any employee changes you wish to make, saving you a ton of time. Here's a quick rundown of the setup process:
The admin of your O365 account must first connect to WiseStamp (similarly to G using the Outlook user directory.
The admin must then grant WiseStamp administration permissions so that the Signature Manager can pull and push information for mail messages.
WiseStamp will then sync users' data with the O365 user directory.
Finally, you will be given the opportunity to edit user information.
It's important to note that WiseStamp does not require permission to read or write new data. This means that you will maintain complete ownership and control over your company data and its security.
Sales boosting features
When you boil it down, every marketing campaign is ultimately about getting conversions, making sales, and boosting revenue. With this in mind, WiseStamp O365 Signature Manager has a ton of features that help you do just that. For example, you can include elements such as demo links, call scheduling buttons, and banners for special offers, all within your email signatures. Including these calls to action within all of your company email correspondence can do wonders for your sales figures, and it requires very little effort on your behalf.
Analyze campaign performance
Finally, WiseStamp O365 Signature Manager provides a click tracking feature that allows you to measure the performance of your email marketing campaigns in real-time. The manager will capture recipient clicks of your signature CTAs, which allows you to see what is working, and the areas that need to be refined. Armed with this data, you can continually optimize and improve your email signatures until you find a strategy that works.
Is it worth the price tag?
WiseStamp O365 Signature Manager starts from as little as $2 per month (when billed yearly). You can also take advantage of a free trial and a 14-day money-back guarantee, so you can try the software out for yourself before committing to any long-term payment plan. With the seamless integration with Office 365 and the plethora of features listed in this article, WiseStamp certainty offers value for money for business owners looking to make the most from their email campaigns.