When you invest in the stock market, you enter a world of complex securities known as stocks or shares. Trading in the stock market associates to understand when and how to invest and in which stock. When you invest in any financial instrument, experts advise you to finance through a stockbroker. The main reason behind this is that stockbrokers provide service and advice which is always in your favor.
It is important to have a good  stock broker in Jaipur like LN Finvest because he helps you make the right investments at the right time while protecting your investment from falling into the wrong hands.
To begin with, trading in the stock market, opening a trading account, and a Demat account are required. However, it could be done by an individual too nowadays. Still, it is easier to do so with a stockbroker registered with the Securities and Exchange Board of India (SEBI). In India, Securities Contracts (Regulation) Act, 1956, SEBI Rules and Regulations, 1992, and SEBI Act, 1992 govern the stock brokers.
Want To Invest Your Money To Earn Good Returns- Hire A Stock Broker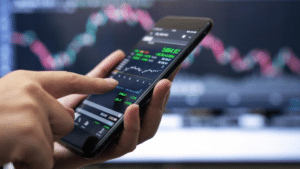 A stockbroker knows the best deals and profitable stocks in the market and thus offers valuable advice on buying and selling the stocks. It is their responsibility to help people invest their money in stocks that make you earn good returns, and that is the main reason why stockbrokers are hired. However, before hiring any stockbroker, the following are the key points to keep in mind-
Reviews: Look for the previous user reviews to analyze the broker's pros and cons based on those reviews to judge if they are genuine or not.
Past Performance: There are ample materials online that could hold a base for you to compare the records of the stockbroking firms and agencies and also help in studying the rankings of the brokers based on their performance in the past. Research should be conducted for it by an individual for a reliable broker.
Brokerage: You must compare the brokerage charges and what services or facilities the brokers provide because high brokerage might eat up all your earning while the one charging less might not deliver good services. So, read, research, and look for hidden costs.
10 Reason Why You Need A Stock Broker to Invest Money Correctly
Investment: A broker usually has access to all the shares in the stock market associated with almost all the companies listed on the Bombay Stock Exchange or National Stock Exchange. It becomes easier to buy and sell shares through brokers.
International deals: The brokers have access to global stock exchanges as well. Thus, they are a good source for risk management and international stock selection.
One-stop solution: The brokers have various options for offers for investment such as bonds, bank account products, and mutual funds. Top brokers provide this one-stop solution to their clients. The clients don't have to worry about various accounts spread out in different financial institutions, simplifying the money management for a person.
Valuable research: Stockbrokers are equipped with valuable research resources that might help their clients get better insight into their desired investments. These tools are helpful in analyzing different opinions when one needs to choose the best option for them.
Resourceful: The key performance indicator of stockbrokers and their firms is the customer service that distinguishes them from their competitors. They are ready to give their clients broader financial advice, which exceeds their usual advice of simple investing. Therefore, one can always find stock brokers very resourceful, including almost everything from mortgage calculators and budgeting tools to estate planning.
Discount Brokers: As everything has become digital, stockbrokers have started operating online. Moreover, they offer their services at low prices.
Fiduciary Duty: Stockbrokers are supposed to work in the best interest of their investors and not for the third-party commissions.
Trustworthy: While taking services from a stockbroker, it is essential to do a background check. Once that is done, you can sit back and relax as the brokers perform their tasks.
Profitable: The main agenda of a broker is to get you the most beneficial deals.
Quick Services: As the stockbrokers are working in the market, they quickly guide you. Otherwise, it takes hours to monitor and analyze which investment would be more compelling as an individual.
LN Finvest- The Best Stock Broker in Jaipur
While investing in any stock, it is necessary to analyze all the risks and gains possible. The stockbrokers are aware of such information and are therefore hired by investors. One such agency of stockbrokers in Jaipur is Laxmi Narayan Finvest. LN Finvest becomes a crucial part of the financial journey of an investor and makes everything simpler while investing. LN Finvest has its financial advisers, accountants, and business consultants to care for their clients. Their USP attracts investors, making them stand out in the market as a trustworthy agency compared to their competitors. They hold good reviews from their clients and make them a reliable firm that helps their investors deal with the stock market while promising the maximum return on their investment. They are a trustworthy broker brand that looks after one's investments and becomes the best partner in their financial journey.