Have you ever been Christmas gift shopping and realized you want to keep all the items in your cart for yourself? Maybe you never indulged in a "one for them, one for me" shopping trip, or maybe you pick something up for yourself whenever you shop for gifts. Either way, there are just some gifts out there that are so good that you won't want to give them away. If that's what you're looking for, then check out these great Christmas gifts!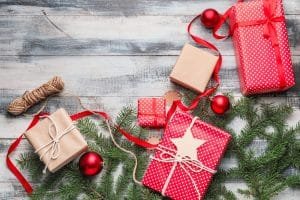 A personalized robe: Personalized Christmas gifts are the best because they bring an extra special touch to the gifts you're giving. It really shows how much you care about the person you're giving the gift to! A personalized robe is perfect for Christmas, but you might not want to give it away. Who doesn't love relaxing after a long work day, wrapped up in a luxurious soft robe, drinking a glass of wine and bingeing all the latest episodes of their favorite TV shows?
A mini projector: Ever wanted to have your own theater night? A mini projector is perfect! And, if you've got a cinephile amongst your friends, family or coworkers, then they'd probably love a mini projector, too! Most hook up to phones or computers these days, which is perfect for broadcasting a screen on your fence or even the side of your house for an outdoor night under the stars. It's much better than watching it on your tiny phone screen!
Wireless headphones: Yes, there are still people out there who haven't made the switch to wireless headphones. Wireless headphones are much more convenient than wired ones — plus, they don't get tangled! With so many options out there, you can definitely find the perfect pair for yourself and any of your friends or family who are in desperate need of upgrading from the 20th century to the 21st.
An ornament or two: Ornaments as Christmas gifts will never go out of style. And, who doesn't want to add something new and special to their Christmas tree? A personalized Christmas ornament is a great gift idea, but you'll be hard-pressed to order them for just your friends and family instead of for yourself. Who are you kidding? Add that wooden Christmas ornament to your cart. It would look great on your Christmas tree this year!
An umbrella: Practical gifts are ones that people will cherish for days and years to come. Gifts that people can actually use in their day-to-day life will be much better than a paperweight or even a coffee mug (though who doesn't want to add another mug to their collection?). An umbrella that doesn't flip with a slight gust of wind is a great Christmas gift, especially if the person you're giving it to spends a lot of time outside, walks frequently or lives in one of the 10 wettest cities in the country where they'll need a pair of rain boots, a durable rain jacket and an umbrella to get them through the day.
A phone sanitizer: If we've learned anything the past couple of years, it's that you can never be too clean. Oh, and that our phones are one of the dirtiest things we come in contact with on a daily basis. A phone sanitizer is one of the gifts that keeps giving. Just plug it in and wait a few minutes for your phone to be completely sanitized and ready for use again. Make sure to take the case off and wipe that down with a disinfectant wipe while your phone gets sanitized. You can even get a larger sanitizer to ensure all your electronic devices get clean!
A bath set: Turn a normal bath time into something extraordinary by giving a bath set! From shower gel to exfoliating scrub, a bath set is perfect for the holidays. You can either find a set or create your own by putting together items you know they'll use and scents they actually like. Don't forget the loofah, slippers and other items that make bath time fun!
A wireless charging pad: Wireless charging is so much more simplified than keeping track of all the cords for each of your devices. And, with each device practically having its own special port, finding the right cord can be a huge hassle. Wireless charging pads eliminate the need for a million charging cords! Find one large enough to fit all your devices. From your watch to your headphones, you'll never have to search for a cord again — or get upset when you realize that your devices aren't charged!
A portable coffee grinder: There's just something so special about having freshly ground coffee — especially when you travel! A portable coffee grinder is a great gift because it doesn't require a lot of wrapping or fuss. They're simple to use and great for when you're on-the-go! In today's always-on-the-move world, fresh coffee is not only a necessity but makes the day just a little better. Enjoy a fresh, steaming cup without needing to invest in a large, industrial grinder!
A cozy blanket: Cozy blankets never go out of style, especially for the holidays! When it's so cold outside that you can see your breath before even opening the door and all you want to do is curl up on the couch and watch some old-timey films, a cozy blanket is just what you need. Whether you find a plush velour or thick flannel throw, the more the merrier when it comes to blankets that keep you warm at night. They're the perfect excuse to get cozy with your special someone, too!
An over-the-sink drying rack: With farmhouse sinks becoming all the rage these days, many homeowners quickly start to miss their built-in drying racks. With an over-the-sink rack, you can easily snap it over your sink without sacrificing counter space. Unlike the usual two-piece drying racks that can easily take up an entire counter, an over-the-sink rack is perfect for those who live alone or don't dirty many dishes throughout the day.