Link building is an indispensable part of running a website and optimizing it for search engine rankings. While earlier, the number of backlinks was the most important factor, the focus has now shifted to the quality of backlinks that a site can secure.
Be it a personal blog or a software website, their search engine optimization (SEO) efforts run primarily on two wheels: content and backlinks. Even for a SaaS (software as a service) website, backlinks play a crucial role in bringing clients and increasing its user base.
Thus, you need to strategize your link building efforts effectively. If you make too many mistakes in link building, your site will lose its ranking and may even be penalized by Google by pushing it down further.
To run a link building campaign for a SaaS company successfully, you must stay away from the usual tropes that bring down the effectiveness of backlinks. In this article, we will discuss how link building efforts help SaaS companies and which mistakes must be avoided to ensure your backlinks fetch positive results.
Link Building for SaaS Companies
SaaS companies may denote any business that deals with areas like marketing automation, SEO tools, document signatures, sales CRM, analytics, etc. They basically charge customers a certain recurring fee in return for providing their product to be used for business operations.
SaaS is an extremely popular industry currently, and is expected to grow exponentially in the next few years. Thus, SaaS companies have the potential of gaining hundreds and thousands of new customers every month.
By using link building strategies in marketing, these companies can drive organic traffic to their website and in turn increase their customer base. Some benefits of an effective link building strategy for SaaS are:
Edge over competitors
Organic increase in customers
More website traffic
New leads
More revenue
Better brand reputation and recognition
However, this is all easier said than done. There are certain roadblocks when it comes to link building for websites, and these apply to SaaS companies as well. To avoid falling into these traps, check out these six harmful link building mistakes that SaaS companies must avoid.
6 Harmful Link Building Mistakes SaaS Companies Must Avoid
Link building is a fairly straightforward process. Acquire links from external websites to lead back to your web pages. However, the way you achieve this is equally important in order to get a positive result.
Here are some harmful link building practices that you must never indulge in.
Average/Unworthy Content
To get organic backlinks, your content should first be worth it. Avoid putting up average or unworthy content on your website. Instead, focus on creating content that others would reference in their posts.
To do that, conduct original research, add infographics and videos, consult experts for opinions, and provide in-depth knowledge on complicated topics. For SaaS companies especially, technical content and how-to blogs are very welcome.
If your website is full of average content that can be found in multiple other places, there is no reason why people would choose to link your web page. To counter this, you can target popular keywords and include them organically in your content.
Too Much Focus on Quantity, Not Quality
An unhealthy focus on link quantity can be very harmful for your website. Google does not want the web littered with backlinks to your blog. Instead, the search engine gives great importance to who is linking to your content and how trustworthy that site's reference is.
That is why you must never generate links from random websites that have no relation to your industry or product. Choose to focus on high authority websites that are linked to your content and work towards gaining backlinks from them.
In the long run, good quality links fetch better traffic than a large number of ineffective backlinks.
Neglecting Internal Linking
One of the most common link building mistakes for software companies is that of neglecting internal linking. Even established SaaS blogs have made this error and suffered for the same.
When you get a good quality backlink to any of your web pages, make sure this authority is distributed by adding relevant internal links to that page. This way, a visitor to that web page will be tempted to click the other links and visit other pages on your site.
If such internal links are not present, you stand to gain visitors only to that one linked page. This can lead to a high bounce rate and not much difference in search ranking.
Paying Link Builders for Comment Spamming
Paying link builders to gain more backlinks is a thing of the past. If you are still doing it, you need to stop immediately. Spending on comments and forum links is a massive red flag for your website.
Comment spamming for more backlinks can be harmful for your SEO. It damages your link profile and marks you as an offender in the eyes of Google. Thus, do not spam comment sections for backlinks or add your links in irrelevant forums that do not contribute to useful discussions.
Organic and genuine links are any day preferable over spammy paid links. Hence, if you are still one of those who engages paid link builders for such activities, you need to think long and hard about your link building tactics.
Subpar Outreach Emails
Email outreach is an effective means of securing worthy backlinks. Once you identify high domain websites that can fetch you valuable backlinks, you should reach out to them via email with a link request. However, this email must not be impersonal or template-based.
Instead of copy-pasting the same template for all emails or using an outreach tool, make sure your email is unique, personal, and adds value to the proposition. After all, high-authority sites get numerous such emails. To make a difference, you must tread away from the common path.
Write a concise but interesting email to highlight why your content is worth linking. Add any information that would help your case, and sign off in a friendly and affirmative manner.
Erroneous Guest Blogging
Writing guest blogs for relevant and high authority websites is a great way to acquire backlinks. However, this is a risky strategy as it can backfire if you do not do it right. When you choose a site to write a guest blog for, make sure it is related to your content and is from the same industry.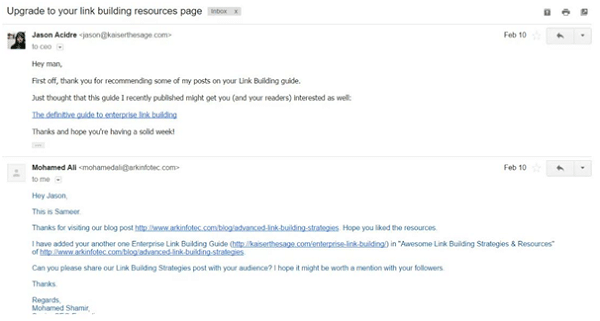 Do not opt for guest blogging agencies that offer paid services on such sites. They offer temporary results but can be identified and penalized by Google. Instead, write informative and engaging guest blogs for high authority sites to get backlinks.
Build connections with such websites and keep writing for them. You can also hire a link building company to get backlinks and brand mentions for your company in guest blogs.
Tread Cautiously!
Link building is a solid way to boost your site's SEO and get better search rankings. However, its effects can easily be manipulated or countered by these harmful practices that put your site in Google's bad books. If you take care of these mistakes and proceed cautiously, link building can be one of the most effective sources of traffic for a SaaS company.