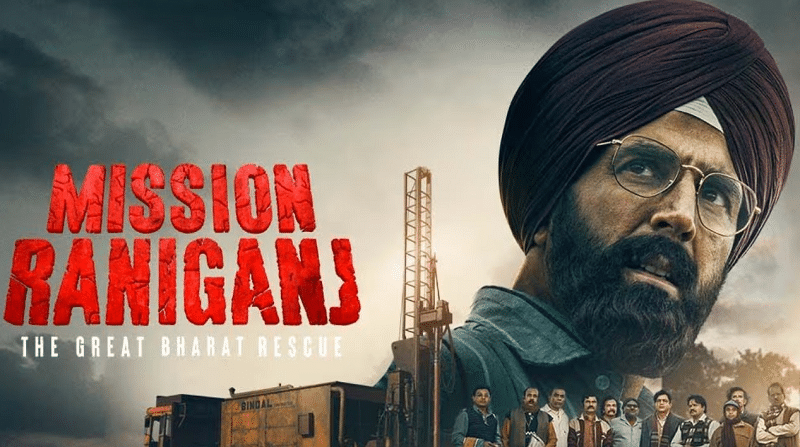 Akshay Kumar, the renowned and beloved actor, has been making headlines with his upcoming film, "Akshay Kumar's Mission Raniganj." In this article, we are thrilled to share some exciting news that has piqued the interest of movie enthusiasts. The creators of "Mission Raniganj: The Great Bharat Rescue," produced by Pooja Entertainment, have made a significant announcement regarding the film's ticket pricing. The movie was released on October 6, 2023, and it has been receiving rave reviews from fans who are captivated by Akshay Kumar's performance and the film's compelling storyline.
A Cinematic Sensation
"Mission Raniganj" has generated an unprecedented buzz among audiences. It's evident that the film has captured the hearts of viewers from every angle. National Cinema Day saw this movie becoming the top choice for cinephiles, with fans eagerly securing their tickets. The film's storyline is not only inspiring but also imparting valuable knowledge, which has resonated with the audience. In terms of ticket sales, "Mission Raniganj" outperformed many other releases, even amidst the highly anticipated India vs. Pakistan World Cup match. Let's delve deeper into the exciting details.
Cinematic Excellence Amidst Rivalry
The clash between India and Pakistan in a cricket match is an event of significant importance to people in both countries. However, the makers of "Mission Raniganj" made a remarkable announcement during the Cinema Week celebrations, offering yet another reason for people to celebrate the film on the big screen. The movie has been a delightful and entertaining experience for all who have watched it.
For those who have yet to experience the magic of "Mission Raniganj" in the cinema, there's good news. The makers have decided to offer tickets at a highly affordable price of just Rs. 112. This decision is expected to bring smiles to the faces of many moviegoers. "Mission Raniganj" promises a captivating narrative, with Jaswant Singh Gill's inspiring story and the bravery displayed throughout the film. Akshay Kumar's exceptional acting skills have added to the film's allure, making it a must-watch cinematic experience.
Unveiling More Details
We've provided a glimpse of the exciting news that has been making waves. However, there's still more to discover about "Mission Raniganj." We've gathered this information from various sources to ensure our readers receive the most comprehensive coverage of this much-anticipated film. Rest assured, if there are any further developments or insights, we will be the first to share them with you. So, stay tuned for more updates.
Conclusion
In the world of cinema, "Akshay Kumar's Mission Raniganj" is a cinematic masterpiece that has taken the industry by storm. With a heartwarming story, brilliant performances, and an affordable ticket price of just Rs. 112 during the Cinema Week celebrations, this film promises an unforgettable experience for all movie enthusiasts. So, don't miss out on the chance to witness this cinematic gem on the big screen.
Frequently Asked Questions
1. When was "Akshay Kumar's Mission Raniganj" released?
"Akshay Kumar's Mission Raniganj" was released on October 6, 2023.
2. What has been the audience's response to the film?
The film has received positive reviews from fans who admire the compelling storyline and Akshay Kumar's performance.
3. How much do tickets for "Mission Raniganj" cost during Cinema Week?
Tickets for the film are priced at just Rs. 112 during the Cinema Week celebrations.
4. What sets "Mission Raniganj" apart from other movies?
"Mission Raniganj" stands out with its inspiring storyline, outstanding performances, and an enticing ticket price, making it a must-watch.
5. Will there be any future updates about the film?
Yes, we will continue to provide updates on "Mission Raniganj" as more information becomes available, so stay tuned for the latest news.