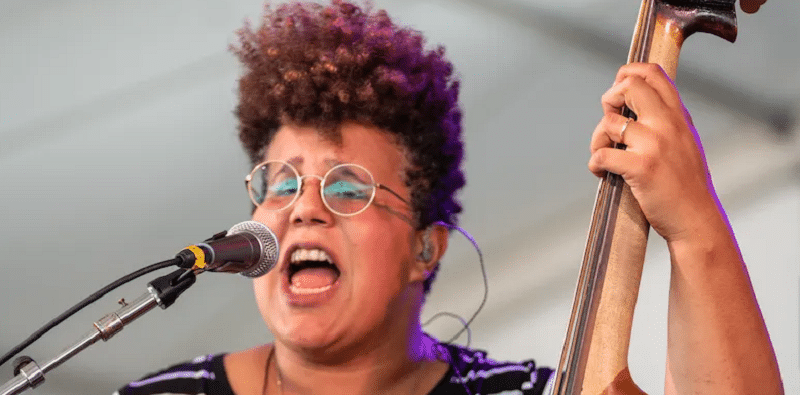 Brittany Howard, the renowned American musician, is all set to mesmerize audiences with her electrifying live performances. Her tour spans from November 2023 to February 2024, taking her to various iconic venues across North America. In this article, we'll delve into the details of her tour and how you can secure your tickets. Let's embark on this musical journey!
Brittany Howard Tour Dates 2023-2024
| | | |
| --- | --- | --- |
| Date | Location | Avenue |
| Nov 6 | Birmingham, AL | Iron City |
| Nov 7 | Nashville, TN | Ryman Auditorium |
| Nov 9 | Knoxville, TN | Tennessee Theater |
| Nov 10 | Memphis, TN | Minglewood Hall |
| Nov 11 | Atlanta, GA | The Eastern |
| Nov 14 | Houston, TX | House of Blues, Houston |
| Nov 15 | Dallas, TX | The Factory in Deep Ellum |
| Nov 17 | Mexico City, Mexico | Festival Corona Capital |
| Feb 9, 2024 | Toronto, ON | The Danforth Music Hall |
| Feb 12, 2024 | Boston, MA | Wilbur Theatre |
| Feb 16, 2024 | New York, NY | Webster Hall |
| Feb 20, 2024 | Washington, DC | 9:30 CLUB |
| Feb 23, 2024 | Asheville, NC | The Orange Peel |
2024 is going to be a busy year touring. I'm excited to announce new shows in some of my favorite intimate venues. I can't wait for everyone to see we've been cookin' up. pic.twitter.com/frwSuKMhUV

— Brittany Howard (@blkfootwhtfoot) October 13, 2023
Introduction
Brittany Howard's live performances are known for their high-energy, soulful vibes, and her upcoming tour promises to be no exception. From Birmingham to Mexico City, and Toronto to Asheville, this tour is a dream come true for music enthusiasts. Let's explore how you can ensure a spot at one of her shows.
Brittany Howard Presale Codes
Brittany Howard presale codes are exclusive access keys that offer fans the opportunity to purchase tickets before the general public sale begins. For her 2023-2024 tour, there are a total of 14 presale codes available. These codes are usually distributed to fan club members, credit card holders, or through special promotions.
How to Get Brittany Howard Presale Codes
To get your hands on these coveted presale codes, you have several options:
Join Fan Clubs:
Many artists, including Brittany Howard, provide presale codes to members of their official fan clubs. Joining her fan club can give you access to exclusive presale opportunities.
Credit Card Presales:
Certain credit card companies offer their cardholders special access to presale tickets. Check if your credit card offers any presale benefits for the Brittany Howard tour.
Social Media and Newsletters:
Stay connected with Brittany Howard on social media platforms and subscribe to her newsletters. Artists often share presale codes with their followers and subscribers.
Venue or Promoter Presales:
Watch out for announcements from the concert venues or promoters. They may release presale codes to the public or their subscribers.
Ticketing Websites:
Visit official ticketing websites and set up event alerts. These platforms sometimes send out presale codes to users who have expressed interest in specific events.
Brittany Howard – A Musical Sensation
Brittany Howard, born on October 2, 1988, in Athens, Alabama, is a gifted musician, singer, and songwriter. She is best known as the lead vocalist, rhythm guitarist, and main songwriter of rock bands Alabama Shakes, Thunderbitch, and Bermuda Triangle. Her musical journey began at the age of 13 when she started playing the guitar.
Brittany Howard Early Life
Brittany's early life was marked by challenges, including living in a junkyard and experiencing the loss of her family's home due to a lightning strike. Despite these hardships, music provided solace for her. Inspired by her older sister, Jaime, Brittany learned to write poetry and play the piano. Her passion for music grew during high school, where she started playing the guitar and was influenced by classic rock artists.
Brittany Howard's Career
Brittany Howard's career in music is a story of remarkable achievements. She gained fame as the lead singer and guitarist of Alabama Shakes, and their debut album, "Boys & Girls," released in 2012, received critical acclaim and numerous Grammy Award nominations. Her unique voice and musical talent have earned her prestigious awards and accolades.
Brittany Howard Personal Life
Brittany Howard's personal life reflects her courage and authenticity. At the age of 25, she openly came out as a lesbian. In 2018, she married Jesse Lafser, her bandmate in Bermuda Triangle, celebrating love amidst her flourishing music career.
Brittany Howard Age
Brittany Howard is 35 years old and continues to captivate audiences with her remarkable talent and unwavering passion for music. Her journey is a testament to resilience, creativity, and the power of self-expression.
Brittany Howard Tour Dates 2023-2024 – FAQs
1. When and where is Brittany Howard performing in November 2023?
– Brittany Howard has concerts in Birmingham, AL (Nov 6), Nashville, TN (Nov 7), Knoxville, TN (Nov 9), Memphis, TN (Nov 10), and Atlanta, GA (Nov 11).
2. Where to see Brittany Howard in February 2024?
– Brittany Howard will be performing in Toronto, ON (Feb 9), Boston, MA (Feb 12), New York, NY (Feb 16), Washington, DC (Feb 20), and Asheville, NC (Feb 23).
3. How to buy tickets for these concerts?
– Tickets are available through presale codes, which can be obtained through various methods like fan clubs and more.
4. Are there presale codes available for Brittany Howard's concerts?
– Yes, there are 14 presale codes available for Brittany Howard's upcoming tour in 2023-2024.
5. Can I get presale codes through social media?
– Yes, following Brittany Howard on social media platforms might provide access to presale codes shared with followers.
Conclusion
Brittany Howard's tour is a must-see for music enthusiasts. Her powerful voice and captivating performances are not to be missed. Make sure to secure your tickets using the presale codes, and get ready to experience the magic of live music. Don't miss out on this extraordinary journey with Brittany Howard.