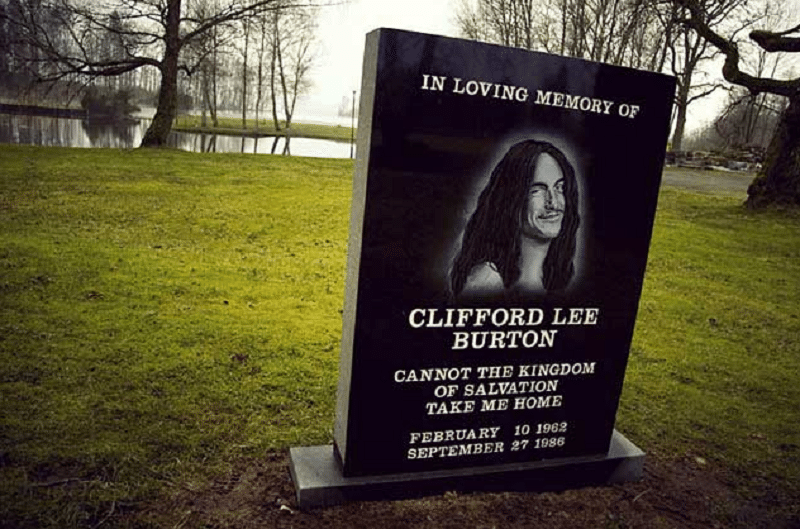 In the world of music, few names evoke as much reverence and nostalgia as Cliff Burton. The legendary bassist of the iconic band Metallica left an indelible mark on the music industry before his tragic demise. In this article, we will delve into the life, untimely death, and lasting legacy of Cliff Burton.
Introduction
Cliff Burton's story is one of remarkable talent, dedication, and an unfortunate twist of fate. He is remembered not only for his exceptional bass-playing skills but also for his profound influence on the heavy metal genre. Let's explore his life journey, starting with the tragic event that ended it.
Cliff Burton Cause of Death
On September 27, 1986, tragedy struck the world of music when Cliff Burton lost his life in a bus accident. The band Metallica, on a European tour, faced a horrifying accident as their tour bus skidded and crashed. During the chaos, Cliff was ejected from the bus and tragically crushed when it rolled over him. This unfortunate accident marked the end of an era and left fans mourning the loss of a gifted musician.
Who was Cliff Burton?
Cliff Burton was more than just a bassist; he was a musical prodigy with a diverse range of influences. Born on February 10, 1962, in Castro Valley, California, Cliff's journey into music began at a young age. His parents introduced him to classical music and piano lessons, igniting his passion for melody.
At the tender age of 13, Cliff found solace and purpose in music after the loss of his older brother. This tragic event served as a catalyst for his musical aspirations, leading him to pick up the bass guitar. His determination to become an exceptional bassist was evident from the start.
Cliff Burton's Age
Despite his youthful beginnings, Cliff Burton's life was cut short at the age of 24. His potential as a musician was immense, but fate had other plans. The loss of such a talented artist at such a young age left a void in the music world that could never be filled.
Cliff Burton's Career
Cliff Burton's musical journey culminated in his role as the bassist for Metallica, a band that would go on to achieve legendary status. His unique blend of influences, from classical to heavy metal, set him apart in the music industry. Joining Metallica in 1982, he played a pivotal role in the creation of three iconic albums: "Kill 'Em All," "Ride the Lightning," and "Master of Puppets." His innovative bass lines and dedication to his craft made him a standout figure in the world of music.
Cliff Burton's Early Life
Cliff Burton's early life was marked by a deepening passion for music. He explored various genres, including rock, classical, country, and heavy metal. His dedication to the bass guitar was unwavering, driven by the desire to honor his late brother's memory. His journey from a young boy in Castro Valley to a renowned musician was nothing short of extraordinary.
What Happened to Cliff Burton?
The fateful day of September 27, 1986, cast a long shadow on Cliff Burton's life. Metallica's tour bus skidded on icy European roads and overturned, leading to the horrific accident that claimed his life. Cliff was ejected from the bus, and the vehicle rolled over him, bringing an abrupt end to his promising career.
How Did Cliff Burton Die?
Cliff Burton's death resulted from the tragic bus accident during Metallica's European tour. The bus's loss of control on icy roads led to his ejection from a window, followed by the fatal impact when the bus rolled over him. It was a heartbreaking moment in music history, leaving fans and fellow musicians in mourning.
Cliff Burton Cause of Death – FAQs
1. Who was Cliff Burton?
Cliff Burton was a highly talented musician known for being the bassist of the famous band Metallica.
2. When and where was Cliff Burton born?
Cliff Burton was born on February 10, 1962, in Castro Valley, California.
3. What were Cliff Burton's major influences in music?
Cliff Burton was influenced by musicians like Geddy Lee, Geezer Butler, Stanley Clarke, Lemmy Kilmister, and Phil Lynott.
4. How did Cliff Burton die?
Cliff Burton died in a tragic bus accident during Metallica's European tour on September 27, 1986.
5. How old was Cliff Burton when he passed away?
Cliff Burton was 24 years old when he tragically lost his life.
Conclusion
Cliff Burton's legacy lives on not only through Metallica's music but also through the countless musicians he inspired. His untimely death was a profound loss, but his impact on the world of music remains undiminished. His story serves as a reminder of the fragility of life and the enduring power of music.