Dropshipping, nowadays, is not a secret to make money online since over 30% of online retailers already do dropshipping in some way. So there are many dropshipping tools to help online store owners easily manage their stores and orders. In this article, we will review DSers, which is the top-rated dropshipping app on the Shopify app store, and help you figure out if it is a good option for dropshipping.
What is Dropshipping?
Dropshipping is a method that allows retailers to sell products without an inventory. In other words, as a dropshipper, when you receive orders, you place the orders to your suppliers who complete the shipment for you directly to your customer. For the first-time seller, it is the perfect way to get started to sell online. Without paying a penny, you can try your business ideas and earn money quickly. However, dropshipping is not that easy as you imagine. There are problems that you may meet during dropshipping.
What is DSers?
Because many dropshippers actually run an online business in their spare time or as their passive income, they don't have much time to manage the store and place orders to their suppliers one y one. That is why dropshipping tools like DSersare necessary for dropshippers to start and grow their business. DSers helped 150k users start and grow dropshipping business in an easier way. It gives support to Shopify, WooCommerce, and Wix store owners.
Let's see how DSers helps dropshippers to find the best product suppliers and place bulk orders to AliExpress in seconds first to ensure that their customers can receive good quality products in time.
1. Find Product Suppliers
Once your store is set up, you need to reach to a supplier who would like to do dropshipping and ship the products to your customer directly. It's not an easy task to find such suitable suppliers. DSers offers the "Find Suppliers" and "Supplier Optimizer" features to make things easy even when you have little experience in finding proper suppliers on AliExpress. By simply logging into the DSers dashboard, you will see the supplier selection where lists a large number of high-quality suppliers who allow dropshipping models. Then you can copy the link and paste it to the Supplier Optimizer to compare similar products from different suppliers. Things get easy with DSers.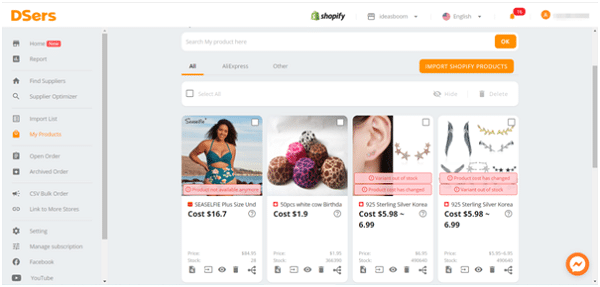 2. Place Orders to Your Suppliers on AliExpress when Orders Come in
When orders come in, the next step you should do is to ship the orders to your customer. But in the dropshipping model, your suppliers will do this part for you. DSers automatically syncs your store orders to the dashboard and allows you to select them in batch and place them all to AliExpress with one click. Then the only thing you need to do is keep updated with DSers until orders are fulfilled. You will get timely notifications from DSers about your order status once your suppliers make the shipment to your customer.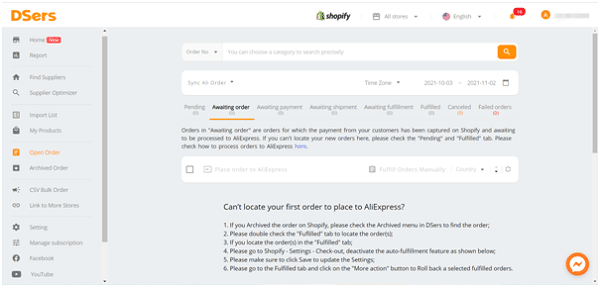 For more features of DSers, you can check them here.