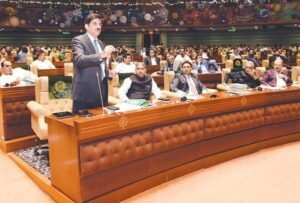 Article 25-A of the constitution of Pakistan makes basic education a fundamental right of every child aged 5-16 years. Education makes successful nations. It is widely believed that a single, educated person can transform the future of an entire family. An educated family give rise to a progressive nation. It is indeed a great effort by the Government of Sindh to allocate nearly 326.8 billion for education in the 2022-2023 budget. But, the actual picture depicts a crisis in this vital sector. This raises the question, "Why is Sindh in persistent crisis regarding education?"
Let's first check the current statistics on education in Sindh. According to a report presented by Sindh Education & Literacy Department (SELD) provincial secretary, there was an unfortunate increase of 5% in out-of-school children in 2021; 11 per cent never enrolled, and 13 per cent dropped out of school mid-way. 94% of students were enrolled in provincial government schools, while 6% were enrolled in private institutions. There was a decline of 6% seen in enrollments in private schools, mostly due to high expenses.
Moreover, only 14% of teachers working in government schools were graduates compared to 40% in private institutions. Among them, many lack basic teaching training. This makes evident the drastic picture of the level of teachers who are the torch bearers of the education system.
There are many reasons to understand this abysmal education status in the province. According to many official and non-official reports, the first and foremost issue is accessibility. The total population of Sindh is approximately 48 million, with a 2.41% annual increase. Many students throughout the province lack access to schools in both urban and rural areas. Though there are primary schools in nearly every village across the province, it isn't easy to find higher secondary schools at grass root levels. Whereas in cities, there are schools in every nook and cranny, but expenses are high to endure.
Second, proper school infrastructure is either absent or neglected in many areas. Parents want a school with proper infrastructure: boundary walls, clean water, and washrooms for their children, especially girls. In reality, most schools in the province are lacking on these grounds. This leads to a sense of insecurity among the parents regarding the well-being and security of their children.
Third, enrolled schools are either ghost schools or are registered with ghost teachers. It was estimated that a biometric attendance system would ensure the proper attendance of teachers at school. However, this system backfired in reality, as many schools have teachers who never show up, let alone teach but receive full salary. Most of the schools listed as functional have turned into 'warra for animals' or 'otaq of the influential'.
Fourth is the non-availability of curricular textbooks. It has become a yearly tradition when schools re-open without the availability of textbooks. The Sindh Textbook Board is undergoing management-level issues. This inadvertently hampers the education sector.
Fifth, poverty impedes provincial education. The poor often prefer their children to work with them to support their families. Most children either work in fields, bhattis or as domestic helpers. "It is better to work hard and support the family than costly education; is the most common reply of the parents in response to why their children are not in school."
Despite all these flaws in the education sector, the provincial government has also made some commendable efforts, such as the provision of free textbooks, free school uniforms, and a monthly stipend of Rs. 2000 for needy students to encourage more parents to enrol their children in schools.
The loopholes in the education sector of Sindh are not new or permanent. They have been there for a long time. However, the lack of long-term efforts has made the situation form a persistent crisis. Nevertheless, 'it is now or never is like a situation. Some keenly taken steps could prove remarkably kind to reverse the present scenario.
To enhance school enrollment, the government should start a' two meals program' apart from a monthly stipend. This program is currently being successfully applied in India by an NGO. Poverty is a major impediment preventing parents from providing education to their children. This would ensure more enrollment as children's basic needs will be fulfilled to a greater extent.
Most teachers, especially females, are reluctant to be posted to far-flung areas. It is a genuine concern for many to leave their families and also face transportation issues. To solve the issue, the provincial government either provides transportation/ logistic services to the teachers or hires teachers who belong to the area.
To properly implement the allocated amount, a thorough analysis should be carried out before the disbursement of funds. Schools with zero enrollments should be closed down. Instead of building new schools in areas with dilapidated buildings, it is better to renovate the older buildings. This would save development costs.
To promote female education, the presence of separate primary and secondary schools for girls should be encouraged. Many parents do not allow their daughters into the co-education system. This would help secure the parent's trust.
Lastly, timely availability of textbooks should be ensured along with public-private school partnerships. This would help improve the quality of education as most private schools are teaching Oxford publishers' books. The partnership would provide public school students exposure to the advanced foreign education system and help enhance their skills.
The education sector is vast. There are multiple areas which require attention. The education sector of Sindh is on the path of progress. Undoubtedly, there are flaws/loopholes/shortcomings, but there is also room for improvement. The provincial government must focus on the core issues mentioned earlier along with its progressive efforts. This would ensure every child in the province fully acquires their "constitutional right to education."