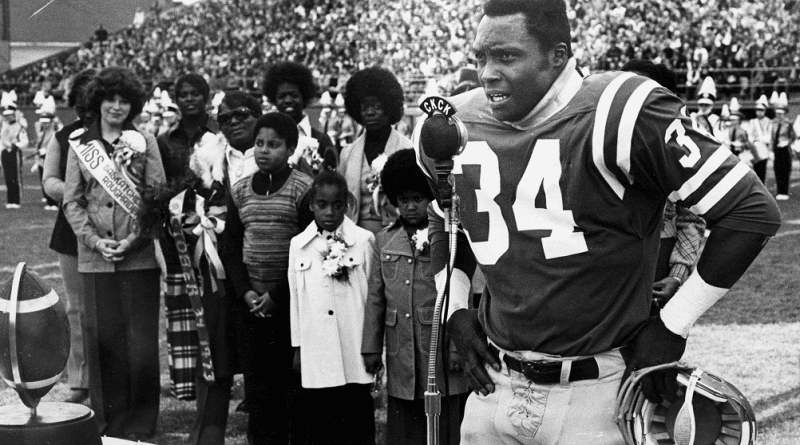 The Canadian Football world mourns the loss of George Reed, a true icon who has made an indelible mark on both the sport and society as a whole. From his unforgettable performances on the football field to his admirable off-field endeavors, Reed's name will echo through the ages. As we pay tribute to this incredible figure, numerous questions arise about his life, achievements, and the circumstances surrounding his untimely passing.
Who Was George Reed?
George Robert Reed, often mentioned in the same breath as football greats like Mike Pringle and Johnny Bright, remains one of the most iconic figures in the history of the Canadian Football League (CFL). For devoted fans of the Saskatchewan Roughriders, the number 34 jersey isn't just a numerical symbol; it embodies passion, determination, and excellence, all qualities that George personified. In 2006, Reed's exceptional football skills were officially recognized when he was named the #2 player in the CFL's Top 50 players of the modern era. Beyond the gridiron, George's legacy continued through his daughter, Georgette, who represented Canada in shot put at the 1992 Summer Olympics.
Highlights of George Reed's Career
Hailing from Vicksburg, Mississippi, George Reed first made waves in American college football during his time at Washington State University. Despite being drafted by the NFL's San Francisco 49ers, Reed's heart was set on the CFL's Saskatchewan Roughriders. Over his illustrious thirteen-year career with the Roughriders, Reed earned the distinction of being a six-time CFL All-Star, a testament to his unwavering excellence. The pinnacle of his career was reached in 1966 at the 54th Grey Cup, where Reed was named the Most Valuable Player (MVP), helping Saskatchewan secure a victory over Ottawa. When he hung up his boots in 1975, Reed had set CFL career records in rushing yards (16,116), rushing touchdowns (134), and total touchdowns (137). His achievements were further acknowledged with multiple Hall of Fame inductions, solidifying his legacy as one of football's all-time greats.
George Reed's Impact on the Community
George Reed's influence extended far beyond the football field. In 1975, he established the George Reed Foundation, a testament to his dedication to societal progress. The foundation emphasized the importance of education, lifelong learning, healthy living, and support for individuals with disabilities. George was not merely a football star; he was a symbol of hope, a philanthropist, and an impassioned advocate for social justice and equality. His tireless community service and philanthropic efforts have left an enduring impact, inspiring countless individuals.
What Led to George Reed's Passing?
The exact cause of George Reed's passing remains undisclosed. What we do know is that the legendary running back departed from this world at the age of 83, leaving fans, admirers, and fellow athletes in mourning. The Saskatchewan Roughriders, the team with which Reed spent his entire professional career, announced his passing, emphasizing the profound influence he had on both the team and the sport.
George Reed was more than just a football player; he embodied determination, hard work, and commitment, both on and off the field. While his records may someday be surpassed, his legacy, the lives he touched, and the change he initiated will forever be etched in history. The CFL, the Saskatchewan Roughriders, and the entire sports community will remember George Reed as an icon, an inspiration, and a true legend.
Frequently Asked Questions
1. Can you tell us more about George Reed's records in the CFL?
George Reed set numerous records in the CFL, including career rushing yards, rushing touchdowns, and total touchdowns. His records stood for many years, highlighting his remarkable career.
2. What were George Reed's contributions to the Saskatchewan Roughriders?
George Reed was an integral part of the Saskatchewan Roughriders throughout his career, helping the team achieve significant success. He was a six-time CFL All-Star and played a pivotal role in the team's victories.
3. How did George Reed impact the community beyond football?
George Reed established the George Reed Foundation, emphasizing education, healthy living, and support for individuals with disabilities. His philanthropic efforts had a lasting positive effect on the community.
4. Is there any information on George Reed's family and personal life?
While George Reed was a private individual when it came to his personal life, his daughter, Georgette, represented Canada in shot put at the 1992 Summer Olympics, carrying on his legacy in her own way.
5. Will there be any tributes or commemorations in honor of George Reed?
The sports community is likely to pay tribute to George Reed's legacy through various events, and the Saskatchewan Roughriders may also organize special commemorations to honor his memory.