Do you want to change your voice in the video but don't know how to do it? If so, then you're in the right place. We'll let you know in detail how to edit and change voice with the video editing software– Wondershare DemoCreator.
Let's get started.
Why will you need to change voice in video editing?
Content is trending these days. People create videos to promote their products and services. To attract the audience, making content that people find interactive is necessary.
As we know that voices are an essential part of any story, storytelling is the most effective way of engaging people and conveying messages. A voice can be a part of any character, and it also determines the course of the narrative.
You can make videos creative, exciting, and fun by adding sound effects. There are many ways of adding such effects to the content. You can also change voices in the video.
How to change a voice in DemoCreator video voice editor:
There is tons of software available to change a voice in a video, but DemoCreator is best of all with multiple features.
DemoCreator:
It is a video recording software and a video editor that allows you to capture your screen, edit it, and export it in any format. It's free and web-based software having multiple features.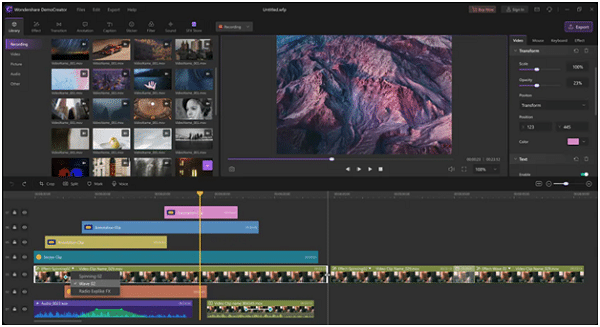 Features:
Record with audio:It enables you to record your video with voice by using the microphone.
Record with the camera:It allows you to record video with Webcam.
High-Quality Videos: It provides you with high-quality videos/HD resolution to attract an audience effectively.
Voice changer: It allows you to change your voice and sound like someone else.
Change Background: As it's required to produce a good video, you can change your background using green screen technology.
Denoise: You can also remove the irrelevant sound to the video; noise.   It can also make your content worse. So, it's better to remove the unwanted sound.
Cut/Split: You can split, cut, and trim the video and keep the desired portion of the created content.
Add Voiceover: You can voiceover your videos add instructions according to the content so that your viewers can understand better.
Add Closed Captions: Captions can be added for a better understanding of the audience. Adding captions is an effective way to transfer knowledge.
Add Annotation: It also allows you to add dialogue boxes, arrows, sketch animation, and shapes to your content.
Add Stickers: DemoCreator has prepared a variety of stickers of animation effects, gestures, background, social media, etc.
Add transitions: It allows you to add transitions such as erase, evaporating, fading, etc., to attract viewers and add a natural effect to the content.
Control speed: It enables you to control the video's speed, increase or decrease.
Multiple formats: You can export your video in any format that suits your device, such as MP4, WEBM, etc.
Record multiple screens: It allows you to capture multiple screens, the primary and other screens simultaneously.
Draw on screen: It lets you draw on the screen to highlight specific points to make your viewers understand.
Zoom and pan: You can also use zoom and pan effect in DemoCreator; to zoom in and out.
Animation templates: You can use different animation templates to make videos creative.
What video you can use this software to make
Make presentation:
You can create your presentations on Pc by using the desktop capture app. Then the presentation can be shared with your colleagues, co-workers, students, teachers, and the people immersed in your content.
Make tutorials:
Many of you are interested in making tutorials about your skills. This desktop capture app is there to help you out with its fascinating feature of making tutorials. Yes, you heard it right.
Now you can record and edit tutorials, add the sound of your own choice and then upload it on YouTube. This has been helpful to bloggers, YouTubers, influencers, and brand advertisers. Additionally, you can create the best YouTube outro and intro for long-term engagement through video.
You can make a tutorial of your interest to increase other people's knowledge. For example, you can make a tutorial on "how to use desktop recording software?. You can share knowledge of what you already know about with other people.
Gaming videos:
As I've told you earlier, you can also use a desktop capture app for recording games you play. Gaming experts want to show their skills to everyone interested. So anyone can learn something from it. It's not convenient for gamers to go to everyone or ask to appreciate their skills. Record your video, edit it through a desktop recorder according to your own will and upload it on social accounts such as Facebook, YouTube, etc.
For recording mishap/bug:
Now, this one is interesting. Sometimes some issues start to appear in your devices, such as a distortion of the screen, bugs, etc. This can cause difficulty in your work. This problem can be solved by using desktop capture tools.
You can now screen record anything that happened to your device or any app. You can send it to your friend or any person who's an expert in solving these bugs.
Sharing interesting things:
Sometimes you may see something interesting on the internet, relatable to your friends or others. It's difficult to send it to them one by one. You can screen record the video and send it to your friends, which is possible because of the Desktop capturer app.
How to edit voice with DemoCreator
Let me clear one thing; there are a lot of voice changer tools that you will see. It creates confusion for users to find something reliable. DemoCreator is the best of them.
To change voice in DemoCreator voice editor first, you must download this software.
Download
Visit DemoCreator official website.
Click on "Free Download".
After downloading, install it.
Open DemoCreator.
You'll see a pop-up window. Click on "Edit video".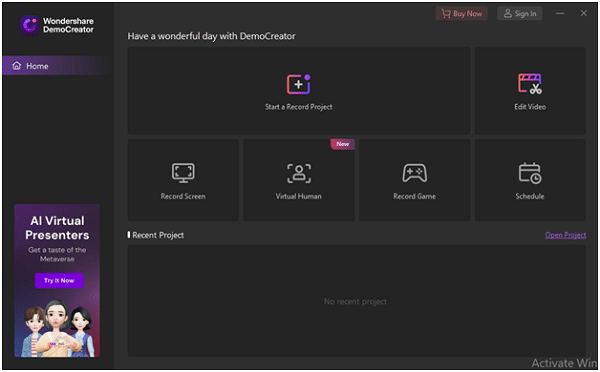 Add your voice to the program
Import the video in the media library.
Drag it and drop it to timeline.
In the timeline, you'll see an option "Voice".
Click on it.
You'll see a pop-up window.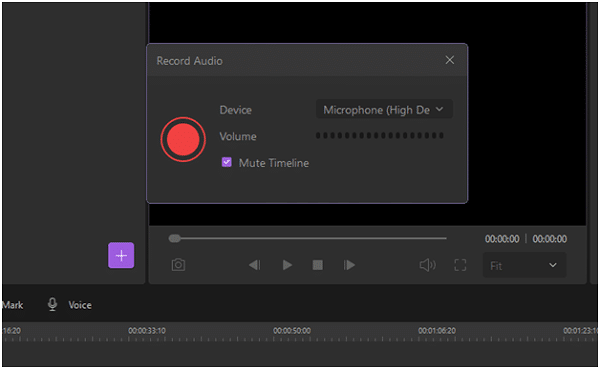 Adjust the volume.
Click on the big red circle icon to record your voice.
After recording, again click that icon.
The recorded voice will be saved in the media library.
Change your voice with DemoCreator:
After adding your voice, go to the properties window.
You'll see many options, such as
Transform
Composite
Speed
Adjust and make changes the way you want.
Export:
After editing is over, you can now export your content.
Click on the "Export" on the top right corner.
You will see a pop-up window.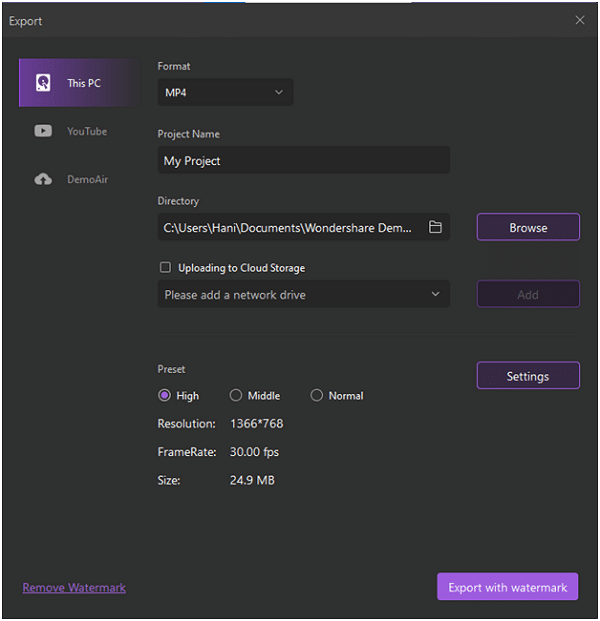 Choose the format that suits your device, such asMP4, AVI, WMV, etc.
Fill in the required data such as
Project name
Directory (Location where you will save your video on PC)
You can also  adjust
Preset
Resolution
FrameRate
Size
In the end. Click on export.
To remove the watermark, you'll need to buy its subscription.
Upload on YouTube directly:
You can upload your edited video directly on YouTube.
For this, click on "Export."
Select "YouTube"
Sign in to continue.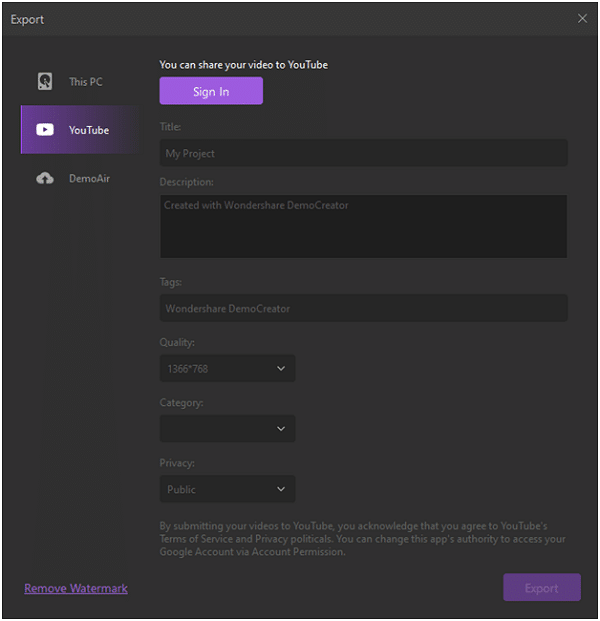 DemoCreator voice changer:
DemoCreator also allows you to use its feature, voice changer.
After adding the video from the media library, see the properties window.
Scroll down to select the voice you want to add.
You'll see many options such as
Robot
Man
Women
Child
Transformers
Choose the one you want to add the voice of and make your video interactive.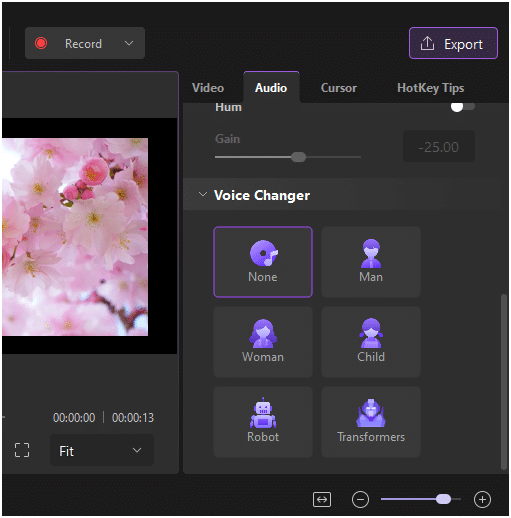 Pros:
It records videos with High resolution
Easy-to-operate
Distinct screen
Customized templates
Free updates available
Provides all recording editing features
You can amplify the portion of the video you want to highlight
Recording with microphone and Webcam
Flexibility
Adding subtitles
Cons:
One of the main disadvantages of using this software, some filters are available only in a paid subscription.
Conclusion:
When it comes to potential buyers learning about the product, offer and service, content is a valuable tool. Video has become an essential part of businesses to promote their marketing strategy.
You can use videos to promote your business. Videos can be of any type, such as Demo video, explainer video, promotional video, animated video, etc. Whether you're a teacher or gamer, you can create videos and upload them on any social account, such as Facebook, YouTube, etc.
Thanks to technology, now we have a platform to upload our videos. The video should be creative to build trust with the audience. Voice is a crucial element of the video. You can change voice and add many effects to the content to make it funny, engaging and fantastical.
There are lots of software available, but DemoCreator is best of all. It's an all-in-one editing tool that provides you with multiple features that you can use to make your content better.