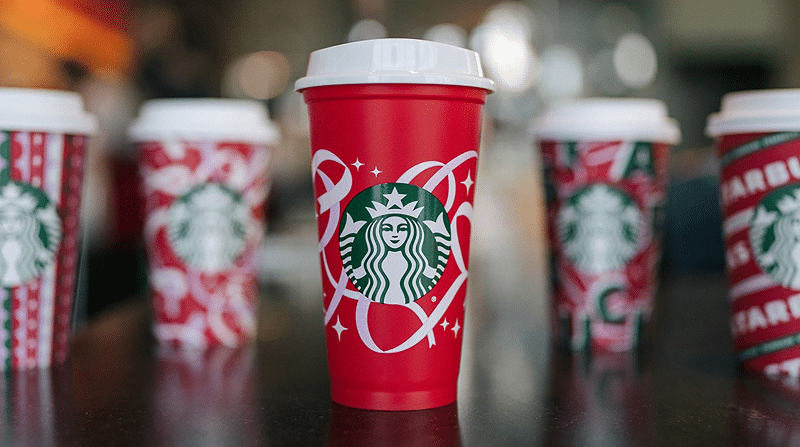 If you're a coffee enthusiast and a fan of Starbucks, you're in for a treat! Starbucks Red Cup Day is here, and it's the perfect opportunity to score a free, stylish, reusable red cup. In this article, we'll guide you on how to get your hands on this festive cup, the special holiday drinks you can enjoy, and all the exciting details about Starbucks Red Cup Day 2023.
What is Starbucks Red Cup Day?
Starbucks Red Cup Day is a highly anticipated event during the holiday season. On this day, Starbucks offers a special promotion where customers who order one of their handcrafted holiday drinks receive a complimentary reusable red cup. The best part? You can bring this cup back to any Starbucks store in the future and enjoy a 10-cent discount on your next beverage.
For Starbucks Rewards members using the mobile app, there's an additional perk – you'll receive 25 bonus stars, adding a little extra joy to your Starbucks experience. In essence, it's a festive promotion by Starbucks that not only introduces seasonal drinks but also provides customers with a reusable cup and some rewards to enhance the holiday spirit.
How to Get a Free Red Cup From Starbucks?
Getting a free red cup from Starbucks is simple and enjoyable. Here's how you can do it:
Choose Your Handcrafted Holiday Drink: Head to your nearest Starbucks store on Red Cup Day, which is November 16, 2023. You can order any size of a handcrafted holiday or fall beverage. Whether you prefer it hot, iced, or blended, there's a wide variety of delicious options to choose from.
Receive Your Reusable Red Cup: Once you've ordered your favorite holiday drink, you'll receive a free grande (16-ounce) Starbucks reusable red cup. These cups come with fun and stylish designs, adding a festive touch to your beverage.
Here's a list of some of the delightful holiday drinks you can enjoy on Red Cup Day:
Apple Crisp Oatmilk Macchiato
Caramel Brulée Latte
Chestnut Praline Latte
Gingerbread Latte
Gingerbread Oatmilk Chai
Hot Chocolate
Iced Apple Crisp Oatmilk Shaken Espresso
Oleato Gingerbread Oatmilk Latte
Peppermint Hot Chocolate
Peppermint Mocha
Peppermint White Hot Chocolate
Pumpkin Cream Chai Tea Latte
Pumpkin Cream Cold Brew
Pumpkin Spice Latte
Sugar Cookie Almondmilk Latte
White Hot Chocolate
Please note that Starbucks Christmas Blend brewed coffee and Christmas Starbucks Reserve are not part of this offer. So, savor your holiday beverage and cherish your new reusable red cup.
Is Today Red Cup Day at Starbucks?
Yes, today is indeed Red Cup Day at Starbucks – November 16, 2023. On this special day, Starbucks is generously gifting a free 2023 reusable red holiday cup to customers who order a handcrafted holiday beverage. You can take advantage of this offer while supplies last, and you have various ordering methods to choose from, including the Starbucks app and delivery services like DoorDash or Uber Eats. If you haven't already, make sure to visit a participating Starbucks today to get your free red holiday cup.
About Starbucks
Starbucks needs no introduction; it's a global coffee giant that started in Seattle in 1971. With over 35,000 stores in 84 countries, Starbucks has played a significant role in popularizing coffee culture worldwide. They offer a wide range of drinks, snacks, and even free Wi-Fi in many locations. Starbucks is known for its diverse coffee experiences and has been a key player in the "second wave" of coffee culture.
The company is headquartered in Seattle and has grown substantially since its humble beginnings with three founders. Starbucks' leadership currently includes Chairwoman Mellody Hobson and CEO Laxman Narasimhan. You can find more information about Starbucks and its products on their official website.
Starbucks History
Starbucks' journey began in Seattle in 1971 as a local coffee bean retailer founded by Jerry Baldwin, Zev Siegl, and Gordon Bowker. Inspired by coffee roaster Alfred Peet, they named the company after the mining town "Starbo" and the character "Starbuck" from Moby-Dick. Initially selling coffee beans, the first Starbucks store opened at 2000 Western Avenue, later moving to 1912 Pike Place. In the 1980s, Starbucks expanded, introducing espresso coffee and growing under Howard Schultz's ownership.
The 1990s saw Starbucks go public, acquire The Coffee Connection, and experiment with eateries. The 2000s brought challenges like store closures during the Great Recession. The 2010s witnessed innovations like Frappuccino sales and the "Tweet-a-Coffee" promotion. In recent years, Starbucks responded to the COVID-19 pandemic, closed underperforming stores, and explored new technologies like blockchain.
In 2022, Starbucks considered selling its UK stores, and in 2023, it sold its Russian stores. Howard Schultz stepped down as CEO in October 2022, with Laxman Narasimhan taking over. Narasimhan even worked as a barista to connect with the brand, but Starbucks faced controversy, being ordered to pay damages for alleged racial discrimination. Unionization efforts emerged in 2021, with some stores successfully unionizing, leading to strikes in 2022 and 2023.
How to Get a Free Red Cup From Starbucks? – FAQs
How can I get a free Red Cup from Starbucks? To receive a complimentary reusable cup, simply order any handcrafted holiday beverage.
Is today Red Cup Day at Starbucks? Yes, check Starbucks' announcements for the latest Red Cup Day; it's a special holiday celebration.
Do I need to be a Starbucks Rewards member to get a free Red Cup? No, anyone ordering a handcrafted holiday drink gets a free reusable cup, but Rewards members enjoy additional perks.
What's the benefit of the Starbucks reusable Red Cup? Bring it back for a 10-cent discount on your next drink, and Starbucks app users get 25 bonus stars.
Can I get a free Red Cup with any holiday drink? Absolutely! Order any size handcrafted holiday beverage to receive the festive reusable Red Cup.
So, don't miss out on the opportunity to make your day a little brighter with a free red cup and a delicious holiday drink from Starbucks. It's the perfect way to kick off the festive season!