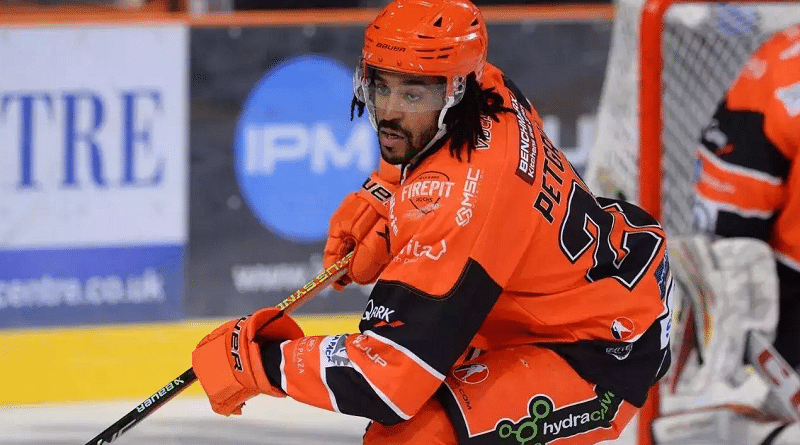 In recent news, there has been a significant buzz surrounding the incident involving Matt Petgrave, a professional ice hockey player, and the tragic outcome during a game. Many are left wondering, "Is Matt Petgrave arrested?" In this article, we will delve into the details of the incident, Matt Petgrave's role, the ongoing investigation, and legal aspects that surround the case.
The Tragic Incident
The incident in question took place during a hockey game, where Adam Johnson, a former Pittsburgh Penguins player, suffered a severe neck injury. Matt Petgrave, a defenseman for the Sheffield Steelers, was involved in the incident. The game was between the Nottingham Panthers and Sheffield Steelers, and it quickly turned into a nightmare for all involved.
In the second period of the game, a collision occurred between Petgrave and Johnson. Regrettably, the collision led to Johnson being struck by Petgrave's leg, resulting in a severe neck injury. The sight of Johnson bleeding on the ice prompted the game to be stopped in the 35th minute. Immediate medical attention was provided, but tragically, Johnson lost his life.
| | |
| --- | --- |
| Name | Matt Petgrave |
| Born | 29 January 1992 |
| Age | 31 years |
| Birthplace | Toronto, Canada |
| Weight | 91 kg |
| Height | 1.85 m |
Matt Petgrave's Role
It is important to note that Matt Petgrave's role in this incident was accidental. The hockey community, including players, fans, and officials, recognized this incident as a tragic accident. There was no intent on Petgrave's part to cause harm to Johnson.
The accident emphasized the inherent risks involved in professional sports, where even unintentional actions can lead to severe consequences. It's crucial to remember that professional athletes understand and accept these risks as part of their chosen career.
The Ongoing Investigation
South Yorkshire Police initiated an investigation to understand the circumstances surrounding Adam Johnson's tragic death. Specialized experts have been enlisted to assist in this probe. However, it's essential to mention that, at the time of writing this article, no official charges have been filed against Matt Petgrave.
Legal experts have expressed doubts about the likelihood of Petgrave facing criminal charges, particularly manslaughter. Such charges would typically require evidence of gross negligence or an unlawful and dangerous act. The investigation is still in progress, and the police are carefully reviewing the situation to make an informed decision.
Who is Matt Petgrave?
Matt Petgrave is a professional ice hockey player with a notable career as a defenseman. Hailing from Toronto, Ontario, his hockey journey began in the 2008-09 season with the Bramalea Blues in the Ontario Junior Hockey League. Petgrave's dedication to the sport led him to represent the University of New Brunswick in USports.
His career also includes stints in the American Hockey League (AHL) and the ECHL with teams like the Syracuse Crunch, Laval Rocket, and Brampton Beast. Notably, during the 2018-19 season with the Brampton Beast, he achieved a significant milestone by recording 40 points in the ECHL.
Matt Petgrave's Remarkable Career
Despite never being selected by an NHL team, Matt Petgrave made a name for himself with his strong defensive play and physical presence on the ice. His journey began in the Ontario Hockey League (OHL), where he played for teams like the Niagara IceDogs, Owen Sound Attack, and Oshawa Generals, showcasing his skills and accumulating valuable experience.
Following his OHL stint, Petgrave continued to excel at the University of New Brunswick before venturing into the ECHL, where he played for the Brampton Beast. During the 2017-18 season, he even briefly played in the AHL, representing three different teams.
His career took an international turn as he played in the professional leagues of Slovakia and Czechia before joining the Sheffield Steelers in the UK's Elite Ice Hockey League (EIHL). In the 2022-23 season, he had an impressive performance with Sheffield, recording nine goals and 48 points, highlighting his dedication to the sport and his adaptability to different leagues and challenges.
Is Matt Petgrave Arrested? – FAQs
1. Is Matt Petgrave arrested?
No, Matt Petgrave has not been reported as arrested.
2. What was Matt Petgrave's role in the incident involving Adam Johnson?
Matt Petgrave's role was accidental; he collided with Johnson during a hockey game, resulting in a severe neck injury.
3. Why was Matt Petgrave arrested?
There is no indication that Matt Petgrave was arrested; he was involved in a tragic incident during a hockey game.
4. Who is Matt Petgrave?
Matt Petgrave is a professional ice hockey defenseman with a career marked by versatility and dedication.
5. How was Matt Petgrave's background?
Matt Petgrave was born on January 29, 1992, in Toronto, Canada. He is 31 years old, weighs 91 kg, and has a height of 1.85 m.
In conclusion, the incident involving Matt Petgrave is a tragic reminder of the risks associated with professional sports. While the investigation is ongoing, it's crucial to recognize that the accident was unintentional. Matt Petgrave's career has been characterized by his dedication and adaptability, showcasing his commitment to the world of ice hockey.