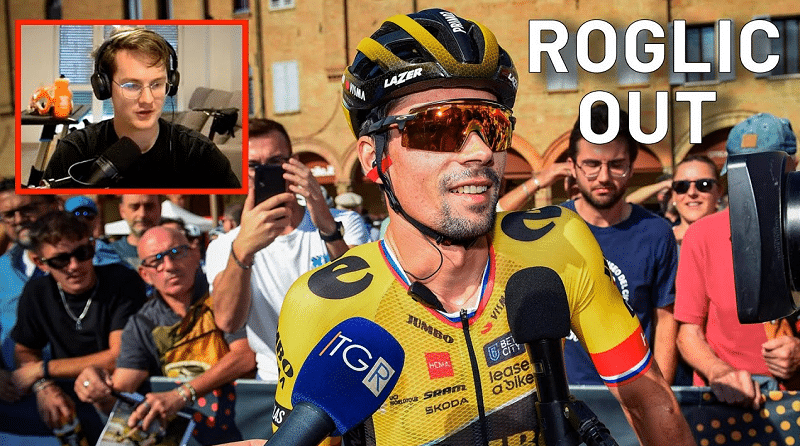 In the world of professional cycling, few names shine as brightly as Primoz Roglic's. His incredible talent and numerous victories have made him a household name among cycling enthusiasts. However, recently, there has been speculation about his departure from the Jumbo-Visma team, a team he has been associated with for a significant part of his career. Let's delve into the details of why Primoz Roglic is leaving Jumbo-Visma and what the future holds for this cycling sensation.
| | |
| --- | --- |
| Full Name | Primoz Roglic |
| Date of Birth | 29 October 1989 |
| Nationality | Slovenian |
| Cycling Team | Team Jumbo–Visma |
| Height | 1.77 m (5 ft 9+1⁄2 in) |
| Weight | 65 kg (143 lb; 10 st 3 lb) |
The Departure of Primoz Roglic
Yes, it's true. Primoz Roglic is leaving Jumbo-Visma, a decision he made public during the Giro dell'Emilia race. Despite having a contract with Jumbo-Visma until 2024, Roglic is on the lookout for new opportunities and the chance to take on a leadership role in prominent cycling events. While there's speculation about him possibly joining another team, such as Bora-Hansgrohe, we'll have to wait until after his ongoing races to know for sure where he'll land next.
After a memorable ride together, Team Jumbo-Visma grant Primoz Roglic the opportunity to pursue his ambitions elsewhere in the future. First, all focus will be on the upcoming Italian races. Gremo! 💪 pic.twitter.com/bIWc0Q5tjU

— Team Jumbo-Visma cycling (@JumboVismaRoad) September 30, 2023
A Career of Triumphs
Before we dive deeper into the reasons behind his departure, let's take a moment to appreciate the remarkable career of Primoz Roglic. Hailing from Slovenia, Roglic has established himself as one of the finest cyclists globally, securing victories in prestigious races like the Giro d'Italia and the Vuelta a España. His determination and skill on the bike have earned him a loyal following and made him an inspiration for aspiring cyclists worldwide.
Age Is No Barrier
As of 2023, Primoz Roglic is 33 years old. Despite being in his early 30s, he continues to excel in competitive cycling, dispelling the notion that age is a barrier to success in the sport. His enduring prowess on the road is a testament to his dedication and love for the sport.
Why is Primoz Roglic Leaving Jumbo-Visma?
Change can be a powerful catalyst for personal and professional growth. In Roglic's case, he is leaving Jumbo-Visma to explore new opportunities and challenges. Perhaps he yearns to lead his own team or adopt a different strategy for achieving success in cycling. Whatever the reason, change can bring fresh motivation and experiences, and it's a natural part of any athlete's journey.
Jumbo-Visma Overview
Before we conclude, let's take a closer look at the team Roglic is leaving behind.
A Cycling Powerhouse
Jumbo-Visma is a formidable cycling team with a rich history. Established in 1984 and based in the Netherlands, the team has undergone several name changes but has consistently remained a force to be reckoned with. They compete in various sections, including men's and women's cycling, and have achieved remarkable success in recent years. Their triumphs in races like the Tour de France, the Giro d'Italia, and the Vuelta a España have solidified their reputation as a professional and dedicated team.
Primoz Roglic Leaving Jumbo-Visma? – FAQs
1. Is Primoz Roglic leaving Jumbo-Visma?
– Yes, he is leaving to explore new opportunities and challenges in cycling.
2. What has Primoz Roglic achieved in cycling?
– Primoz Roglic has won prestigious races like the Giro d'Italia and the Vuelta a España, making history for Slovenia.
3. How old is Primoz Roglic as of 2023?
– As of 2023, Primoz Roglic is 33 years old.
4. How tall is Primoz Roglic?
– Primoz Roglic is approximately 1.77 meters tall, which is about 5 feet 9 and a half inches.
5. Where is Primoz Roglic from?
– Primoz Roglic hails from Slovenia, a beautiful country in Europe.
In conclusion, Primoz Roglic's decision to leave Jumbo-Visma represents a significant chapter in his illustrious career. As he seeks new challenges and opportunities, the cycling world eagerly awaits to see where this remarkable athlete's journey will take him next. Stay tuned for more updates on the future endeavors of this cycling sensation.