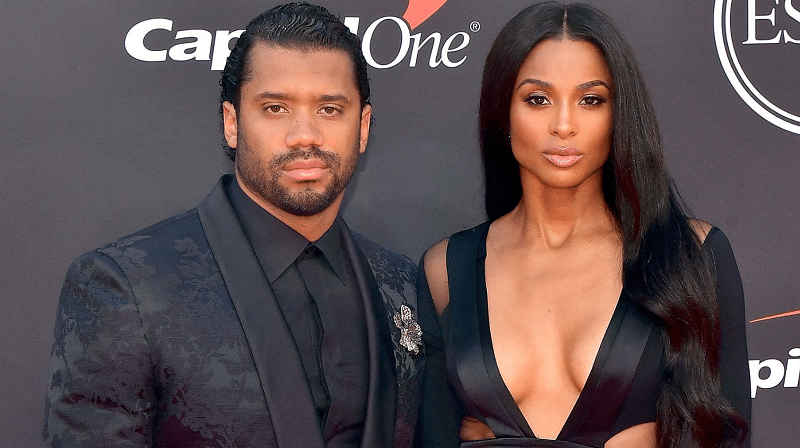 In the world of celebrity relationships, where breakups and divorces often make headlines, the enduring love story of Russell Wilson and Ciara stands out as a beacon of commitment, dedication, and resilience. This power couple has not only managed to navigate the challenges of fame but has also triumphed over personal and public obstacles, cementing their status as a beloved duo. In this article, we'll take a closer look at the journey of Russell Wilson and Ciara, from their initial connection to their present-day lives as a family of five.
The Beginning of Something Special
The love story of Russell Wilson and Ciara began in 2015 when they first crossed paths. Both successful in their respective careers, Russell, an accomplished American football quarterback, and Ciara, a multi-talented artist known for her singing, songwriting, and dancing skills, found themselves drawn to each other. Their connection was not just about shared interests and mutual attraction; it was marked by a unique commitment—the decision to abstain from intimacy until marriage.
| | |
| --- | --- |
| Name | Russell Wilson |
| Born | November 29, 1988 |
| Birthplace | Cincinnati, Ohio, U.S. |
| Height | 5 ft 11 in (1.80 m) |
| Weight | 215 lb (98 kg) |
| High School | Collegiate School (Richmond, VA) |
| College | NC State (2007–2010), Wisconsin (2011) |
A Commitment Sealed
March 2016 marked a significant milestone in their relationship when Russell Wilson proposed to Ciara. This was not just a typical engagement; it was a public declaration of their love and their shared values. On July 6, 2016, in front of family, friends, and fans, they exchanged vows and officially became husband and wife. Their wedding was a symbol of their unwavering dedication to each other and their commitment to building a life together.
A Growing Family
Russell and Ciara wasted no time in starting a family of their own. Over the years, they welcomed two beautiful children, daughter Sienna Princess and son Win Harrison Wilson. In addition to their shared children, Ciara's son, Future Zahir Wilburn, from her previous relationship with rapper Future, became an integral part of their blended family. The couple's ability to navigate the complexities of blended family dynamics further exemplified their commitment to each other.
Challenges and Controversies
While their love story has been celebrated, it hasn't been without its fair share of challenges and controversies, primarily related to Ciara's previous relationship with rapper Future. Public scrutiny and media attention could have easily strained their bond, but Russell and Ciara remained resolute in their commitment to each other and their family.
A Supportive Partnership
One of the key factors contributing to the strength of Russell and Ciara's relationship is their unwavering support for each other's careers. Russell, who currently plays for the Denver Broncos in the NFL, has not only excelled on the field but has also made a name for himself as a philanthropist and a part owner of the MLS team Seattle Sounders FC. Ciara, on the other hand, has not only made waves in the music industry but has also ventured into business, starting her own record label and fashion line. Their ability to balance their professional pursuits while maintaining a strong bond is a testament to their compatibility and mutual respect.
Conclusion
In a world where relationships often face trials and tribulations, Russell Wilson and Ciara stand as a shining example of enduring love, commitment, and partnership. Their love story, spanning seven years and counting, continues to inspire and captivate audiences worldwide. As they celebrate their seventh wedding anniversary, it's clear that their love is as strong as ever, and their family is thriving. Russell and Ciara's journey reminds us that true love can conquer all obstacles and that a strong partnership is the foundation for a lasting relationship.
FAQs
What is the key to Russell Wilson and Ciara's lasting relationship? Despite public controversies, the couple's enduring love and dedication to each other have helped them celebrate seven years of marriage.
How long have Russell Wilson and Ciara been married? The couple exchanged vows on July 6, 2016, and recently celebrated their seventh wedding anniversary.
How many children do Russell Wilson and Ciara have together? They have three children: daughter Sienna Princess, son Win Harrison Wilson, and Ciara's son Future Zahir Wilburn from her previous relationship.
What sets Russell Wilson apart in the world of sports? Russell Wilson is a highly accomplished American football quarterback known for his dual-threat skills, with nine Pro Bowl selections and leading the Seattle Seahawks to two Super Bowls.
How does Russell Wilson contribute beyond football? Russell Wilson played minor league baseball and is a part owner of the MLS team Seattle Sounders FC, contributing to their 2019 MLS Cup victory.