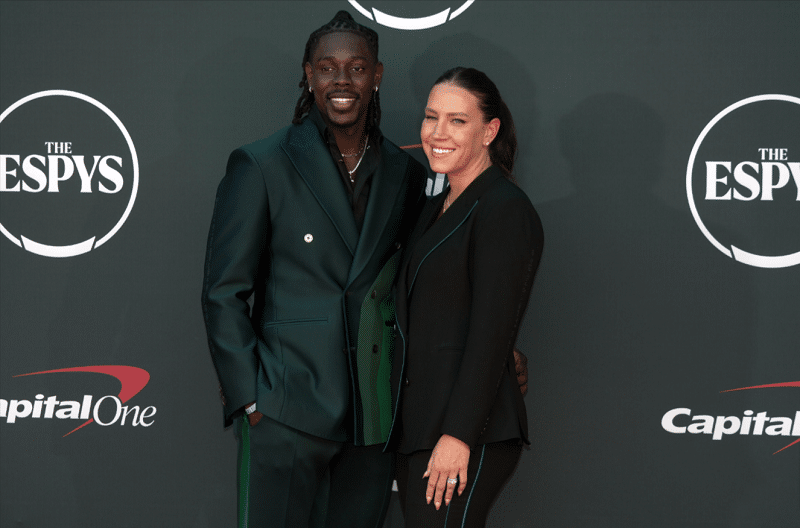 In the high-stakes world of professional sports, it's easy to forget that behind the dazzling athleticism and multimillion-dollar contracts, athletes and their families experience the same emotions and challenges as anyone else. Lauren Holiday, the wife of NBA star Jrue Holiday, recently provided a heartfelt perspective on her husband's unexpected trade from the Milwaukee Bucks. In this article, we delve into the personal side of the NBA and the profound impact it has on the lives of athletes and their loved ones.
A Nap That Changed Everything
Imagine waking up from an afternoon nap to discover your life is about to change dramatically. That's precisely what happened to Jrue Holiday when he learned about his trade to the Milwaukee Bucks. With no prior indication of the impending move, this experience highlights the unpredictability that often characterizes the world of professional sports.
Beyond the Court: Valuing Relationships
Lauren emphasized that athletes and their families are not mere commodities but individuals with deep connections to their communities. In her Instagram post, she discussed the importance of valuing relationships, family, and the cities where they play. While she expressed excitement about their family's new chapter in Boston with the Celtics, she also wished for a world where the business aspect of trades could be handled with more transparency and consideration for the personal lives of the players and their families.
Jrue Holiday: More Than a Basketball Star
Before delving further into Lauren's perspective, let's get to know Jrue Holiday. Born on June 12, 1990, Jrue is an American professional basketball player currently playing for the Boston Celtics in the NBA. His basketball journey began when he played college basketball for the UCLA Bruins before being selected by the Philadelphia 76ers as the 17th overall pick in the 2009 NBA draft.
Name
Jrue Randall Holiday
Date of Birth
June 12, 1990
Place of Birth
Los Angeles, California, U.S.
Height
6 feet 5 inches (1.96 meters)
Weight
205 pounds (93 kilograms)
High School
Campbell Hall (Los Angeles, California)
College
UCLA (2008–2009)
NBA Draft Year
2009
Current Team
Boston Celtics (as of 2023)
Career Highlights
– 2-time NBA All-Star

– 5-time NBA All-Defensive Team member

– NBA Champion with the Milwaukee Bucks in 2021
Lauren Holiday: A Soccer Champion
Lauren Cheney Holiday, born on September 30, 1987, is a former American soccer player. She played for the United States women's national soccer team from 2007 to 2015, winning two Olympic gold medals and being part of the FIFA Women's World Cup-winning team in 2015. Lauren's soccer career includes playing for FC Kansas City and the Boston Breakers, as well as her college team, the UCLA Bruins.
A Testament to Excellence: Jrue Holiday's Career
Jrue Holiday has made significant contributions to various NBA teams, including the Philadelphia 76ers, New Orleans Pelicans, Milwaukee Bucks, and now the Boston Celtics. He's known not only for his basketball skills but also for his strong family ties and his wife Lauren's inspiring battle with a brain tumor.
The Supportive Holiday Family
Jrue Holiday's family is deeply immersed in the world of sports, particularly basketball. He has two brothers, Justin and Aaron, who are also NBA players. Additionally, his younger sister, Lauren, played for the UCLA women's basketball team. In July 2013, Jrue married Lauren Cheney, bringing together two athletes from different sports. Together, they've joyfully welcomed two children into their lives.
Overcoming Adversity: Lauren Holiday's Battle
In June 2016, Lauren Holiday faced a daunting health ordeal when she was diagnosed with a brain tumor. What made this situation especially challenging was that Lauren was pregnant with their son, Jrue Tyler Holiday, at the time. A month after giving birth, Lauren underwent critical brain surgery to remove the tumor. Jrue's unwavering support during this period, even sacrificing the start of an NBA season to be by her side, showcases their incredible bond and resilience.
A Growing Family
Jrue Holiday and Lauren are loving parents to two children. Their daughter, Jrue Tyler Holiday, was born during the challenging period when Lauren was diagnosed with a brain tumor in 2016. In late 2020, they joyfully welcomed their second child, a boy named Hendrix, into their family. Their journey as parents reflects their commitment to each other and their children.
Jrue Holiday's Impact on and off the Court
Jrue's NBA career is marked by numerous achievements and contributions to various teams. His trade to the Milwaukee Bucks in 2020 culminated in an NBA championship victory for the team in 2021, showcasing his instrumental role in their success. Beyond basketball, Jrue Holiday serves as a role model for balancing personal challenges with professional excellence.
Conclusion
Lauren Holiday's heartfelt message sheds light on the human side of NBA trades. It reminds us that athletes and their families navigate both the joys and challenges of life, just like everyone else. Jrue and Lauren's journey together, from career highs to personal adversity, is a testament to love, resilience, and the power of family.
FAQs
1. Who is Jrue Holiday?
Jrue Holiday is an American professional basketball player currently playing for the Boston Celtics in the NBA.
2. How did Jrue Holiday learn about his trade from the Milwaukee Bucks?
Jrue Holiday discovered he was traded after waking up from a nap, with no prior indication of the trade.
3. What is Jrue Holiday's current age?
Jrue Holiday is currently 33 years old.
4. How many NBA teams has Jrue Holiday played for during his career?
Jrue Holiday has played for four NBA teams: the 76ers, Pelicans, Bucks, and currently, the Celtics.
5. Did Jrue Holiday's wife, Lauren Holiday, have cancer?
Yes, Lauren Holiday had a benign brain tumor called meningioma, and she underwent surgery to remove it in 2016.