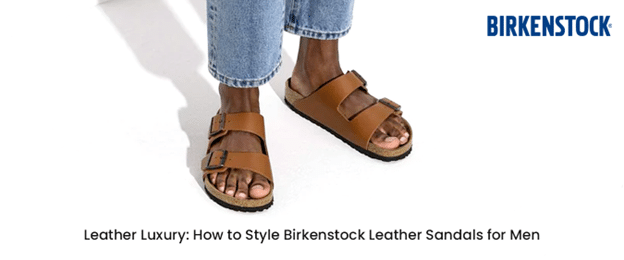 Styling leather sandals is a rising trend in men's fashion these days as it combines comfort, sophistication, and unparalleled style. As summer approaches, it's time to ditch those bulky boots and embrace the versatility of Birkenstock sandals. These timeless classics are not only known for their exceptional craftsmanship but also for their ability to effortlessly elevate any outfit. Discover how you can style Birkenstock leather sandals for men to create unique and unforgettable looks.
Understanding Birkenstock Leather Sandals
When it comes to quality and comfort, Birkenstock stands in a league of its own. The brand's dedication to excellence is showcased in its two-strap design. Crafted with precision and attention to detail, these sandals feature a contoured footbed that molds to your feet, providing unparalleled support as well as cushioning. The premium leather used in their construction not only adds a touch of luxury but also ensures durability and longevity.
Choosing the Right Birkenstock Sandals
Selecting the perfect pair of leather sandals from Birkenstock can help you achieve the style that you desire. Consider your vibe, lifestyle, and most importantly the occasion for which you intend to wear them. Birkenstock offers an array of leather sandals in various colors and designs, such as thong-strap sandals, dual-strap sandals, and multi-strap sandals, allowing you to find the ideal match for your wardrobe. Whether you prefer classic black or brown leather or wish to experiment with bolder tones, the options are endless.
Birkenstock Leather Sandals You Must Try
Birkenstock Gizeh – The Birkenstock Gizeh is the ideal blend of comfort and style because of its sleek and simplistic design. The oiled leather top adjusts to the curves of your foot over time, ensuring a personalized fit that improves with each wear. Its adjustable thong strap allows for a Snug fit while delivering excellent support and stability. So, whether you're strolling along the beach or attending a casual outdoor event, these thong-strap sandals from Birkenstock are a versatile choice to flaunt your style.
Birkenstock Arizona – Model Arizona is the legendary dual strap sandals of Birkenstock which includes a sturdy leather upper and anatomically shaped original Birkenstock footbed. It fits the curve of your foot, providing great support and supporting natural movement. Because of the adjustable buckles, this sandal is appropriate for different foot types.
Birkenstock Boston – These Birkenstock clogs has a fine leather covering that emanates sophistication. With its anatomically shaped soft footbed that provides great support and cushioning, this model exemplifies Birkenstock's commitment to comfort. The adjustable strap assures a secure fit, while the lightweight sole absorbs shock and provides flexibility.
Different Ways To Style Leather Sandals
Casual Summer Vibes – Embrace the laid-back essence of summer by incorporating Birkenstock leather sandals into your casual outfits. For beach days, pair them with swim shorts and a floral cotton shirt for a relaxed yet refined look. If you're headed to a backyard BBQ, choose a comfortable pair of chino shorts, a graphic tee, and a lightweight linen shirt. Leather sandals can effortlessly blend comfort and style together, making them the perfect choice for outdoor adventures as well.
Elevated and Refined Looks – Who says sandals can't be dressy? Leather sandals can add a touch of elegance to your attire. For a sophisticated summer ensemble, pair your double-strap sandals with tailored shorts and a crisp linen shirt. If the occasion calls for a more formal approach, experiment with summer suits in light colors, complemented by a matching belt and accessories. The combination of a tailored outfit and Birkenstock leather sandals will surely turn heads.
Street Style and Urban Edge – Don't be afraid to infuse a bit of urban edge with your leather sandals. Embrace the street style vibes by teaming them with distressed jeans and a graphic tee. Complete the ensemble with a cap and statement sunglasses for a cool and confident look. You can easily rock the streetwear look by pairing your outfits with Birkenstock sandals.
Accessorizing properly – Remember to underestimate the power that accessories hold in balancing out every plain outfit. A sleek leather belt can add a touch of sophistication to any fit, while a stylish watch can enhance your overall aesthetic. Experiment with sunglasses, bracelets, and even a statement leather bag to complete your leather luxury ensemble. The right accessories will showcase your attention to detail and take your style to the next level.
The Final Words
Birkenstock sandals have emerged as a symbol of leather luxury. From casual summer vibes to professional looks, their exclusive collection of sandals for men effortlessly combine comfort and style. With their contoured footbed and premium leather construction, Birkenstock is a versatile choice that can elevate any outfit. So, gentlemen, it's time to discover the endless possibilities and let your style soar to new heights with the timeless appeal of Birkenstock.