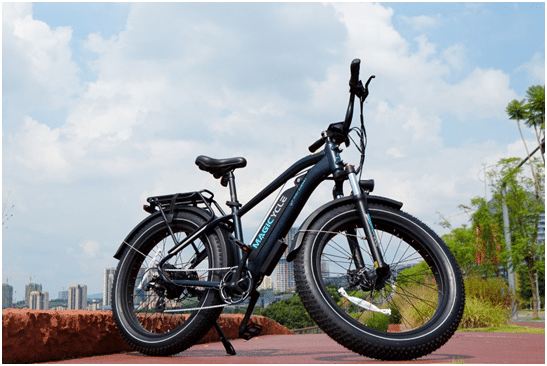 Electric bikes are envisioned as a flexible and ecological means of transportation. Customer perception of electric bicycles is that they are ideal substitutes for smart cars, scooters and public transport. These bikes help to cope with traffic jams, due to the compact size of the bikes, and can reach a high speed with minimal effort, plus they also provide health benefits due to the act of pedaling. These factors are increasing the popularity of Fat-Tire electric bikes around the US.
Although Electric Bikes come in various shapes, sizes, and have different features, we trust Magicycle Cruiser is the best electric bike under $2000.
The Magicycle Cruiser is reminiscent of a beach cruiser that can easily traverse soft sand beaches while admiring the scenery. The comfortable wide seat, full fenders, and all-terrain tires make this e-bike ideal for cruising city streets, countryside lanes, off-road trails or the ocean shores. In short, Magicycle does its best – long distances, smooth pedaling, and sure-footed travel on everything from grassy slopes to frozen lakes or forest pathways.
To help customers better understand our Magicycle Cruiser, we decided to compare our ebike with one of the traditional ebike in North America, the Rip Current of Juiced electric bike.
Comparing two ebikes side-by-side based on their stated performance, something that you might be interested to know as a customer and then make a decision.
| | | |
| --- | --- | --- |
| | Magicycle  Cruiser | Juiced Rip Current |
| Motor | 750W | 750W |
| Torque | 86Nm | _ |
| Battery | 52V 15Ah (780Wh) | 52V 15Ah (780Wh) |
| Pedal Assist | 7 Levels | 9 Levels |
| Throttle | Yes | Yes |
| Top Speed | 28 MPH | 28 MPH |
| Range | 35-60 miles per charge (PAS 2) | 45+miles |
| Size | 1 available | 1 available |
| Weight Capacity | 350 lbs | 275 lbs |
| Display | Full-color LCD display with USB phone charge | Monochrome Screen |
| Price | $1,589 | $1999 |
Both electric bikes for adults look quite similar, but when you dig deeper, you'll find there are so many differences.
After lining these two ebikes up side-by-side and comparing their stats, it is clear that the Magicycle Cruiser surpasses Juiced Rip Current from the performance and the price. Additionally, when you begin to look beyond the stats on the page, you will find the subtle yet impactful elements and considerations that went into the design of the Magicycle Cruiser.
That attention to detail is a signature of the passion that we here at Magicycle put into everything we design, build, and do.