Introduction
EdbMails is a fantastic utility that is suitable for all Office 365 migration scenarios. It is a secure, feature-rich, and simple-to-use application for Office 365 to live Exchange migration or an On-premises Exchange server. It also exports mailboxes from Office 365 to Outlook PST and Hosted Exchange environments.
The most notable feature of the tool is its incremental support, which skips over data that has already been transferred in previous attempts and only migrates new and updated data. The application is compatible with all Windows operating systems and all Microsoft Outlook versions for Office 365 to PST export. The software supports migration to both the most recent and legacy Exchange environments.
EdbMails handles the migration of public folders and shared mailboxes from one tenant to another as well as to an on-premises Exchange server with ease.
EdbMails Office 365 migration Review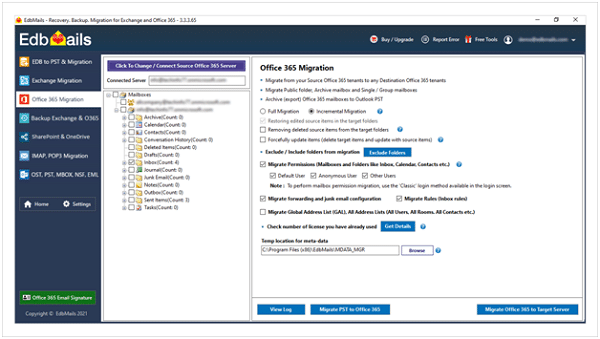 Although there are manual options for migrating mailboxes between Office 365 tenants, these methods require advanced technical knowledge, such as PowerShell commands and other constraints. Fortunately, I am introducing the best solution that allows administrators to work beyond the limitations of native migration. EdbMails is an award-winning Office 365 Migration utility that migrates all of your Office 365 mailboxes from one tenant to another, as well as to live Exchange servers and Hosted Exchange environments. Using the application, you can migrate only the most recent items or specific types of folders.
EdbMails Office 365 Migration works with any version of Microsoft Exchange Server, including 2007, 2010, and 2013, as well as 2016, and 2019. Without changing the folder structure, it allows you to migrate email messages, contacts, calendar entries, archives, journals, junk mail, tasks, and other data.
The software enables you to easily migrate your Office 365 tenant without the need for a time-consuming setup. To keep things as simple as possible, it can perform all functions with minimal human intervention.
Features of EdbMails Office 365 migration 
EdbMails, in my opinion, possesses all of the aforementioned characteristics. The product appears to have been designed with the user's needs and desires in mind. Some of the features of this utility are as follows:
Office 365 mailboxes can be easily transferred between domains.
The software works with all versions of Windows, including the most recent Windows 11 and 10.
You can authorize and relocate mailboxes belonging to different users by using EdbMails' automatic impersonation feature of the Admin account.
EdbMails supports all Office 365 license plans and tenant-to-tenant migration scenarios.
They provide free customer service 24 hours a day, seven days a week, and also provide remote assistance.
The entire Office 365 migration is made easier by a graphical interface that eliminates the need for complex PowerShell scripts.
Prerequisites for installing EdbMails software
Required Hardware Specifications
RAM or Memory to install EdbMails
The minimum requirement is 512 MB. For the best performance, a RAM of 4GB is highly recommended.
Hard Disk Space (in MB)
EdbMails installation takes up 20 MB of disk space, with additional space required for the installation of Microsoft Visual C++ libraries and.NET components.
Processor Specs
A quad-core Intel processor with a 1GHz processor. For optimal performance, 2.5 GHz is required.
Required Software Specifications
Operating Systems on which you can install EdbMails
Windows 11, Windows 10, 8.1, 8, 7, and all Windows Server versions are supported.
Microsoft Account Requirements
Any Office 365 subscription (licensed or trial) with Mailbox Enabled
Microsoft Outlook
Required for Office 365 to PST export
Internet Connection
A typical T1 type internet connection is required for migration
Public folder migration requirement
The required user must be assigned a public folder to migrate public folders.
Detailed Steps for Using EdbMails Office 365 migration software
a. Installing and launching the software
The EdbMails application installation is as simple as it is with any Windows application. To download the software, go to the EdbMails official website and click the 'Download EdbMails' button. The installation file is approximately 35 MB in size and takes only a few minutes to download. Once the Setup.exe file has finished downloading, double-click it to begin the installation. The setup process is also simple and quick, with no additional permissions required.
To begin using EdbMails, launch it after it has been installed and click the Start Your Free Trial button. If you have purchased a license, you must log in with your username and password. EdbMails does not require an activation key; however, the license is linked to the email address you provide during the purchase process. Then, from the drop-down menu, select 'Office 365 Migration.'
b. Source Account Connection Options
The next step is to connect to the source Office 365 account. There are two methods: the 'Classic' method and the 'Modern' method. The modern login method employs secure OAuth 2.0 authentication, whereas theclassic login method requires you to manually authenticate by entering your login credentials. There are two options on the modern authentication screen: Auto Registration and Manual Registration. After using the Auto Registration login page, you must authenticate yourself on the official Office 365 account login page. You must identify yourself manually by providing your email address, application ID, directory ID, and other information. For demonstration purposes, we'll use the Auto Registration approach.
You have three options in the following popup: Connect to Mailbox, Connect to Public Folder, and Connect to Archive Mailbox. To connect to a Public Folder or Archive Mailbox, your mailbox must have both Public Folder and Archive Mailbox enabled. Even though the steps for the other connection options are quite identical, we'll continue with the option Connect to Mailboxes for demonstration purposes.
After you've decided on a connection method, navigate to the official Office 365 login page and enter your Office 365 login credentials. Accept the permissions and proceed with the migration procedure.
C. Load Mailboxes from Source Account
After you have authenticated your account, a window will appear with three options for loading your mailboxes. Mailboxes can be loaded automatically, from an a.CSV file, or a previously saved list. If you're a first-time user, stick to the first two options. In this example, we'll use the option to automatically load the mailboxes. This displays all mailboxes and loads them in real-time. Import any additional mailboxes that aren't visible in the list using the CSV file.
d. Connect to the Target account and Mapping Options
After you've selected mailbox items from the EdbMails main window and started the Office 365 transfer, you'll need to log in to the destination Office 365 account. The login process and mailbox loading options are nearly identical to those for connecting to the source mailbox.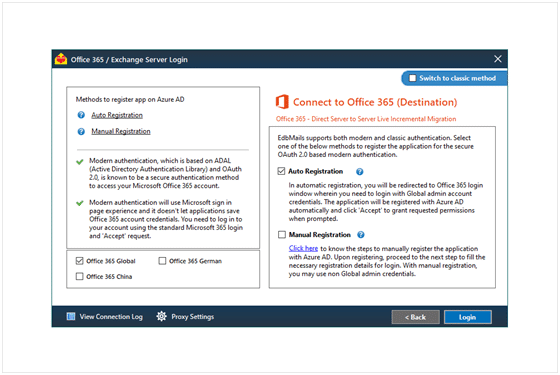 The following step is to map the source and destination mailboxes. To map mailboxes, you must select one of three options in the following window. EdbMails will automatically map source mailboxes with similar or exact matches to target mailboxes. When moving a large number of mailboxes, saves time. You can also map the mailboxes manually or based on a previous mapping if you prefer (if you have already performed migration to a target earlier)
Check that the mapping is correct in the mapping screen. If you chose the manual mapping approach in the previous step, change the Action to Migrate and continue the Office 365 migration procedure.
e. Folder and Filter Options
In the migration window, there is an option to exclude some standard folders. You can also create custom folders and exclude them from migration. There is a settings option for selective item migration in the migration window's right side bottom pane. Filters based on the message sent received to date, attachments name, From address, To address, Cc address, Bcc address, and so on can be used to include/exclude items.
Different Versions of EdbMails Office 365 migration software
There are two versions of the EdbMails Office 365 migration software: Free Trialand Licensed.
Free Trial version: EdbMails provides a 'Free Trial' version of its software for users to test before purchasing it. The 'Free trial' version allows you to transfer 30 items from the Office 365 source server's folders to the target.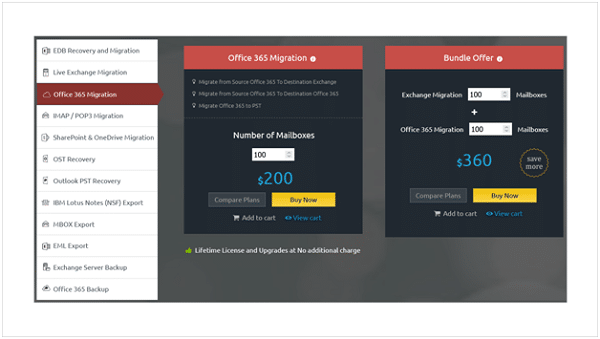 Licensed Version: After being satisfied with the software Trial version's performance, you can purchase the licensed version. The Office 365 migration license begins at $120 for 20 users. There is a good chance that the cost can be reduced if you purchase the license in bulk.
The license has no expiration date, so once purchased, you can use this software indefinitely to Migrate Office 365 mailboxes to their Office 365 / Exchange account.
What makes EdbMails superior to others?
The exceptional and unbeatable capabilities of the EdbMails application when migrating Office 365 tenant mailboxes distinguish it from other software on the market. Let us look at some of those features in this section.
Incremental Office 365 tenant migration without duplicates
Migrate to any version of Exchange, whether legacy or the most recent from Office 365.
Data can be transferred to or migrated from shared Exchange or Office 365 mailboxes.
The migration procedure is quicker than any other method.
Safely migrate to Office 365 without downtime or data loss.
Microsoft MVPs recommended and trusted Office 365 migration software.
User-friendly interface to perform a flawless migration.
Data integrity is maintained on both the source and target.
Beginners and professionals both can benefit from the software's
Lifetime license, which includes free 24-hour customer support.
Pros & Cons
Pros
EdbMails Software interface is simple to use and does pose any complications.
Multiple mailboxes can be migrated without any size restrictions.
Office 365 migration with high performance and stability.
Direct migration between Office 365 tenants of the same domain or different domains
Impersonation rights for source and target mailboxes are automatically set.
Automatic mailbox mapping feature between the source and the target.
Download the 'Free Trial' version to try out all of the software's features.
Cons
The migration scheduling feature is still being worked on.
Log file is a text-based report.
Trusted Reviews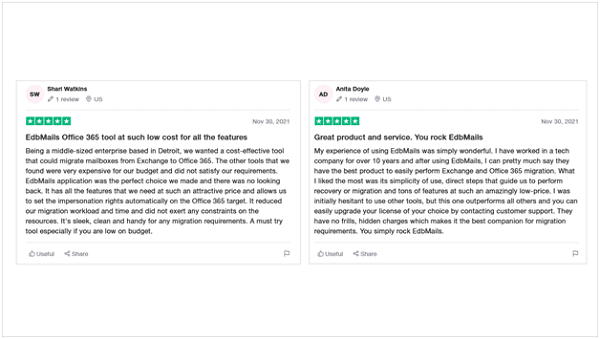 EdbMails Office 365 migration FAQs
a. Is it possible to use EdbMails with different Office 365 subscription plans?
Yes. EdbMails supports both trials and licensed Office 365 Subscriptions including Enterprise Office 365, Business Premium, and other licensed versions.
b.    Is it safe to use this software for Office 365 migration?
EdbMails Office 365 migration solution is ISO 27001:2013 certified and uses a modern authentication technique called OAuth 2.0. During authentication, your credentials are protected by OAuth and TLS encryption, and EdbMails servers are GDPR compliant. Your information or credentials are never retained or made available to other parties. EdbMails ensures that your data is completely safe and secure, with no data loss occurring before, during, or after migration, export, or backup procedures.
c. Is the integrity and hierarchy preserved during the migration process?
EdbMails maintains the exact source folder hierarchy in the target account without altering the source items. The application migrates all the mailbox items without any data loss and thereby ensures that the integrity and hierarchy of the mailbox folder are preserved.
Conclusion: EdbMails Office 365 Migration Software Review 2022
Before investing in a software solution, it is essential to evaluate how professionals, IT administrators, and real-world users rate it. Businesses may have a wide range of requirements, making it difficult to find the best solution to meet them all. EdbMails is the best option for Office 365 and Exchange migration. We put it through its paces in a variety of scenarios and discovered that this utility is incredibly versatile due to its feature-rich options for Office 365 migration in all scenarios. Furthermore, the pricing plans are tailored to specific use cases, and the product is the most cost-effective of all the tools. There are also other file conversion and recovery tools in the same interface such as. EdbMails OST to PST converter software, EDB, PST, NSF, MBOX making it a rounder. In my opinion, it is an excellent migration software and deserves a five-star rating without a doubt.
Finally, we offer another method for managing email signatures in Exchange and Office 365. You can add professional signatures and disclaimers to your Office 365 email signatures in real-time. Sign sync eliminates the need to manually configure Exchange transport rules. From a single dashboard, you can manage all Office tenants and add social media icons. Sign sync's features include email marketing, product, brand, and website promotion, and the option to schedule discount offers. For further information, click on the linked link.