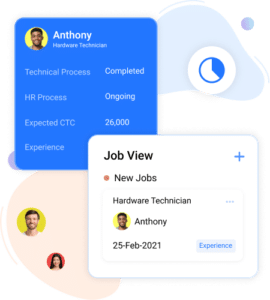 Don't you feel highly impatient when you have to wait weeks to get an update on the job you applied for a long time ago? Well, it's because recruiters at the companies have to follow many HR guidelines before hiring any suitable candidate. In the meantime, they lose potential candidates who get tired of waiting and start looking for other jobs.
This very problem of a lengthy hiring process is not beneficial for anyone, but at the same time, it can be avoided as hiring the best employee for their firm is a necessity of every company. To make the process easier, the human resource team can install trendy and efficient software that enables applicant tracking solutions.
What is an Applicant tracking system?
The applicant tracking system is software that enables companies and candidates to meet on the same platform and interact with each other there, rather than seeking each other manually. In these systems, recruiters can also post job requirements and vacancies on the same platform as job seekers, who also post their resumes and profiles.
There are various features of the online applicant tracking system that makes it more efficient are:
Candidate tracking: This feature tracks suitable candidates for your firm by either shortlisting appropriate resumes or marking similar keywords.
Resume Parsing: This very feature of the online applicant tracking system is very time and energy saving as the software automates resume checking and filters talented candidates.
Activity tracking: This software feature helps the company track applicant's activities and perform background checks on them.
Career portal: In the software, there is one portal where the companies posts about their job vacancies and job requirements.
Workflow management: These tracking systems enable recruiters to manage their workflow when they are in the hiring process.
Applicant tracking systems are the need of the hour as all the companies today are in the rat race and want the best employees for their jobs. In these times, no company misses the opportunity to hire the best-suited employees as soon as possible.
How does the applicant tracking system work?
The applicant tracking system, so recruiters post job requirements and vacancies on the career portal. Then the job seekers who have already posted their resumes on the software get notified about the job postings. To apply for that, they make themselves available to the job recruiters; after all, this resume parsing takes place where the resumes are shortlisted as per the keywords. Shortlisted candidates are then informed about the interview and, finally, appear for a face-to-face interview. After this interview, a normal recruiting process occurs.
What makes applicant tracking systems different from other social media sites?
Applicant tracking systems work professionally, and job seekers and recruiters can submit their job needs and requirements. ATS even enables negotiating systems which saves a lot of time. The applicant tracking system also enables job seekers' background checks so that recruiters know their authenticity. Applicant tracking systems are efficient recruiting systems that no recruiter wants to miss out on.