To come up with practical and alluring ideas for home decor can be a tricky task for many people, particularly living in small places such as a studio apartment. People who decide to live in a studio apartment for their reasons often find it hard to give their home a bit of a stylish and attractive look while controlling their space and budget efficiently and smartly.
Not necessarily now. In this write-up, we're providing you with the best studio apartment renovation ideas by using a wide range of options for custom glass applications.
A Studio Apartment- What exactly is it?
A studio apartment is a 4-wall space that contains everything which is meant to be in a house, i.e. everything a house is meant to have found in a single room, such as a bedroom, kitchen with a closed-off bathroom that is separated from the rest of the room with the help of a door.
There are a few things that can be done to create an illusion of difference within your apartment like building small glass or concrete walls for privacy, especially if several people are living in the same place.
Are Studio Apartments preferred? – Best for people with a low budget!
Studio apartments are far more popular now than ever before. By all means, studio apartments are a great replacement for those of one or multiple bedrooms houses and apartments which are usually high in cost, especially for people who are away from their houses either to earn their livings such as single professionals or for studies such as students who come from different cities and countries with different backgrounds.
Even families whose financial condition doesn't allow them to pay for high rental charges often look for studio apartments.
Studio apartments are space-efficient and, therefore, finding a low-cost one is not a difficult job. They are in trend and demand in large and expensive cities all around the world at reasonable prices. They are affordable and easy to maintain (best for the jobholders and students) and being not so huge, they lessen the electricity bill's burden due to less energy consumption. In addition to that, they are generally located in the city's central locations which builds up the tremendous connectivity between the person and the city life.
Designing your Studio Apartment – The Way You Want!
It doesn't matter if you opt to live in a studio apartment for whatever reason, you can still decorate and design it according to your wishes and affordability. As its stated above, when it comes to your in-house designing and decoration, no material can provide freedom for creativity than glass. Custom cut glass is such a material that is hugely used in interior designing almost everywhere. Nowadays, no interior decor is complete without using glass or mirror decoration, whether in-home or commercial.
· Shower Door- Say no to leakages!
Shower doors are widely used nowadays as they give your bathroom a cleaner and nicer modern look. They are made with a strong material that makes them durable. As you aim to give your apartment a sense of openness so you should choose a frameless shower door to include in your vanity. Shower glass doors are made with keeping glass stability and water leakage prevention on higher priorities, so you can avoid repairing issues. Therefore these luxurious-looking retreats are considered a must-have addition in designing modern bathrooms.
· Custom Glass Table Top OR an entire table made of Glass?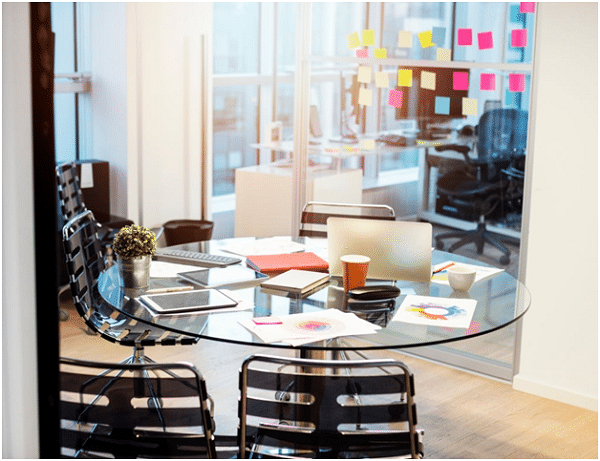 Round glass table tops are vastly used worldwide, usually, to cover wood tables to protect them from damage and, therefore, extend their lives. By doing so a wood table still looks elegant and beautiful. You can go for covering the existing tabletop or have a table made up of glass. You can be so versatile in your apartment space by placing a small tempered dining table as well as small decorative tables with custom glass table tops beside the different corners of your apartment and on one side of your main entrance door. You can put beautiful flower vases and pieces of artwork as well as your picture frames on these tables. Geometrical designs and sparkling chandeliers can also be quite attractive articles to place on.
You can bring out your creativity when choosing the right shapes and sizes for your tabletops according to the space you want to decorate. Ideally, rectangular or oval shape table tops are best for dining tables, whereas round glass table tops are considered stylish for side corners.
· Add on delicate frameless Mirrors to brighten it up!
You simply cannot deny placing frameless mirrors on your walls and stands if you are aiming for your interior to look spacious and brighter. Frameless mirrors look extremely elegant and delicate. Also, they are less expensive than those mirrors with decorative frames. They make the best option for small places as they easily blend with the small spaces giving them a sense of enhancement as compared to the frame mirrors as they are perfect for large spaces.
· Custom Cut Glass is going to add beauty!
Custom cut glass is incredibly useful to make your home space look elegantly decorative and trendy even if it is just a studio apartment. Place beautiful-looking custom-cut glass pieces and work on your dining table, kitchen counter, side tables, and shelves. Furthermore, decorate your tabletops and walls with expertly designed custom-cut glass to make your interior astonishing.
Wrapping up!
Renovating your studio apartment can be fun and an opportunity to bring out creativity for you if you go for decorating your interior using glasswork, and can make you feel happy and confident about your little space without spending a massive total.