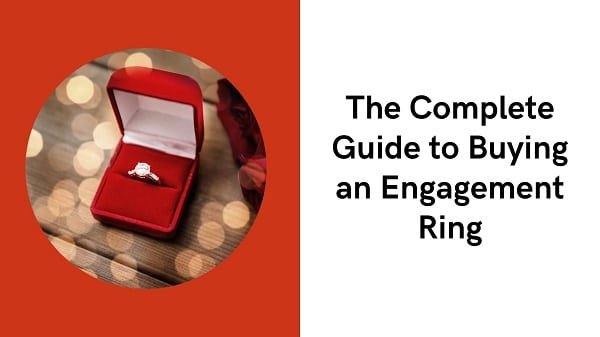 Picking an engagement ring is an exciting and eye-opening experience for men. What do they know about women's jewelers in the first place, and now you're expected to pick a ring? Not just any ring, one that is very important. An engagement ring leads to one of the most critical events in your relationship.
It can be overwhelming for someone who doesn't know anything about jewelry. I assure you that reading this guide will fix that problem. It'll provide you with the relevant information about how to pick the best engagement ring for your partner. Also, where you can find diamond engagement rings too. It will also help you figure out her type and size subtly and keep that element of surprise we all love.
This guide also provides information on picking other wedding jewelry. So you can be of assistance to your partner whenever she may need it.
Determine Your Budget Limit
Diamonds are usually the 'go-to for engagement rings. You've found the love of your life, and you want to get her a beautiful ring that shows how much you value her. You would want the best of the best, but your finances don't seem to cooperate with you.
You should know that you do not have to go for natural diamonds if you cannot afford them. Lab grown diamonds are an alternative you should consider. Lab-grown diamonds over the years have been proven to be as good, if not better than natural diamonds. You can opt for these diamond wedding bands and diamond engagement rings made of lab-grown diamonds.
You will be saving costs if you buy these lab-grown diamonds. If you, however, feel that you can afford to buy natural diamonds, and you have no ethical issues with them, feel free to buy them.
Your budget shouldn't be too high to the point it affects you in the long run but also not too small that you underperform. Remember, you're about to start a home, and no one wants to start marriage as a broke couple.
You should find a budget that will satisfy your partner and won't shrink up your pocket to the point of despair.
Find Out the Type of Jewelry She Likes
Picking a ring randomly without paying attention to your partner's likes is a terrible idea. Every woman has her unique jewelry style, and she'd want her wedding day diamonds and engagement ring to reflect that. You need to ensure that by picking out what she'd like.
Finding out what she likes is not as complicated as it looks. You should pay more attention to the type of jewelry she wears daily, like stud earrings, necklaces, and most especially, rings. You can also ask a friend or a relative for advice.
Understanding the 4 Cs
Before you walk into a shop to begin picking proposal rings, there are several things you need to know. Understanding the 4Cs: This is a term jewelers use to refer to the 4 main aspects needed to pick wedding jewelry and proposal rings. It's important to know what they are so you'll understand what it means. Here are the 4Cs;
Colors: Natural diamond has no color, and that's what makes it expensive. This helps you know the difference between lab created diamonds and mined diamonds. However, a woman might want a colored one based on her preference. In picking colors, you also need to know that the color of the metal ring affects the diamond color. So they always need to compliment.
Clarity: This is how ' see-through' the diamond is and how it reflects light. Its chemical composition determines it, which is measured on a scale that starts from flawless and ends with included.
Cut: This refers to how well the diamond is cut to reflect light correctly. There are different types of diamond cuts that give all types of diamond shapes. Such as emerald, round, heart, and many more diamond shapes.
Carat Weight: This is the measuring unit of diamonds to determine their weight. A diamond carat size chart should be provided for you. So you know how they're measured. Generally, the higher the carat, the more expensive the ring. But depending on the types of diamond based on the other Cs mentioned, a 3-carat diamond ring could be more expensive than one that weighs higher.
Deciding on Your Diamond Shape
Wedding ring shapes and diamond styles are challenging to pick. The diamond cut determines the diamond shape. Try to narrow your choice to proposal rings that are of the shape your partner will love most. The shapes include
Round Cut Diamonds: This is the most common because it reflects light well. It goes well on authentic diamond earrings, stud diamond earrings, engagement rings, and wedding bands for women.
Princess Cut Diamonds: This is a popular style for several reasons. It is versatile, lower in price and rectangular shapes are less expensive than squares.
Heart Cut Diamonds: They are less common but aesthetically pleasing. They work best on large diamonds, so it isn't advised for small diamond jewelry like earrings or diamond studs.
Pear Cut Diamonds: If you're looking for big wedding day diamonds for women, then this is the best choice for you. They give an illusion of largeness without adding to the carat. It also looks good on diamond pendants.
Cushion Cut Diamonds: It is similar to square cut diamonds. It doesn't have sharp edges. It looks beautiful on wedding
Choose the Diamond Setting
Diamond setting is explained as how the diamond is fixed to the ring. When done correctly, it adds beauty to the rings and other diamond jewelry.
Types of ring Settings
Claw Setting: This is the most popular engagement ring setting in the world. It makes it look like a larger stone. This helps to reflect light and places the stone securely. Most wedding rings for women and stud earrings for women use this.
Pave Setting: This has to do with the small stones placed on the ring's band. Different types of diamonds can be used in this type.
Bezel Setting: This is a setting where the protection of the diamond is more important. A metal ring is placed around the stone for protection while adding beauty. It looks excellent on diamond stud earrings and engagement rings.
Channel Setting: Like the pave setting, smaller stones are fixed on the band. It's more secure because the band is a lot narrower.
Halo Setting: Smaller diamonds are used in this setting and are fixed around the diamond in the center. This enhances the look of the ring.
Flush Settings: The diamonds are placed inside the band to give a clean flat surface. It is elegant, simple, and secure.
Picking the Best Types of Diamonds and Setting Metal
When it comes to the best type of diamond, you need to pick one that reflects light nicely. This is called brilliance. You also must avoid shallow or deep diamonds because light doesn't reflect on them. The diamond cut determines this.
In choosing metal, you have to decide on a color that your partner will like and what compliments the diamond.
Finding the Right Size
Know her ring size ahead of time so you can pick the rings conveniently. This also avoids resizing because it takes a lot of time. If you want the engagement to be a surprise, you need to get someone to measure the rings she already has. But if not, you can use a free ring size to determine it. After getting the measurements, you compare them with an engagement ring size chart.
Choosing a Jeweler
Different types of jewelry stores are available, for example, boutiques, markets, large shopping centers, and online retailers. You can also find out about good jewelers online. Also, ask for recommendations based on good customer service and good reputation.
Conclusion
Choosing engagement rings, wedding rings, and jewelry generally isn't intricate. As far as you've read through this guide well, you should be fine. Please pay attention to what your partner wants and work towards getting her the diamond ring of her dreams. Engagements usually are unforgettable days; the ring you pick out could affect just how special the day will be.