Video content on social media is an effective method to promote products and services. To implement this, you can use an online video maker to improve video-making quality and efficiency.
The reason for using a video-making tool may vary. However, you can be sure that finding an editor with rich media resources such as the Promo editor is crucial for success.
It is a hard decision to invest in a video maker. Oftentimes, the budget imposes an issue. For people who are only starting, it is better to opt for the free options since ease of use is always an entry barrier. This allows you to test the waters before making a significant investment.
Online Video Maker – Top 5 Options with Rich Media Resources
Here are our top picks for online video makers with interesting or promising features:
1.     Promo
Making a complete video in less than 5 minutes is possible here. Use this tool to create videos for social media, testimonials, ads, product videos, and more.
Also, this software allows you to create videos from scratch or opt for a video template. The range of video templates on the website ensures success for all.
Furthermore, Promo offers a huge library of videos and images. It makes the process simpler. Also, the rich media resources of video templates and imagery allow users to create engaging content.
Also, you get music options for the background score. Background music can help heighten emotions. The music library has soundtracks for all kinds of emotions, including upbeat, sad, motivating, and much more.
Features of Promo
The key characteristics of the tool include:
Ready-to-use and customizable video templates
Full Control
Links to social media to directly post the content
Create a unique sharing link for feedback
Completely Free – No Credit Card Needed!
Systematic division of video templates as per the business type
To sum up, the videos you create using this tool can go anywhere you like. Create videos for social media, websites, blogs, and emails.
Also, the website offers extensive support from a customer care team. Lastly, the user can read the many different articles on the website to resolve any issues or simply get informed on the newest internal development of the company.
2.     Wave.video
Wave. video is a free online video maker that offers customizable video. You can use the drag-and-drop feature to make your life incredibly easier while editing a video.
While using this tool for free, you still have access to a royalty-free library of videos and images. Moreover, it offers five 15-seconds videos for free.
Due to its well-designed U.I, it is ideal for creating short videos for social media platforms. Also, you can add subtitles to ensure maximum viewership retention.
Features of Wave.video
The key features of the tool are:
Catchy text-effects
Option to add custom fonts
Option to add watermark to the video
Change the layout of the videos
Uncapped Social Media shares available
Overall, this video maker offers a range of options for the user to create amazing videos. The end goal of any video is to engage. Hence, make a video while keeping an end result in mind.
3.       Biteable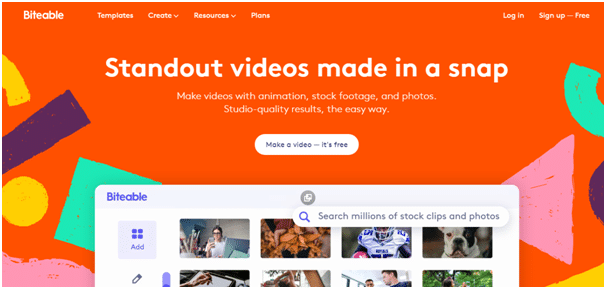 Biteable helps create short videos with ease. The simple interface and various features make it a popular tool to use for professionals influencers.
Additionally, it comes in both free and paid options. The free option has up to 2 million images and clips. Also, the video maker can export limitless watermarked videos.
But, the paid option allows custom branding, commercial use rights, HD videos, and more.
Features of Biteable
The main features of the online video maker include:
Animated templates
Drag-and-drop interface
Free music to use in the background score
Video templates
This video maker allows the user to create better videos in less time, which makes a perfect choice for a social influencer for example. If you need to create videos in a consistently timely manner, this video maker is for you
4.       Movidmo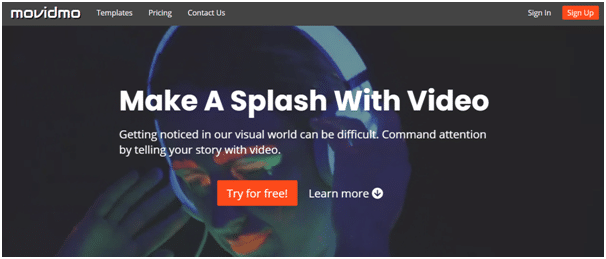 Use visual cues to get attention with Movidmo. This software comes with plug-and-play templates. Moreover, the accessible interface and the option to create high-quality videos make it an ideal tool for ads and brand presentation.
While the tool does not come with a subscription fee, you will have to pay per video created. So, the cost can add up over time if you're not keeping track of your productivity.
Key features of the Movidmo
The major characteristics of the tool include:
Custom branding available
An extensive music Library
Custom styling and messaging
On the whole, the paid option does make it expensive in the long run. However, it is an excellent choice if you want to make high-quality advertisements for the brand. So if your need lies on quality over quantity, this is the right video maker for you
5.    Creatopy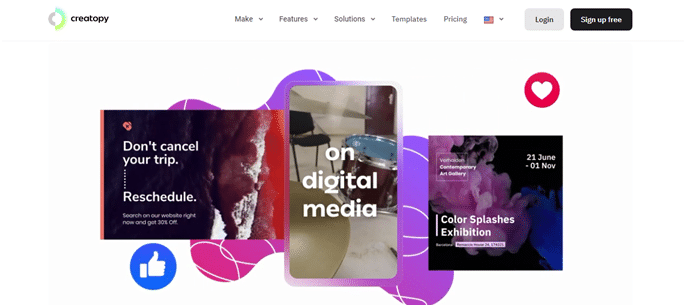 Creatopy offers a flexible tool for video creation, you can use images, your own footage, or stock videos to create videos with ease. The device offers the opportunity to create banner ads that can bring the layout of your website to the next level.
Moreover, this tool is ideal for creating ads for YouTube channels, Facebook, Instagram, and other social media sites.
Key features of Creatopy
The features of this tool that make it appealing include:
Custom branding
More than 3 million stock images in high quality
Easy banner ad creation
High-quality template available
In conclusion, use the tool to trim, crop, scale, and filter the video to create the ideal results. Then, preview the video before making the final download. This openness gives you a big deal of freedom when creating on Creatopy.
Parting Words On Online Video Maker
Finally, promoting your brand is a monolith of a task that requires a range of skills and a lot of patience. To make one aspect of the ordeal easier, choose the online video maker that best meets your needs. Save your budget for things that matter!