One common complaint about PDF files is that they can be difficult to edit. This is due to the way that PDFs are created by using a combination of text and graphics. There are many popular PDF editing software available on the market. However, all these editors are much more expensive and difficult to afford. With UPDF PDF editing software, you can easily and quickly edit PDF files without spending a fortune on expensive software. UPDF PDF editor is free and easy to use, and it produces better results than the expensive alternatives. It is one of the best PDF editors due to the following reasons.
Edit PDF Text Or Images for Free
If you need to edit text or images in a PDF, UPDF is the perfect tool for the job. It's easy to use and totally free, making it the ideal choice for any budget. It is perfect for small businesses, home users, and students as compared to other expensive PDF editors.
Superace now released the UPDF Mac version on the Mac app store. The free Windows version will be released on May 20th with the same version. All of the Windows and Mac versions are the same.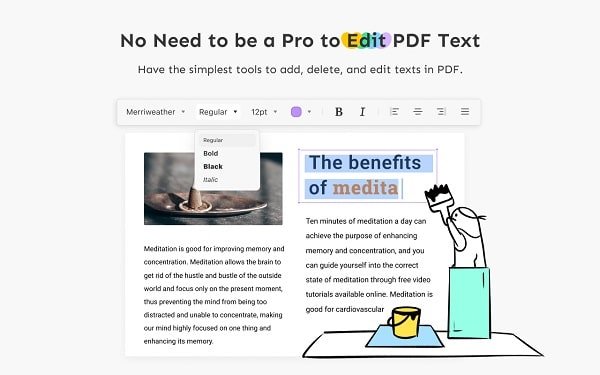 View And Read PDF Documents
Convenient PDF reading is one of the top benefits that come with using a UPDF PDF editor. By allowing users to zoom in and out, scroll through documents quickly, and access all relevant content without having to switch between pages, a UPDF PDF editing software makes it easy to read and navigate your files. If you're looking to save time by making your documents easier to read, you need this free PDF editor.
Annotate PDF Document
Annotate PDF document in UPDF lets you add annotations to any PDF document. You can add notes and highlights to any part of the document. Annotate PDF document lets you create and manage your annotations easily, so you can keep track of what you're working on. You can also add hyperlinks or URLs. This is a great tool for students and professionals who need to keep track of important information while working with a document.
Organize PDF Pages
Organizing PDF pages is an essential function that helps you to manage and organize PDF files. The program allows you to view and edit the contents of a PDF file, as well as create new pages and folders. Organizing PDF pages is a basic function of the UPDF PDF Editor. It helps to group related pages together and to keep them in order. You can also use it to rearrange the pages.
Pros Of UPDF PDF Editing Software
UPDF PDF Editor is a free and easy-to-use software for editing PDF files. It supports image editing and text formatting, making it a good choice for users who need to make quick edits to PDFs.
The user interface is beautiful, with a sleek and modern design that makes using the application easy to use.
A UPDF PDF editor can quickly open and render large files, making it easier to work with large documents. Additionally, a fast PDF editor can save time,
UPDF PDF Editor is a user-friendly free solution that enables users to create, edit and manage PDF files easily. It also offers a free solution to some extent. The latest version of UPDF includes new features.
Final Thought
UPDF is currently a powerful PDF editor with a lot of features still to be added. It is one of the best choices for many people. The conclusion is that the UPDF PDF Editor is a very good program that enables users to create and edit PDF files. Some of the features that are planned for UPDF next update include PDF conversion, create and fill PDF format, OCR, and sign PDF tools. We hope this interesting blog will be helpful.