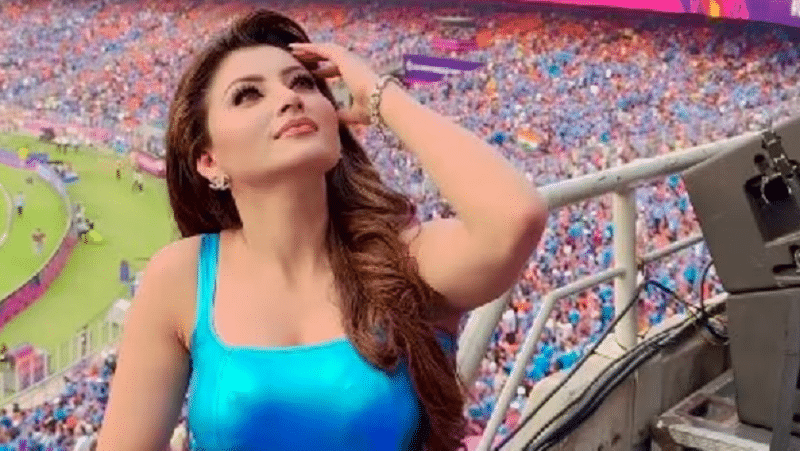 In this digital age, even the rich and famous are not exempt from the woes of losing their prized possessions. Recently, Urvashi Rautela, the stunning Bollywood actress, found herself in the spotlight for an unfortunate incident. She lost her extravagant 24-carat gold iPhone at the prestigious Narendra Modi Stadium in Ahmedabad. This incident occurred after the thrilling India vs. Pakistan match, where the Men in Blue emerged victorious. The match was celebrated with zeal by cricket enthusiasts, but for Urvashi Rautela, the euphoria was marred by the loss of her precious gadget.
The Unfortunate Misplacement
After the nail-biting India vs. Pakistan game, Urvashi Rautela took to social media to share her predicament. She confessed that she had lost her 24-carat real gold iPhone at the Narendra Modi Stadium during the 2023 World Cup match between the arch-rivals. Her social media post not only revealed her loss but also solicited help from her followers and the general public. Urvashi's tweet read, "Lost my 24-carat real gold iPhone at Narendra Modi Stadium, Ahmedabad," and she requested anyone who came across it to get in touch with her immediately.
Social Media Buzz
As news of Urvashi's lost iPhone spread like wildfire, her social media post garnered significant attention. She appended several hashtags to her tweet, including "Lost Phone," "Ahmedabad Stadium," "Help Needed," and "Indvspak." Moreover, she tagged both the Narendra Modi Stadium and Ahmedabad Stadium accounts in her plea for assistance. In response to her post, Ahmedabad Police promptly replied with the phrase "Mobile phone detail."
The public's reaction was a blend of empathy and humor. Some amusing responses flooded the comments section of her post. One user, making a reference to a popular line from Tiger Shroff's movie "Heropanti," asked, "Chhoti bacchi ho kya?" Meanwhile, another user suggested finding the phone using the "Find My Device" feature. The humor continued as someone questioned, "There are Gold iPhones?" and remarked, "That match was expensive." Another user, displaying faith in the police, assured her, "Don't worry… Ahmedabad Police will 100% trace your phone and bring it back… as long as the phone is still serviceable."
Support from Fans
Urvashi Rautela's fans also expressed their support. One fan commented, "The first female Indian actress to drop a real gold iPhone. Give it back to her, Pant." This display of fandom highlights the bond that often exists between celebrities and their admirers.
A Glimpse into the Incident
Before the unfortunate incident, Urvashi had shared a video from the stadium, where she was seen enjoying the game from her seat. She looked radiant in a bodycon dress of bright blue, capturing the attention of many with her stunning presence. This incident, however, serves as a reminder that even glamorous stars encounter everyday misfortunes like the rest of us.
Conclusion
Losing a valuable possession can happen to anyone, even celebrities. Urvashi Rautela's loss of her 24-carat gold iPhone at the Narendra Modi Stadium serves as a testament to the unpredictability of life. Despite the fame and glamour that surround stars, they, too, face common challenges. The support and humor expressed by her followers show the warm connection between celebrities and their admirers. While the fate of Urvashi's gold iPhone remains uncertain, her fans continue to stand by her.
FAQs
1. What is the value of Urvashi Rautela's lost gold iPhone?
The lost gold iPhone is a 24-carat real gold phone, making it an extremely valuable and unique item.
2. Did Urvashi Rautela manage to recover her lost phone?
As of now, there is no official confirmation of whether Urvashi Rautela has managed to recover her lost phone.
3. How did Urvashi Rautela react to the loss of her gold iPhone?
Urvashi Rautela took to social media to share her predicament and seek assistance from her followers and the public.
4. What were some of the humorous responses to Urvashi Rautela's lost phone incident?
Several amusing responses on social media included references to popular movies and reassurances from fans that the phone would be traced by the police.
5. How did Urvashi Rautela look during the India vs. Pakistan match?
Urvashi Rautela looked stunning in a bright blue bodycon dress as she enjoyed the cricket match from the stands at the Narendra Modi Stadium.