VanceAI Photo Restorer is an innovative photo restoration online tool that uses AI and machine learning algorithms to restore old photos. This tool is designed to automatically repair damage to old photos caused by factors such as scratches, cracks, and aging, thus rejuvenating them and making them look as good as new.
The primary aim of this tool is to help people preserve their treasured family photos that may have been damaged over time, so they can be passed down through generations. Old photo restoration can be difficult, which is an issue that this tool fixes.
VanceAI Photo Restorer also has practical applications in the business world, where it can be used to restore old photos for use in marketing materials like flyers, brochures, and presentations. By restoring these photos, businesses can create a more professional and polished appearance for their marketing materials, thereby improving their brand image and attracting more customers.
The benefits of old photo restoration are thus clear, both for personal and professional purposes.
What Does An AI Photo Restorer Tool Offer?
VanceAI Photo Restorer is a highly capable tool that can be beneficial to a variety of users, including photographers, image editors, designers, etc. It is especially useful for those who have old photos that have deteriorated over time and want to restore them to their original state. This is important because old photos often hold precious memories, stories, and family history that may be lost if they are not preserved properly. Apart from that, brands can bring old photos back to life for creative social media posts. The tool employs advanced algorithms that can effectively remove scratches from old photos online and enhance facial features.
VanceAI Photo Restorer can also be used by individuals who want to preserve old memories either by printing the photos in high quality or by having them stored digitally, hence avoiding any kind of potential damage moving forward.
Artists and photographers can also create opportunities with VanceAI Photo Restorer. A polished, restored old photo can serve as inspiration for editing and art. Not to mention that vintage photos are highly popular on social media, which can be enhanced further to share with others and make personal profiles more aesthetic. Editing options increase with VanceAI.
The tool is user-friendly, efficient, and cost-effective, making it an excellent solution for restoring old photos and giving them a new lease on life. Whether it's for personal or professional use, VanceAI Photo Restorer can help users revive their old photos and preserve them for generations to come.
How to Restore Old Photos with VanceAI Photo Restorer?
The following steps show how to use old photo restoration tool online to enhance old photos and repair them.
Step 1: Use the link provided to visit the VanceAI Photo Restorer website. Once there, select the "Upload Image" option to start the process. You can find more details about the tool on the website.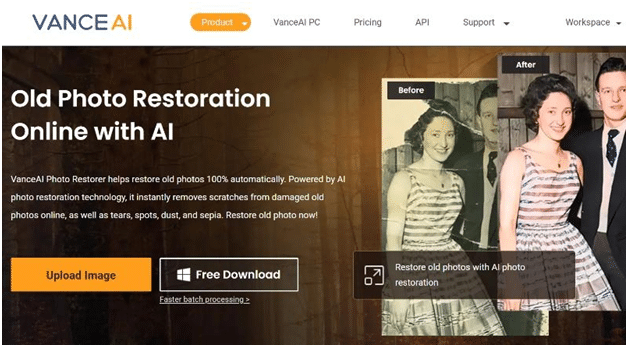 Step 2: Once you are in VanceAI Restorer Workspace, upload the image you wish to restore, and choose your preferred settings. Then click on the "Start to Process" button to initiate the restoration process. Additionally, you can select the colorization option, if you want to repair and color the old photo.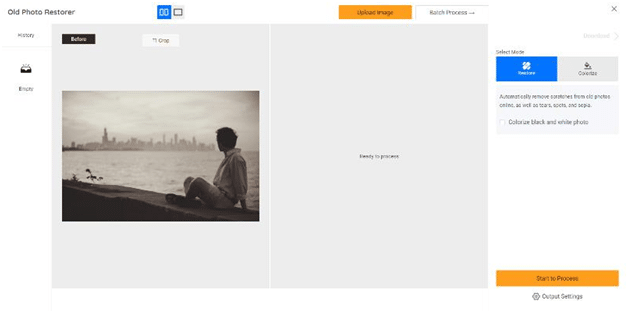 Step 3: Once the processing is complete, the final restored image will be displayed. You can use the "Download Image" option to save the newly restored photo to your device.
Samples of Photos Restored by VanceAI Photo Restorer
Following are a few image examples of AI old photo restoration done by VanceAI Photo Restorer tool.
1. Old Family Photo Repaired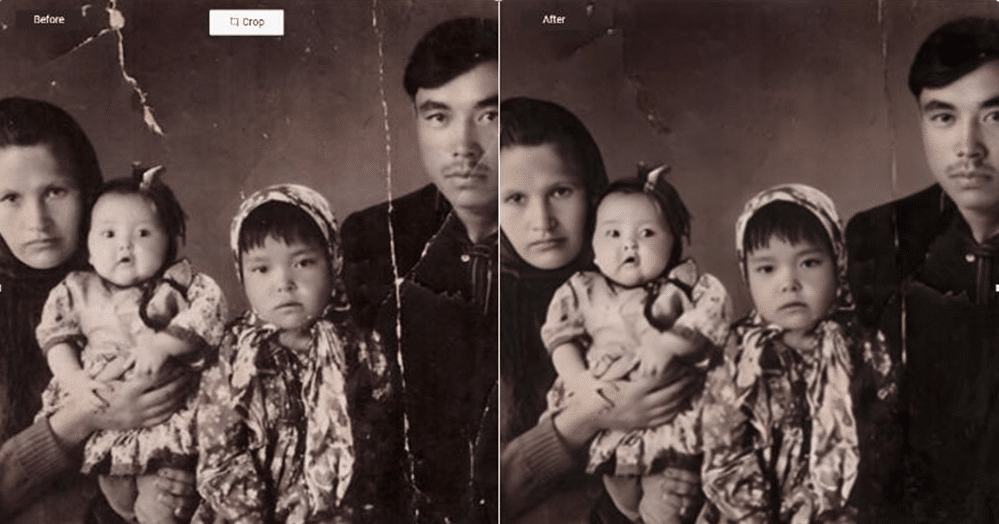 VanceAI Photo Restorer does an excellent job as far as damage mark removal and face enhancement are concerned. The AI photo restorer manages to clean up the image significantly in just a matter of seconds, though it does not necessarily clean up the image 100%. By looking closely, viewers will be able to detect light damage marks that are still remaining in the image. Without a brush tool or manual editing, it is difficult for automatic tools to remove everything cleanly. Regardless, the above image is a great example of the effectiveness of the AI Photo Restorer.
2. Old Vintage Photo Colorized
An impressive feature of VanceAI Photo Restorer is that it can not only enhance old photos by damage repair, but it can also enhance them through colorization. This makes old and vintage photos look brand new and aesthetic. This feature has plenty of uses, with one of the most notable being for printing and photography. From the above image, we can see that the Photo Restorer manages to provide good-looking and realistic colors to the image. The image still looks vintage, despite the massive overhaul in the color patterns and depth.
In the Workspace, users can either choose to color the photo or repair & color together.
3. Old Vintage Portrait Restored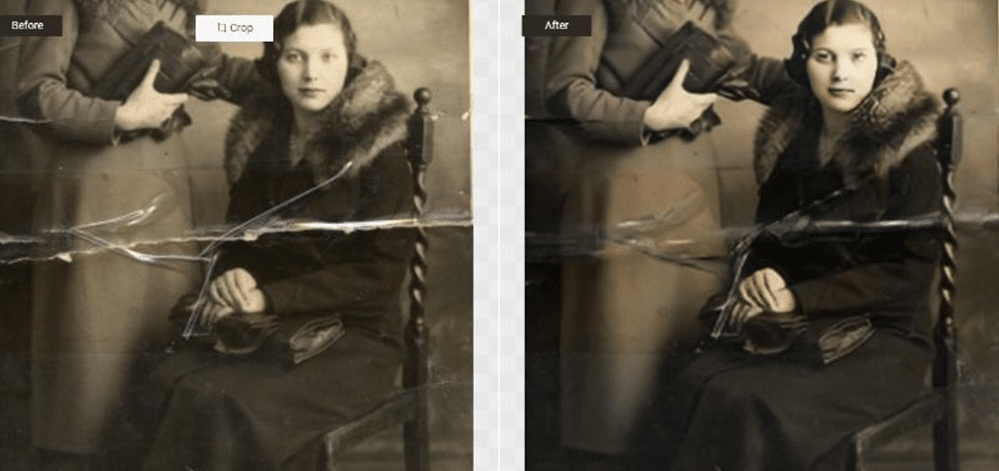 The photo restoration tool presents the After image in much better colors and details. VanceAI's Photo Restorer tool is highly effective in improving the quality of portraits in images by restoring their sharpness and details. The tool is able to detect and correct various issues, such as damage marks, image blur, and some level of noise, which ultimately produces an image with more vivid colors and a clearer appearance. In terms of drawbacks, the tool does lose a little bit of detail at a couple of parts in the image but nothing major.
Final Verdict
VanceAI Photo Restorer is an AI-powered photo restorer tool that effectively fixes and enhances old and damaged photos, especially when it comes to face enhancement and colorization. The platform also has a feature for colorization, which enables users to add color to their photos while restoring them, all in one place. For a monthly fee of $4.95, subscribers receive 100 image credits and other features, such as faster processing. If more image credits are needed, users can purchase them at a higher cost. VanceAI also provides software and API subscriptions with different plans. The company places great importance on accessibility, and as a result, it has made the primary VanceAI tools available through VanceAI PC for desktop use, making the platform user-friendly and accessible regardless of device preference. It's worth noting that not all tools are currently available on VanceAI PC.
Additional Choices from VanceAI
VanceAI has a comprehensive range of photo editing tools that perfectly complement its powerful photo restoration tool. The platform features more than 15 different tools that help to repair damage, improve colors, and enhance the overall quality of old photos. For example, VanceAI Image Enhancer can be used in conjunction with the Photo Restorer to achieve even better results. Additionally, VanceAI Photo Colorizer can be used to add realistic colors to black and white photos. Besides, the company provides a free web-based PDF processing tool on VancePDF.com.
By using these tools in tandem, users can obtain excellent results when restoring their old photographs. However, for those looking for a free alternative to VanceAI, photorestoration.ai is a viable option, albeit without the extra features and polished design of VanceAI.