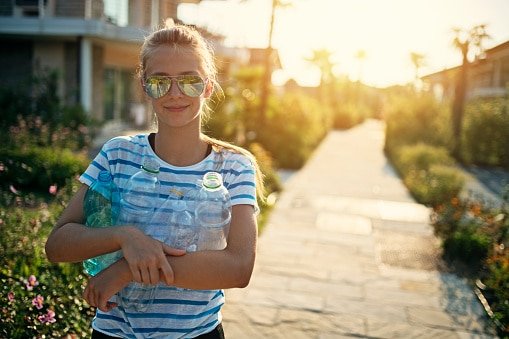 Nowadays, it's easy to find different types of clothing and items made from sustainable and eco-friendly fabric. Some clothes, shoes, and even recycled sunglasses are made from bioplastic compatibles and bamboo fibre, making them an ideal choice.
From eyewear to apparel, it is important that you keep a sustainable choice in selecting a more environmentally-friendly option. If you are also looking for ways to sustain an eco-friendly purchase and minimise the non-recyclable plastic wastes, then you might want to consider these listings: 
Try a Beachwood polo shirt
As the name implies, the beach wood polo shirt is made from Beachwood, which is highly recognised for biodegradability. Moreover, what makes this an ideal choice is that the material can also give a hypoallergenic touch which facilitates more comfort for those users who are highly sensitive to various fabrics.
Consequently, a polo shirt made from Beachwood is known to be highly resistant to wear and tear. They also contain anti-microbial properties, which makes it a cost-effective choice given that the fabric will fend off microbial build-up. A good choice if you want to spend less time laundering your clothes, right? 
Try some recrafted skirts
Some brands and clothing lines patronise the concept of recrafting knit skirts and other types of garments. However, since clothes can sometimes be made from acrylic or cotton, which can damage the environment, you must look for ways to reduce these materials' production and consumption.
Luckily, some recrafted skirts are made from recycled fabric, which lessens the least sustainable fabrics. If you advocate for an eco-friendly purchase, looking for these recycled skirts can be a good fit for you! Various online shops can accommodate your query. 
Use sustainable sunglasses
You may sometimes be surprised to know that there is a sustainable sunglass made from recycled material. These items are even sold for the cheapest price, and you can purchase them online!
Sporting recycled sunglasses can help you accentuate your best assets and highlight a classy look without worrying about the environmental impacts of buying one! If you want to find some of these variations, you can always check for some listings online and see which one best fits your preferences. 
Try wearing some recycled playa hats
Some people like to craft things out of old towels, and there are also some fashion brands which have adopted these types of recycling approaches. Not only are they fashionable and aesthetically pleasing to look at, but some of the playa hats made from recycled clothing and towels can also be customised according to your liking.
There are different shops and stores which sell these types of items. You can always search online and see for listings if you are planning to buy one or maybe gift it to someone you might think will appreciate it most. 
Buy some organic-linen swimsuits
If you want to dive into the summer pool or flaunt your best assets in the sexiest swimwear possible, then you might want to reconsider buying an organic-linen swimsuit. These pieces are made from organic recycled to fit through the linen production needed to create a compelling piece. Some people like to buy these items because of the comfort that it provides and for its durable build.
Overall, what makes It even more compelling to add these items to your shopping cart is that most of these items are cheaper than other swimwear brands.
Author bio: Sylvia James is a copywriter and content strategist. She helps businesses stop playing around with content marketing and start seeing the tangible ROI. She loves writing as much as she loves the cake.